Baylor College of Medicine honors faculty for excellence in patient care
Content
Baylor College of Medicine has recognized physicians for their excellence in patient care through its annual Faculty Awards Day, held earlier this month.
The awards include the Ben and Margaret Love Foundation Bobby Alford Award for Academic Clinical Professionalism, presented to Dr. G. Robert Parkerson, III, associate professor of medicine – infectious diseases and a faculty member in Baylor's National School of Tropical Medicine.
Other clinical awards include the Early Career Award for Excellence in Patient Care for faculty with two to five years of experience, the Star Award for Excellence in Patient Care for faculty with at least six years of service and the Master Clinician Award for Excellence in Patient Care for faculty with at least 15 years of experience. These were established by Dr. Paul Klotman, Baylor College of Medicine president, CEO and executive dean, to recognize faculty for their exemplary qualities of clinical excellence and expertise, consistent high level of patient care, professionalism, commendable leadership skills and service to the community.
"It is an honor for me each year to recognize these leaders at Baylor College of Medicine," Klotman said. "They represent the best of the best and help to fulfill our mission to further education, healthcare and community service locally and globally."
Media Component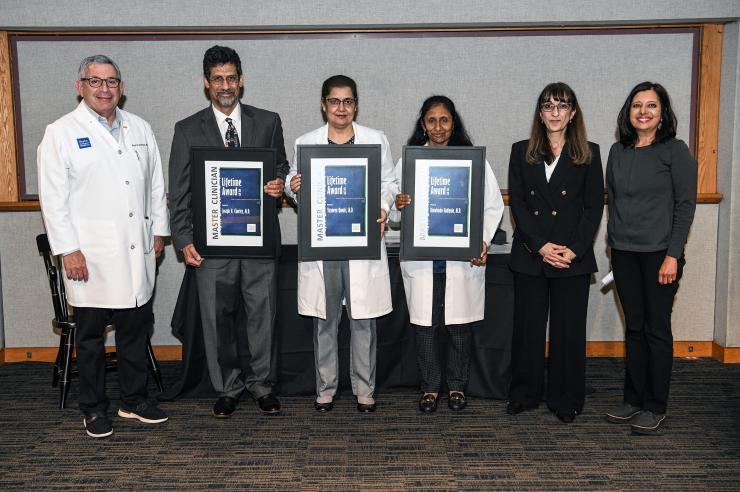 Content
Master Clinician honorees are Dr. Joseph Chorley, associate professor of pediatrics, Dr. Himabindu Kadiyala, associate professor of medicine, and Dr. Yasmeen Quadri, associate professor of family and community medicine. See the full list of Star and Early Career award winners on the Faculty Awards webpage.
The 2023 Graduating Class Outstanding Faculty Awards were selected by fourth-year medical students and given to Dr. Andrew Caruso, Dr. Kathryn Fisher and Dr. M. Tyson Pillow.
These awards are among the nearly 200 awards presented to Baylor faculty across mission areas. Read more about the educational award winners.