Connecting gene mutations, rare genetic diseases
Media Component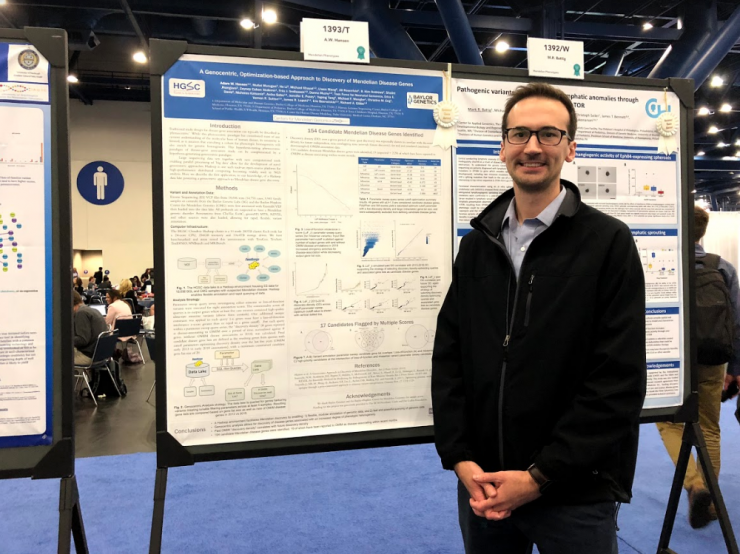 Content
Clinical exome sequencing has revolutionized genetic testing for children with inherited disorders, and Baylor College of Medicine researchers have led efforts to apply these DNA methods in the clinic. Nevertheless, in more than two-thirds of cases, the underlying genetic changes in children who undergo sequencing are unknown. Researchers everywhere are looking to new methods to analyze exome sequencing data to look for new associations between specific genes and those rare genetic diseases – called Mendelian disorders. Investigators at the Human Genome Sequencing Center have developed new approaches for large-scale analysis of Mendelian disorders, published today in the American Journal of Human Genetics.
The investigators used an Apache Hadoop data lake, a data management platform, to aggregate the exome sequencing data from approximately 19,000 individuals from different sources. Using information from previously solved disease cases, they established methods to rapidly select candidates for Mendelian disease. They found 154 candidate disease-associating genes, which previously had no known association between mutation and rare genetic disease, according to Adam Hansen, lead author of the study and graduate student in molecular and human genetics at Baylor.
"We found at least five people for each of these 154 genes that have very rare genetic mutations that we suspect might be causing disease," Hansen said. "This shows the power of big data approaches toward accelerating the rate of discovery of associations between genes and rare diseases."
"These computational methods solve the dual problems of large-scale data management and careful management of data access permission." said Dr. Richard Gibbs, study author and professor of molecular and human genetics and director of the Human Genome Sequencing Center at Baylor. "They are perfect for outward display of data from the Baylor College of Medicine programs."
Exome sequencing currently only diagnoses 30 to 40% of patients, Hansen said. He hopes that diagnosis rate will increase with the discovery of new associations between mutations in certain genes and rare diseases.
"The genetics community can now focus on genetic mutations in these genes when they see undiagnosed patients," Hansen said. "Since our initial analysis, 19 of these genes have already been confirmed as disease-associating by independent researchers. The collective effort of the genetics community will advance our understanding of these genes and provide further evidence for their potential role in disease."
Other researchers at the Human Genome Sequencing Center who were involved in the study included Mullai Muragan, Donna Muzny, Fritz Sedlazeck, Aniko Sabo, Shalini Jhangiani, Kim Andrews, Michael Khayat, and Liwen Wang.
This work was supported in part by grants UM1 HG008898 from the National Human Genome Research Institute (NHBLI) to the Baylor College of Medicine Center for Common Disease Genetics; UM1 HG006542 from the NHGRI/National Heart, Lung, and Blood Institute (NHLBI) to the Baylor Hopkins Center for Mendelian Genomics; R01 NS058529 and R35 NS105078 (J.R.L.) from the National Institute of Neurological Disorders and Stroke (NINDS); and P50 DK096415 (N.K.) from the National Institute of Diabetes and Digestive and Kidney Diseases (NIDDK).