Master
Media Component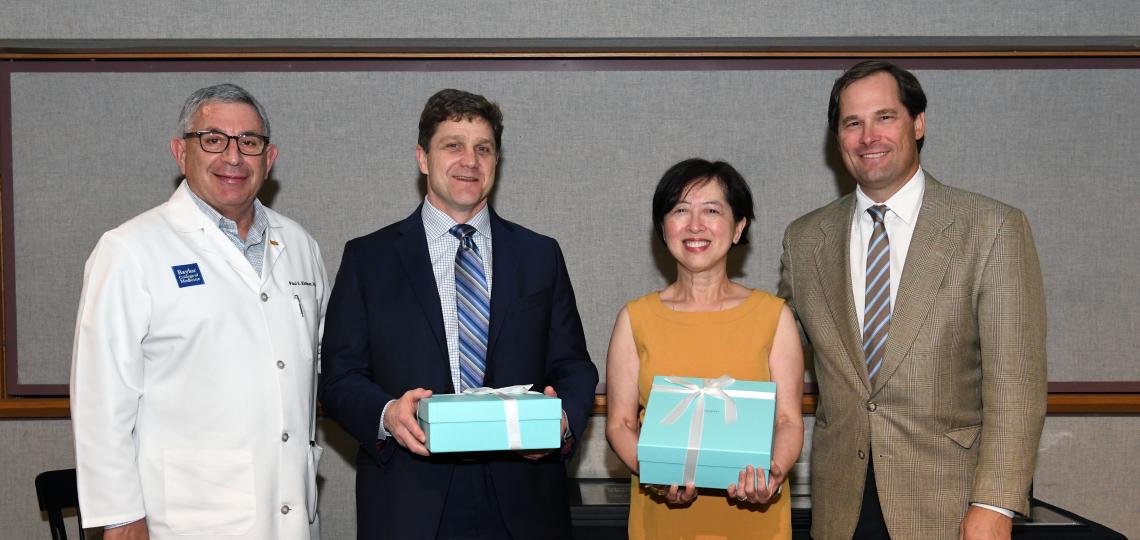 Content

Two outstanding faculty members were honored with the 2023 Barbara and Corbin J. Robertson, Jr. Presidential Award for Excellence
Heading
Lee Bach Lu, M.D.
Content
Professor of Medicine
Dr. Lu and her family escaped from a Communist regime and through sponsorship came to the United States seeking freedom. In the land of opportunity, she pursued her goal of becoming a doctor, a profession which she never thought possible in her native country. She attended and completed her residency in internal medicine at Baylor College of Medicine and started work as a clinician-educator. Dr. Lu cared for her own patients and taught residents and medical students in both outpatient and inpatient settings at the Michael E. DeBakey Veterans Affairs Medical Center.
In 2003, she became the VA's resident clinic director. Three years later, she was recruited to join the Harris Health System's Ben Taub General Internal Medicine Section as the resident clinic director. In 2010, she became the medical director at Quentin Mease Clinic, overseeing specialties for both Baylor College of Medicine and the John P. and Kathrine G. McGovern Medical School at UTHealth. In 2016, Dr. Lu transitioned to medical director for Smith Clinic, which encompasses more than 16 specialties and internal medicine primary care. She is also the Ambulatory Associate Program Director for Baylor's internal medicine residency.
Her passion is in teaching and caring for the underserved. She has taught and mentored countless trainees and medical students and worked with them on numerous case reports for publications and quality improvement projects. She is a co-investigator of a RO1 grant on improving care for cancer patients with co-morbidities.
Her excellent work has earned her national recognition, and in 2011, she was elected to the National Society of General Internal Medicine Medical Resident Clinic Director Interest Group. She has chaired the group for more than a decade. As chief editor, Dr. Lu led a group of 35 national leaders to publish a book, Leading an Academic Medical Practice, in 2018. The second edition with 77 authors is currently in production.
She has won many teaching awards, received the Norton Rose Fulbright Award in Teaching and Evaluation and Clinician STAR Award, and was the first recipient of the Harris Health System Most Valued Physician Award.
Heading
E. Lee Poythress, M.D.
Content
Associate Professor of Medicine
Thirty years ago, Dr. Edward Lee Poythress came to Baylor College of Medicine as an intern in Internal Medicine not knowing that the career choice would lead him down the path to academic medicine. Throughout his residency, Dr. Poythress was struck by Baylor's culture of educational leadership and excellence in teaching which provided him the foundation and desire to follow the examples of his many outstanding faculty educators. Upon completing his residency, he served as a Chief Resident at Ben Taub Hospital where he oversaw the education of medical students and residents at morning report and noon conference.  Following his geriatrics fellowship at Baylor, Dr. Poythress began teaching medical students and residents at the in-patient wards and in the clinics at Ben Taub Hospital. 
With the support and guidance of outstanding mentorship, Dr. Poythress became involved in numerous activities that allowed him to grow as clinician-educator. He participated in the Master Teacher's Fellowship between 2000-2002, started as the director of the Ben Taub Wound Care Clinic in 2004 and led the medical school Longitudinal Ambulatory Care Experience Home Visit Track from 2001-2006.
In collaboration with key stakeholders, Dr. Poythress developed the Ben Taub Wound Care Limb Salvage Program. In about 20 years, he and the limb salvage team have taught numerous residents, students and fellows in general, orthopedic and vascular surgery, as well as internal and family medicine, geriatrics and infectious disease. In 2018, Dr. Poythress was awarded Harris Health System's Think Innovation Transformation Award for the limb salvage program.
As a teacher on the wards, Dr. Poythress found his greatest enjoyment in working directly with learners and patients. In 2017, he was featured in the book Teaching Inpatient Medicine – What Every Physician Needs to Know. He has been honored with three John P. McGovern Clinical Sciences Teaching Awards, seven Department of Internal Medicine Outstanding Faculty Awards, and he was inducted into the Medical School Teaching Hall of Fame in 2016.
In 2017, Dr. Poythress became a dean in the Office of Student Affairs. By overhauling and restructuring the Learning Community Adviser Program, he has promoted continued growth of faculty and students.  Later this year, Baylor will host the inaugural international Learning Community Institute meeting. Dr. Poythress has worked diligently to foster student-led initiatives including the Service-Learning Program and the orientation course PARTAKE, which stands for Populations at Risk: Treatment, Advocacy, Knowledge, Experience.  Since serving as a dean of student affairs, he has assisted in more than 40 student-, resident- and faculty-led posters, presentations and publications.