Master
Media Component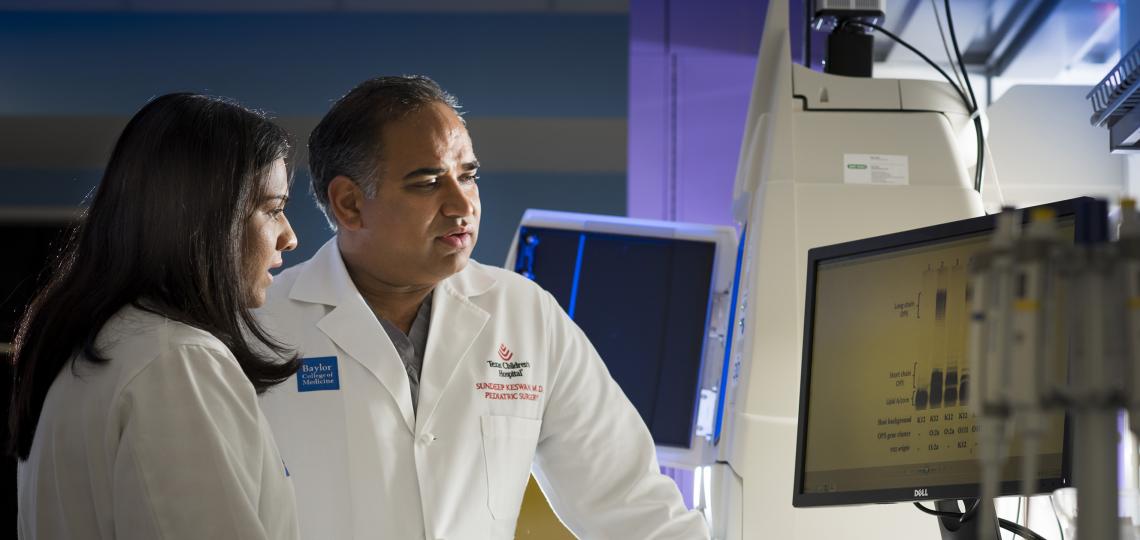 Content
The Division of Congenital Heart Surgery maintains an active research program across a broad spectrum. The division focuses specifically on congenital heart surgical outcomes and quality, pediatric heart and lung transplantation, mechanical circulatory support, neurodevelopmental protection, minimally invasive repair of congenital heart defects, aortic reconstruction, surgical repair of congenital coronary anomalies, and, in collaboration with Rice University, pediatric bioengineering.
The Pediatric Cardiac Bioengineering Laboratory within the Division of Congenital Heart Surgery is a joint effort between Baylor College of Medicine, Texas Children's Hospital, and Rice University. Dr. Jane Grande-Allen of Rice University's Department of Bioengineering and Dr. Sundeep Keswani, director of surgical research at Texas Children's and associate professor of Surgery at Baylor, are the investigating the influences of biophysical cues such as stress, strain, shear, substrate stiffness, and electrical stimulation on the development and maturation of heart cells and tissues.
Dr. Iki Adachi conducts research in myocardial recovery and understanding what factors from both the child and the mechanical assist devices impact bridge to transplant or bridge to recovery. Dr. Adachi has the most US experience with implanting the HeartWare VAD in the pediatric population.
Texas Children's Hospital has a long history of leading the way in finding new approaches to treating patients with congenital heart disease. Texas Children's was the lead institution for the 17-center Berlin Heart study and implanted more Berlin Heart EXCOR®devices than any other center during the study. This team was instrumental in gaining FDA approval for the Berlin Heart to become the first and only long-term VAD solution approved for children in the United States.
Heading
Congenital Cardiac Research
Content
From being the lead institution on the Berlin Heart study to bioengineering involving tissue and cells in the lab, Baylor College of Medicine faculty lead the way in cardiovascular research.