Master
Heading
About the Program
Content
The Dr. Kelly DeScioli Global Child Health Pediatrics Residency Program at Baylor College of Medicine is a fully accredited pediatric residency program. Residents will spend three years in Houston and an additional year at an international assignment primarily caring for children with HIV, malnutrition, tuberculosis, malaria, and other infectious diseases.
Partnered with Texas Children's Global Health Network, the program is an ideal platform to provide residents meaningful experiences in global child health. The network was created by Baylor International Pediatric AIDS Initiative (BIPAI) in 1999 to catalyze pediatric and family HIV care and treatment and health professional training. The network continues to be one of the largest providers of pediatric HIV care and treatment in the world. The scope of the network has expanded to include other maternal and child health services and provides care and treatment to more than 365,000 patients.
Our goals are to prepare residents to address the critical need for lifesaving pediatric health care, pediatric education and training, clinical research and child advocacy in resource-limited settings and to prepare residents for leadership roles in health care delivery for the underserved globally. Our Pediatric Board pass rate for the Dr. Kelly DeScioli Global Child Health Pediatric Residents is 100 percent, according to the American Board of Pediatrics.
Heading
Message from the Chief Resident
Media Component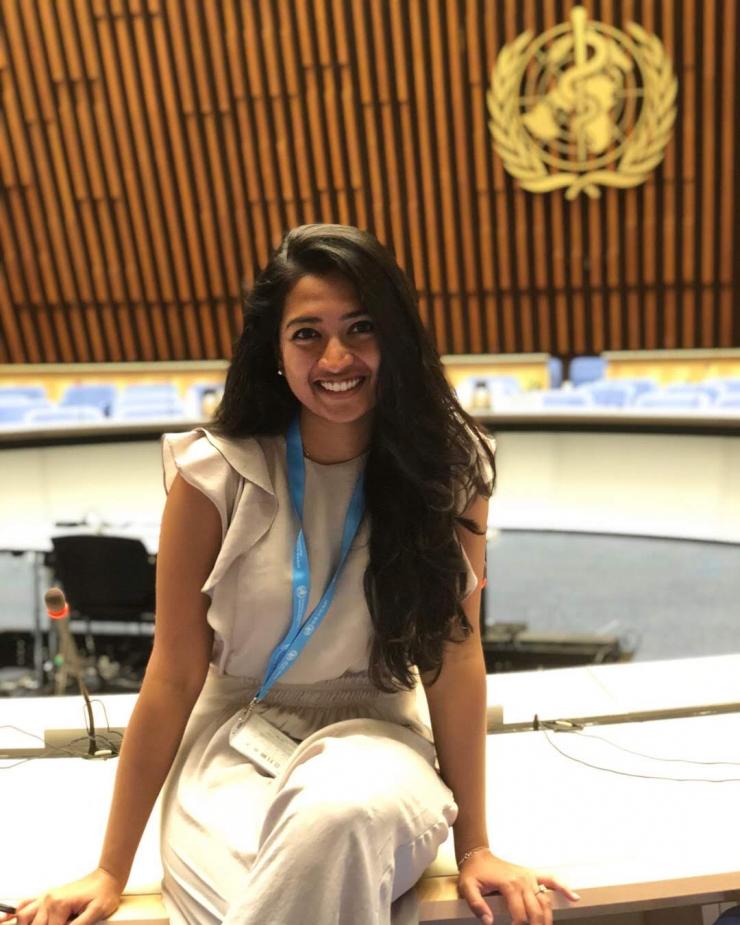 Content
"For he who has health has hope; and he who has hope, has everything." – Thomas Carlyle
The SARS-CoV-2 pandemic has exposed persistent inequities across age, race, sex, income level, and geographic location and has disproportionally impacted our world's vulnerable populations. It has forced us to re-examine complex, interconnected threats to people's well-being rooted in social, economic, and cultural determinants of health. However, the pandemic has also allowed us to innovate in previously unimaginable ways, utilizing our minds and resources to quickly and effectively optimize health care in a time of crisis. It has allowed us to think outside of the box and collaborate across borders to improve health outcomes across the globe. Now more than ever, we have learned that disease is a global problem that we must work together to tackle.
The Dr. Kelly DeScioli Global Child Health Pediatrics Residency Program is truly one of a kind, and I am proud of how our program has continued to adapt and persist through our current pandemic. It continues to give our residents the unique opportunity to train as resident physicians in an international setting for a full year in addition to their pediatrics training in Houston. Our residents learn about delivering health care in low-resource communities while developing a critical consciousness about the local cultural, historical, and socioeconomic conditions. In addition to the standard pediatric residency curriculum, our trainees are conducting research, engaging in advocacy, and working on initiatives to improve access to care on a broader scale.
Now more than ever, it is crucial to cultivate a future generation of pediatric leaders who approach care from a global perspective. As chief resident, I am proud to say that since 2014 over 40 physicians have graduated from our program and continue to utilize their skill set in a breadth of ways, including providing quality medical care at major pediatric institutions across the globe, working at organizations such as Médecins Sans Frontières (MSF) to expand healthcare access, and performing research at the Centers for Disease Control (CDC).
Welcome to the Dr. Kelly DeScioli Global Child Health Pediatrics Residency Program at Baylor College of Medicine. We cannot wait to meet you and share what we love about this program.
Sincerely, 
Neelima Agrawal, M.D. M.P.H.
Global Child Health Pediatric Chief Resident, 2021-2022