Master
Media Component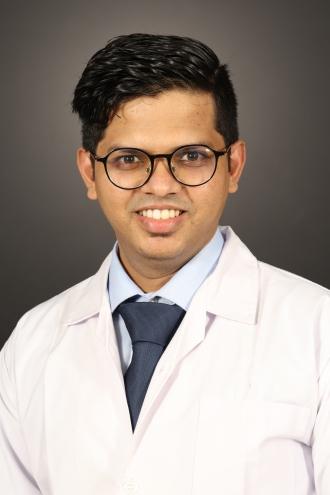 Content
What is your favorite memory from residency? 
It's my first year here and I can't point to a single memory yet, but the caring nature of all my senior residents is adorable. They are not only down to earth but also extremely resourceful and knowledgeable too.  
Why did you choose pathology?
I always loved Oncology and Genetics in medical school, so I was naturally drawn to Pathology as it's a perfect blend of both. 
What drew you to the Baylor College of Medicine Department of Pathology & Immunology?
In a pathology residency, we always search for a place that's sweet spot between technical advancements, subspeciality teaching etc, on one end and ample amount of the most common general pathology material on the other.  Baylor Pathology & Immunology department was my perfect sweet spot. 
What's your favorite thing and/or spot in Houston?
I wanted to say NASA (The Johnson Space Center), but I recently visited the Houston Zoo and its breathtaking. There are so many cute animals out there. Fun Fact, there's a window in one of the residents' rooms At Ben Taub Hospital from where you can see the Giraffes. Also, an honorable mention is the Rice village area with its amazing food scene.  
What is one new thing you started in residency that you hadn't done before? 
As Pathology residents, you do get a few hours in the evening to yourself and I've started going to the gym especially for Cardio, hopefully I can hang-on to the good habit. 
What type of cell would you be and why?
I consider myself as a lymphocyte. I can take some time to get going but once I get going, I will always be there for the ones in my life like a 'Memory' B lymphocyte.