Master
Media Component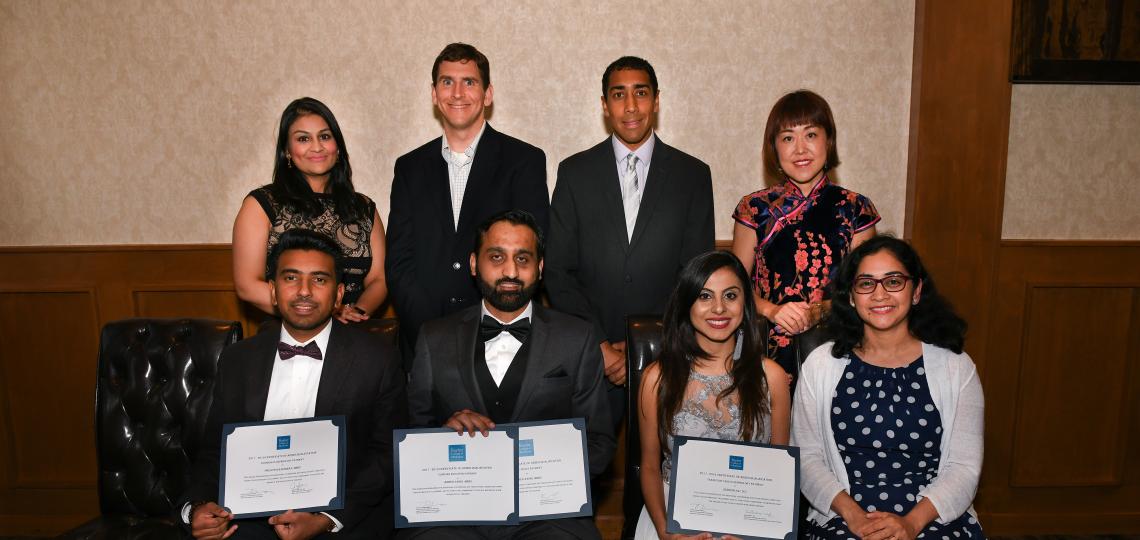 Heading
Clinical Concentration Pathway Graduates 2019
Content
Graduating fellows with their mentors: Drs. Yan and Rajendran (Business), Drs. Raghavan and Awan (Clinician Educator), Drs. Erickson, Anumudu and Awan (Public Policy), Drs. Ali and Saridey (Transition Care in Nephrology)
Heading
Tracks and Pathways
Content
Our typical fellow will complete a two-year clinical nephrology fellowship. However, we have accepted and trained outstanding atypical candidates in the following scenarios:
A two-year clinical track fellowship
A two-year funded research track following one year of clinical fellowship
An additional one- or two- year research fellowship for applicants who have already completed a clinical nephrology fellowship
A one-year clinical fellowship for applicants who have completed clinical training in pediatric nephrology
Content
The Research Track consists of a three-year program (one year of clinical responsibilities and two years of research training). Clinical responsibilities during the second research year is limited to a weekly outpatient continuity clinic and participation in the educational program. The 3rd year of this track is accredited by the Texas Medical Board (TMB) and is a non-ACGME position. Funding for the third year of this track is internal or awarded by national foundations and trainees will apply during their first year of fellowship.
Fellows determine which laboratory or clinical research project he/she is interested in pursuing through a process of interviewing with faculty at Baylor. Précis of individual research projects are summarized in the descriptions of individual faculty of the Nephrology Division. Fellows may engage in a research fellowship with a BCM mentor from another field, bridging like disciplines.
Heading
Clinical Concentration Pathway
Content
All second-year fellows in our traditional fellowship program will be eligible to gain additional content expertise via a clinical concentration pathway. The pathways offered at Baylor are tailored to the strengths of key faculty mentor or local expertise. The concentration pathways that are currently offered include: Clinician Educator, Public Policy, Business of Nephrology, and Transitions in Nephrology. The trainee enrolled will meet with the mentor monthly to discuss a topic and/or develop the scholarly project.
Academy of Fellow Educator (Dr. Maulin Shah) Topics include: Mentorship, Career Development / Promotion, Creating a Didactic Curriculum, Technology in the Classroom. One expectation is that the fellow must create and manage a novel educational experience before graduation.
Public Policy (Dr. Kevin Erickson) Topics include: Bundle Payments, MACRA, Lobby Day in Congress. One expectation is that the fellow applies for a fellow-level position during his/her 2nd year on the ASN Public Policy Forum.
Business in Nephrology (Dr. Samaya Anumudu) Topics include: Medical Directorships, Joint Ventures, Accountable Care Organizations, and Speakers' Bureaus. One expectation is that the fellow attends the Nephrology Business Leadership University conference. 
Transitions in Nephrology (Dr. Sai Saridey) Topics include: Genetic Renal Disorders, Health Insurance for the Disabled, Managing Parent Expectations, Pregnancy and Kidney Disease, and the Transitions Nephrology Clinic. One expectation is that the fellow must participate in transition care conferences for pediatric patients who seek an adult nephrologist.
Point of Care Ultrasound (Pocus) (Dr. Chandan Vangala) Topics include: Volume assessment, IVC assessment, Lung Ultrasound, Renal Ultrasound, and Cardiac Assessment. One expectation is that the fellow must log 10 cases for each assigned topic.