Master
Media Component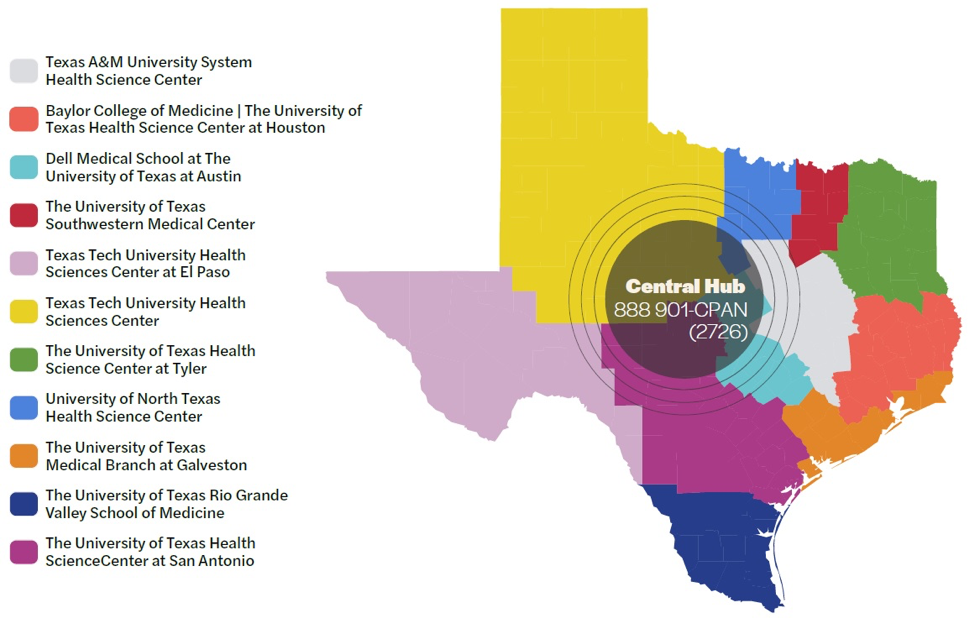 Heading
About the Consortium
Content
The Texas Child Mental Health Care Consortium (TCMHCC) was enacted through the 86th Texas Legislature with Senate Bill 11 to improve mental health outcomes for all children in Texas.
TCMHCC implements evidence-based programs to improve the mental health care gap in the state and creates collaborative networks with the state's 12 academic medical centers (or health-related institutions), state agencies and nonprofits, local schools, and local community mental health providers. 
Our Initiatives
TCMHCC supports the following five initiatives:
Child Psychiatry Access Network (CPAN) provides free educative, referral, and consultative services and resources in real time to primary care providers who see children in Texas. PCPs can call 1 (888) 901- 2726 and press 2 and then 1 to reach BCM.
Texas Child Health Access Through Telemedicine (TCHATT) provides free short-term counseling and psychiatry services to children who are referred to the program by their school. School personnel can call 713-798-8257 for more information.
Community Psychiatry Workforce Expansion (CPWE) allows full-time psychiatrists to serve as medical directors at community mental health providers and local mental health authorities (LMHA) and allows new resident rotations. 
Child and Adolescent Psychiatry Fellowships (CAP Fellowships) at health-related institutions
Research in mental health care
Learn more about TCMHCC and its initiatives.