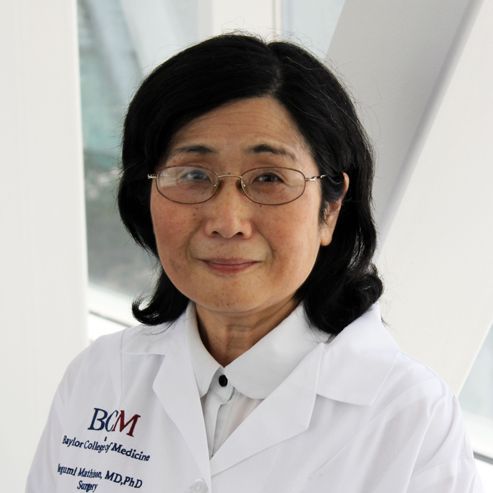 Email
Phone
Addresses
Lab

Alkek Building for Biomedical Research

Room: ABBR-411

Mail Stop: BCM390

Houston, Texas 77030

United States
Websites
Laboratory for Cardiac Regeneration
Is this you?Log in to edit your profile.
Positions
Associate Professor of Surgery

Division of Cardiothoracic Surgery
Baylor College of Medicine
Education
Residency from University of Tokyo School of Medicine

., Tokyo, Japan

Ph.D. from University of Tokyo

., Tokyo, Japan

M.D. from Tokyo Medical and Dental University

., Tokyo, Japan
Professional Interests
In situ cardiac regeneration
Cardiovascular disease
Cardiac cellular reprogramming
Professional Statement
In 2010, it was reported that a combination of three transcription factors— Gata4, Mef2c, and Tbx5— reprogrammed postnatal murine cardiac fibroblasts directly into differentiated cardiomyocyte-like cells in vitro.
Recently, several researchers, including our group, reported that resident cardiac fibroblasts were reprogrammed into cardiomyocyte-like cells in the murine heart by direct injection of Gata4, Mef2c, Tbx5 into the myocardium after coronary ligation. These results raise the possibility that we can generate new cardiomyocytes from scar tissue after myocardial infarction in humans.
Selected Publications
Mathison M, P Gersch R, Nasser A, Lilo S, Korman M, Fourman M, Hackett N, Shroyer K, Yang J, Ma Y, Crystal RG, Rosengart TK. "In vivo cardiac cellular reprogramming efficacy is enhanced by angiogenic preconditioning of the infarcted myocardium with vascular endothelial growth factor.." J Am Heart Assoc. 2012;1(6)
Cui J, Li J, Mathison M, Tondato F, Mulkey SP, Micko C, Chronos NA, Robinson KA. "A clinically relevant large-animal model for evaluation of tissue-engineered cardiac surgical patch materials.." Cardiovasc Revasc Med. 2005;6(3):113-120.
Robinson KA, Li J, Mathison M, Redkar A, Cui J, Chronos NA, Matheny RG, Badylak SF. "Extracellular matrix scaffold for cardiac repair.." Circulation. 2005;112
Mathison MN, Becker GJ, Katzen BT, Benenati JF, Zemel G, Powell A, Lima MM. "Implications of problematic access in transluminal endografting of abdominal aortic aneurysm.." J Vasc Interv Radiol. 2003;14(1)
Becker GJ, Kovacs M, Mathison MN. "Transluminal repair of abdominal aortic aneurysm: a call for selective use, careful surveillance, new device design, and systematic study of transrenal fixation.." J Vasc Surg. 2002;35(3):611-615.