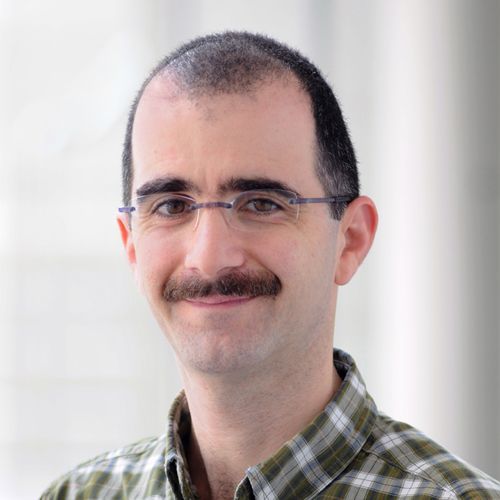 Email
Phone
Is this you?Log in to edit your profile.
Positions
Associate Professor

Department of Molecular & Human Genetics
Genetics & Genomics Graduate Program
Baylor College of Medicine

Associate Professor

Program in Developmental Biology
Development, Disease Models & Therapeutics Graduate Program
Baylor College of Medicine
Education
MD from Tehran University Of Medical Sciences

06/1994 - Tehran, Iran

Post-Doctoral Fellowship at University Of Ottawa

03/2000 - Ottawa, Ontario, Canada

Post-Doctoral Fellowship at Baylor College Of Medicine

12/2006 - Houston, Texas, United States
Honors & Awards
Glycobiology Significant Achievement Award, Society for Glycobiology and Oxford University Press (2017)

Norton Rose Fulbright Faculty Excellence Award, BCM (2017)

Alagille Syndrome Accelerator Award, The Medical Foundation (2015)

Best Lecturer, 8-Stranded Beta-Barrel Jelly Roll Award, BCM (2014)

John S. Dunn Research Scholar, UT-Houston (2011)

Young Investigator Recognition Award, UT-Houston (2009)

Basil O'Connor Award, March of Dimes (2008)
Professional Interests
Biliary development and repair (Alagille syndrome)
Glycosylation and deglycosylation in developmental signaling
NGLY1 deficiency
Professional Statement
Glycosylation is the most common post-translational modification of extracellular and secreted proteins and plays major roles in various aspects of cellular and organismal biology. We use Drosophila and mouse genetics, cell culture experiments and biochemical assays (in collaboration) to understand the role of glycosylation and deglycosylation in animal development and pathophysiology of human disease. A major focus of our work is on glycosyltransferases that add O-glucose glycans to epidermal growth factor-like (EGF) repeats and their role in the regulation of the Notch signaling pathway. Another project focuses on a cytoplasmic enzyme called N-glycanase 1, mutations in which have recently been identified in a developmental disorder. We hope that our findings will shed light on the pathophysiology of the human diseases caused or modified by alterations in the function of these enzymes and will provide a framework to identify mechanism-based therapies for them.
Role of O-glucose glycans in animal development
An evolutionarily conserved enzyme called POGLUT1 (Rumi) adds an O-linked glucose to EGF repeats harboring a CXSX(P/A)C consensus motif. Several xylosyltransferases extend the O-glucose by adding one or two xylose residues to it. We have shown that O-glucose residues on the Notch receptor promote Drosophila Notch signaling in all contexts studied so far, but addition of xylose to O-glucose inhibits Notch signaling in specific contexts. We are examining the molecular mechanisms underlying the differential regulation of the Notch pathway by glucose versus xylose residues. Transgenic expression of human POGLUT1 rescues the rumi loss-of-function phenotypes in flies, and shRNA-mediated knock-down of Poglut1 in several mammalian cell lines results in decreased Notch signaling. However, given the lethality of Poglut1 mutant mice at mid-gestation, the in vivo role of POGLUT1 in various developmental contexts and the impact of O-glucose glycans on the activity of specific mammalian Notch receptors and ligands are not clear. We are using conditional loss-of-function studies and cell-based assays to understand the role of POGLUT1 in mammalian development and Notch signaling.
A mouse model for Alagille Syndrome
Alagille syndrome (ALGS) is an autosomal dominant disorder characterized by a congenital cholangiopathy of variable severity accompanied by cardiac, skeletal, renal and other abnormalities. In 94% of cases, ALGS is caused by mutations in JAG1, which encodes one of the ligands for the Notch pathway. We have recently reported a mouse model for the ALGS and have identified Poglut1 as a dominant genetic suppressor of the ALGS biliary phenotypes. Ongoing experiments are aimed at using this model to better understand the pathophysiology of ALGS and to develop a therapy for this disease.
A Drosophila model for NGLY1 deficiency
It has recently been reported that human patients with mutations in N-glycanase 1 exhibit a host of developmental abnormalities including a delay in physical and intellectual development, movement disorders and lack of tears. NGLY1 is a "deglycosylation" enzyme and is thought to remove N-linked glycans from glycoproteins destined for proteasomal degradation. However, the biologically-relevant targets of NGLY1 and the developmental processes sensitive to loss of its activity are not known. We are using Drosophila to understand the cellular and physiological defects caused by the loss of NGLY1 and to identify potential therapeutic targets for the disease. These studies are in collaboration with a group of researchers around the world who are using biochemical, cell biological, mouse genetics and systems biology approaches to understand the biology of NGLY1 and the pathophysiology of NGLY1 deficiency.
Selected Publications
Niknejad N and Jafar-Nejad H. "Unbiased glycomics: A powerful tool in rare disease diagnosis and research." Translational Research. 2019;206:1-4.
Pandey A, Li-Kroeger D, Sethi MK, Lee TV, Buettner FFR, Bakker H, Jafar-Nejad H. "Sensitized genetic backgrounds reveal differential roles for EGF repeat xylosyltransferases in Drosophila Notch signaling." Glycobiology. 2018;28:849-859.
Galeone A, Han SY, Huang C, Hosomi A, Suzuki T, and Jafar-Nejad H. "Tissue-specific regulation of BMP signaling by Drosophila N-glycanase 1." eLife. 2017;6:e27612.
Thakurdas SM, Lopez MF, Kakuda S, Fernandez-Valdivia R, Zarrin-Khameh N, Haltiwanger RS, Jafar-Nejad H. "Jagged1 heterozygosity in mice results in a congenital cholangiopathy which is reversed by concomitant deletion of one copy of Poglut1 (Rumi)." Hepatology. 2016:doi: 10.1002/he. Pubmed PMID: 26235536
Lee TV*, Pandey A* and Jafar-Nejad H. "Xylosylation of the Notch receptor preserves the balance between its activation by trans-Delta and inhibition by cis-ligands in Drosophila." PLoS Genetics. 2017;13:e1006723.
Adams JM and Jafar-Nejad H. "Determining Bile Duct Density in the Mouse Liver." Journal of Visualized Experiments (JoVE). 2019;in press
Pandey A and Jafar-Nejad H. "Cell Aggregation Assays to Evaluate the Binding of the Drosophila Notch with Trans-Ligands and Its Inhibition by Cis-Ligands." Journal of Visualized Experiments (JoVE). 2018;131:e56919.
Adams JM and Jafar-Nejad H. "A new model of Alagille syndrome with broad phenotypic representation." Gastroenterology. 2018;154:803-806.
Wu J, Hunt SD, Matthias N, Servián-Morilla E, Lo J, Jafar-Nejad H, Paradas C, Darabi R. "Generation of an induced pluripotent stem cell line (CSCRMi001-A) from a patient with a new type of limb-girdle muscular dystrophy (LGMD) due to a missense mutation in POGLUT1 (Rumi)." Stem Cell Research. 2017;24:102-105.
Servián-Morilla E*, Takeuchi H*, Lee TV*, .. Haltiwanger RS, Jafar-Nejad H, and Paradas C. "A POGLUT1 mutation causes a muscular dystrophy with reduced Notch signaling and satellite cell loss." EMBO Molecular Medicine. 2016;8:1289-1309.
He P, Grotzke JE, NG B, Gunel M, Jafar-Nejad H, Cresswell P, Freeze HH. "A congenital disorder of deglycosylation: Biochemical characterization of N-glycanase 1 deficiency in patient fibroblasts.." Glycobiology. 2015 August;25:836-44. Pubmed PMID: 25900930
Haltom AR*, Lee TV*, Harvey B, Leonardi J, Chen Y, Hong Y, Haltiwanger RS, Jafar-Nejad H. "The protein O-glucosyltransferase Rumi modifies Eyes shut to promote rhabdomere separation in Drosophila." PLoS Genetics. 2014;10(11):e1004795. Pubmed PMID: 25412384
LeBon L, Lee TV, Sprinzak D, Jafar-Nejad H, Elowitz M. "Fringe proteins modulate Notch-ligand cis and trans interactions to specify signaling states." eLife. 2014 September 25;3:e02950. Pubmed PMID: 25255098
Leonardi J, Jafar-Nejad, H. "Structure-function analysis of Drosophila Notch using genomic rescue transgenes.." Methods Mol Biol.. 2014;1187:29-46. Pubmed PMID: 25053479
Lee TV, Sethi MK, Leonardi J, Rana NA, Buettner FF, Haltiwanger RS, Bakker H, Jafar-Nejad H. "Negative regulation of notch signaling by xylose.." PLoS Genetics. 2013 June;9(6):e1003547. Pubmed PMID: 23754965
Takeuchi H, Fernández-Valdivia RC, Caswell DS, Nita-Lazar A, Rana NA, Garner TP, Weldeghiorghis TK, Macnaughtan MA, Jafar-Nejad H, Haltiwanger RS. "Rumi functions as both a protein O-glucosyltransferase and a protein O-xylosyltransferase.." Proc. Natl. Acad. Sci. U.S.A.. 2011 October 4;108(40):16600-5. Pubmed PMID: 21949356
Leonardi J*, Fernandez-Valdivia R*, Li YD, Simcox AA, Jafar-Nejad H. "Multiple O-glucosylation sites on Notch function as a buffer against temperature-dependent loss of signaling.." Development. 2011 August;138(16):3569-78. Pubmed PMID: 21771811
Fernandez-Valdivia R, Takeuchi H, Samarghandi A, Lopez M, Leonardi J, Haltiwanger RS, Jafar-Nejad H. "Regulation of mammalian Notch signaling and embryonic development by the protein O-glucosyltransferase Rumi.." Development. 2011 May;138(10):1925-34. Pubmed PMID: 21490058
Lee TV, Takeuchi H, Jafar-Nejad H. "Regulation of notch signaling via O-glucosylation insights from Drosophila studies.." Meth. Enzymol.. 2010;480:375-98. Pubmed PMID: 20816218
Jafar-Nejad H, Leonardi J, Fernandez-Valdivia R. "Role of glycans and glycosyltransferases in the regulation of Notch signaling.." Glycobiology. 2010 August;20(8):931-49. Pubmed PMID: 20368670
Simcox AA, Austin CL, Jacobsen TL, Jafar-Nejad H. "Drosophila embryonic 'fibroblasts': extending mutant analysis in vitro.." Fly (Austin). 2008;2(6):306-9. Pubmed PMID: 19077546
Acar M*, Jafar-Nejad H*, Takeuchi H*, Rajan A, Ibrani D, Rana NA, Pan H, Haltiwanger RS, Bellen HJ. "Rumi is a CAP10 domain glycosyltransferase that modifies Notch and is required for Notch signaling.." Cell. 2008 January 25;132(2):247-58. Pubmed PMID: 18243100
Jafar-Nejad H, Tien AC, Acar M, Bellen HJ. "Senseless and Daughterless confer neuronal identity to epithelial cells in the Drosophila wing margin.." Development. 2006 May;133(9):1683-92. Pubmed PMID: 16554363
Haltom AR, Jafar-Nejad H. "The multiple roles of EGF repeat O-glycans in animal development.." Glycobiology. 2015 October;25:1027-42. Pubmed PMID: 26175457
Jafar-Nejad H, Andrews HK, Acar M, Bayat V, Wirtz-Peitz F, Mehta SQ, Knoblich JA, Bellen HJ. "Sec15, a component of the exocyst, promotes notch signaling during the asymmetric division of Drosophila sensory organ precursors.." Dev. Cell. 2005 September;9(3):351-63. Pubmed PMID: 16137928
Lee TV, Jafar-Nejad H. "O-Glucose glycans in Drosophila Notch signaling." Glycoscience: Biology and Medicine. 2014:849-856.