Dr. Sussman Receives Funding to Develop Artificial Livers
Media Component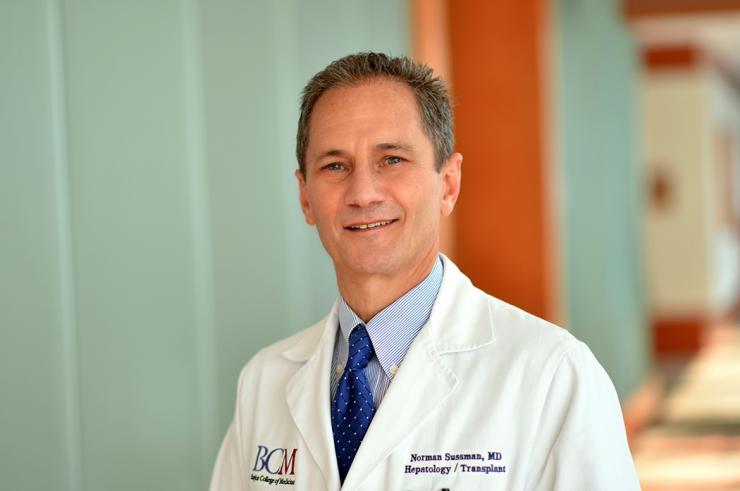 Content
Norman L. Sussman, M.D., associate professor in the Division of Abdominal Transplantation at Baylor College of Medicine and medical director of Project ECHO at Baylor St. Luke's, has been awarded $50,000 from the Phillip A. Salem Chair in Cancer Research Fund to develop artificial livers for patients with liver failure or liver cancer.

Co-investigators on the project are Stuart J. Corr, Ph.D., MEng, assistant professor of surgery and director of technology development, Matthew J. Ware, Ph.D., PGCE, postdoctoral associate at Baylor and James H. Kelly, Ph.D., CEO of Cell Machines, Inc.
The funds will be used to develop a novel liver support system that could supply the biochemical function of the liver and allow patients to be stabilized before transplantation or, in the case of acute liver failure, allow their own liver sufficient time to recover. If successful, these experiments could lead to the production of the first standardized, reproducible, available-on-demand liver support system based on normal hepatocytes. This would be analogous to the development of kidney dialysis.

Dr. Sussman is an active member of Baylor St. Luke's Liver Center. He is board certified in internal medicine, gastroenterology and transplant hepatology. His clinical interests cover all aspects of liver disease, and his research interests include assessment and management of acute liver failure, artificial liver support, new agents to treat viral hepatitis, and complications of advanced cirrhosis.