Study to determine cyclosporine's role in treating hospitalized COVID-19 patients
Media Component
Credit
Scott Holmes, CMI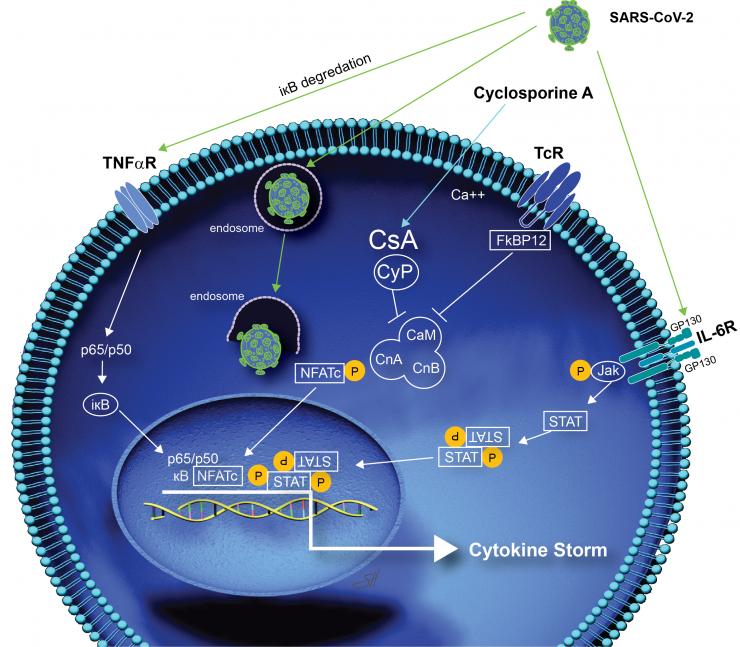 Content
Baylor College of Medicine will launch a randomized clinical trial this week to determine whether the drug cyclosporine is effective in preventing disease progression in pre-ICU hospitalized COVID-19 patients.
For about 40 years, cyclosporine has been used to prevent rejection of solid organ transplants and to treat patients with rheumatoid arthritis and psoriasis.
Researchers hope that the drug will help prevent the cytokine storm that patients with COVID-19 experience that causes their health to decline rapidly. Cytokines are small proteins that are important to the body's immune response but can be harmful if large amounts are released at once. Recent in vitro laboratory research has shown that cyclosporine inhibits replication of human coronaviruses, including the coronavirus that is responsible for COVID-19.
Dr. Bryan Burt, chief of thoracic surgery in the Michael E. DeBakey Department of Surgery at Baylor, initiated this trial as a way to contribute during the COVID-19 pandemic.
"The rationale is strong because the drug has a good safety profile, is expected to target the body's hyperimmune response to COVID and has been shown to directly inhibit human coronaviruses in the lab," he said.
Baylor College of Medicine is the primary site for the study, and Brigham and Women's also is a trial site.
Burt hopes to enroll 75 hospitalized COVID-19 patients at Baylor St. Luke's Medical Center who are not in the ICU. Patients enrolled in the trial will either receive cyclosporine along with the standard-of-care therapies for COVID-19, which can include remdesivir, steroids and convalescent plasma, or they will receive just the standard of care. There will be an initial evaluation at six months but Burt expects to have the final study results in one year.
The study is funded by Novartis.