Dr. Ramsay Camp named chief of surgical oncology
Media Component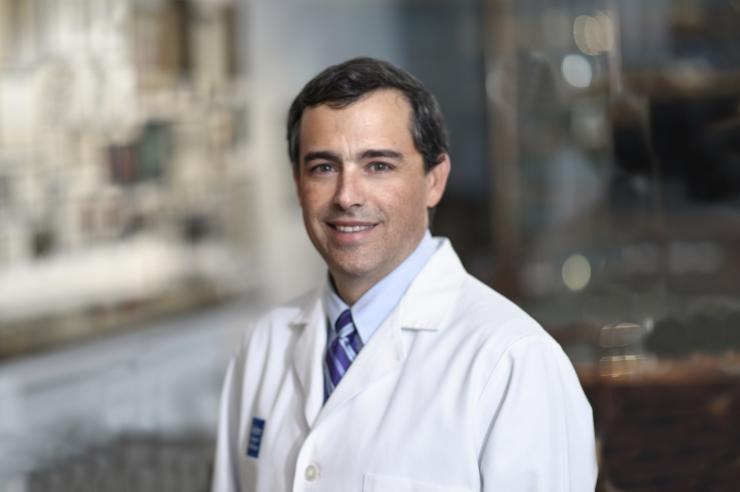 Content
Dr. E. Ramsay Camp has joined Baylor College of Medicine as professor and chief of surgical oncology in the Michael E. DeBakey Department of Surgery's Division of Surgical Oncology. He will see patients at Baylor St. Luke's Medical Center.
Camp specializes in complex gastrointestinal tumors, including pancreatic and gastric malignancies as well as sarcoma and melanoma. His research program, funded through a VA Merit Award, currently focuses on overcoming chemotherapy and radiation resistance in pancreatic and colorectal cancer.
"We are thrilled to welcome Dr. Ramsay Camp to the Michael E. DeBakey Department of Surgery in the pivotal role of division chief of surgical oncology," said Dr. Todd Rosengart, chair of surgery at Baylor College of Medicine. "All who have had the pleasure to meet and know Ramsay have been struck by his enthusiasm for collaborative leadership in advancing our cancer programs, and we have no doubt we will enjoy great advances with his guidance and support."  
Camp completed his undergraduate degree at Davidson College and received his medical degree at the Medical University of South Carolina. He trained in general surgery at Shand's Hospital at the University of Florida and completed a surgical oncology fellowship at the University of Texas MD Anderson Cancer Center. Camp joins Baylor after spending 12 years at the Medical University of South Carolina.
"I am excited to join the ranks of Baylor's storied Department of Surgery and the Dan L Duncan Comprehensive Cancer Center," Camp said. "Working with our gifted clinicians and researchers, my goal is to continue the tradition of combining innovative strategies with patient-centered approaches to improve cancer care."
He is a fellow of the American College of Surgeons and a member of various academic and oncologic societies including the American Surgical Association, Southern Surgical Association, Society of Clinical Surgery, Society of Surgical Oncology, Society of University Surgeons, American Society of Clinical Oncology and the American Association of Cancer Research.