Clinical trial uses immunotherapy to treat mesothelioma
Media Component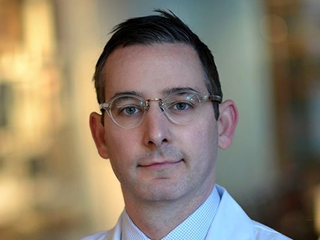 Content
Malignant pleural mesothelioma, an aggressive cancer that affects the lining of the lungs, is fatal in most cases. The majority of patients will die within a year and a half of diagnosis. The Mesothelioma Treatment Center at the Baylor College of Medicine Lung Institute is testing a new treatment that combines immunotherapy with a new drug that accelerates cell death. Researchers are now enrolling patients in a clinical trial.
Roughly 3,000 people are affected by malignant pleural mesothelioma in the U.S. each year, mostly due to inhalation of asbestos fibers. The cancer is typically treated with a combination of chemotherapy, radiation and surgery, but according to Dr. Bryan Burt, principal investigator of this study and associate professor of surgery at Baylor College of Medicine, in many patients, the disease is too advanced, and the conventional treatment is largely ineffective.
"Progress in advancing long-term survival in pleural mesothelioma has been minimal for decades," said Burt, who also is a member of the Dan L Duncan Comprehensive Cancer Center at Baylor College of Medicine. "The benefit of the current standard treatments for pleural mesothelioma has plateaued."
This clinical trial treatment includes an IV infusion of a standard immunotherapy drug called Nivolumab that is effective in many human tumors and injections of a modified adenovirus called MTG201 that targets cancer cells and results in cell death. Burt has been studying the effectiveness of this combination treatment in the laboratory in animal models and said MTG201-induced cancer cell death releases tumor antigens, which allows the immunotherapy to target the cancer. The treatment also stimulated the immune system. Burt has seen remarkable results of this combination therapy in animals.
"This therapy eradicates mouse mesothelioma tumors, rapidly and consistently in an aggressive mouse model of mesothelioma," Burt said.
Burt and his team are hoping to get similar results in human trials. They are looking to recruit 12 patients with malignant pleural mesothelioma who have had chemotherapy before. The study will seek to find out if this combination treatment shrinks the tumors and the mechanism by which that is achieved.
Mesothelioma Treatment Center Director and Associate Professor of Surgery at Baylor College of Medicine Dr. Robert Taylor Ripley said this study will help doctors find a more efficient way to treat malignant pleural mesothelioma.
"Ultimately, individual patients will respond to different approaches," Ripley said. "I suspect that an array of therapeutic options will be necessary to provide effective therapies for all patients. Clinical trials will help define which patient will respond and which therapies should routinely be utilized while avoiding ineffective treatment."
This study is sponsored by Momotaro-Gene Inc. See details about this clinical trial. Patients and caregivers interested in enrolling in the study may contact the Mesothelioma Treatment Center at Baylor College of Medicine at mesotreatmentcenter.org or call (713) 798-6376 for more information.