Master
Media Component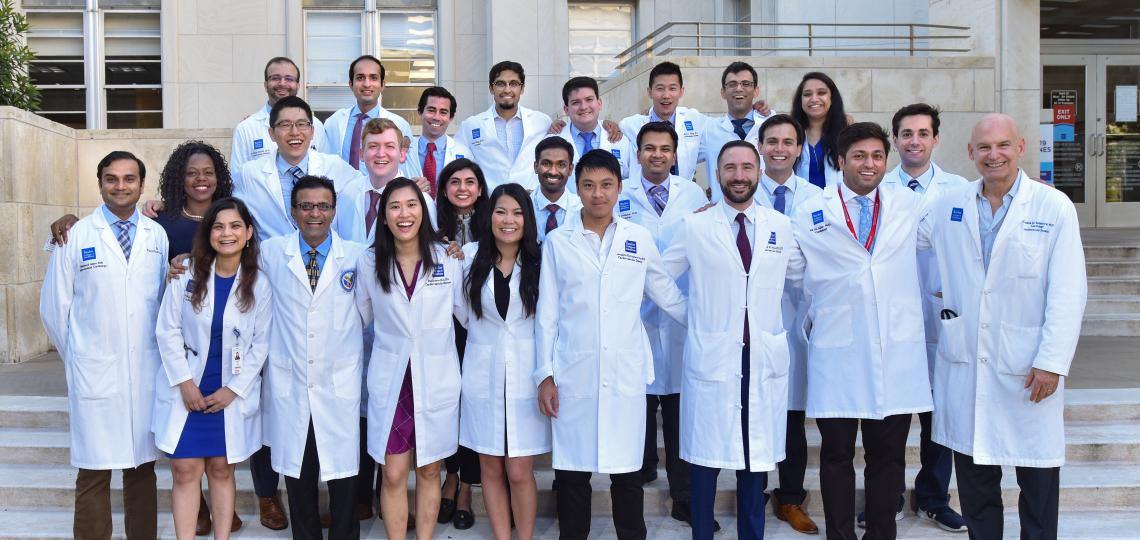 Content
Cardiovascular Disease Fellows 2021
Heading
Message from the Program Director
Content
Thank you for your interest in the Cardiovascular Disease Fellowship Program at Baylor College of Medicine!
Our fellowship is a nationally renowned training program that offers comprehensive clinical training in all disciplines of cardiology with a multitude of research opportunities in basic, translational and clinical cardiology. We are dedicated to training future leaders in cardiology. 
Baylor College of Medicine Cardiology fellowship program develops diverse, humanistic physicians who are trained as excellent clinicians, educators, and researchers and who will provide patient-centered care, clinical, academic and research leadership in the communities they serve.
Our fellows rotate among the three affiliated hospitals (Ben Taub General Hospital [public], Michael E. DeBakey Veteran Affairs Medical Center, and Baylor St. Luke's Medical Center/Texas Heart Institute [private]) and the Baylor College of Medicine McNair Clinic, providing an exceptional array of patient populations, pathology, and clinical settings, with a total capacity of more than 2000 beds. Each site offers a diverse training environment with excellent patient volume and faculty supervision. We are proud to have one of the best county hospitals in the nation, one of the most academic and high-volume VA Cardiology Sections in the nation, and a private hospital with a long-standing tradition of excellence and innovation.
Based on the ABIM blueprint, a comprehensive didactic series given by renowned attendings is refined annually to cater to the needs of the fellows. These include boot camps for incoming fellows, board review series, research conferences, and our "Don't Miss a Beat Monthly Cardiology Pearls." Several of our faculty have received additional training in medical education and are recognized as college-wide and national leaders in cardiovascular disease education. Our program also utilizes several other methods including the use of emails (e.g. EKG of the month, Cath case of the month, Echo of the month, Journal Watch) and social media (WhatsApp, Twitter) to further enhance the educational experience for our fellows. Our fellows also serve as educators for programs within our college and in the Greater Houston community.
Mentored by internationally renowned faculty, fellows can achieve academic productivity as reflected by 130 publications and online media presence in the 2020-2021 academic year. Weekly Monday Research Conferences include a statistics boot camp, presentations by fellows on their research projects, and sessions before and after major scientific meetings. Separate fellowships in Cardiovascular Disease Prevention and Health Services Research are also available.
Our program emphasizes and mentors our fellows to become FIT leaders and leaders in national organizations such as the American College of Cardiology and the American Heart Association. Several of our fellows serve on prominent national committees. Our faculty members who serve as academic leaders on these national and international committees take great pride in grooming our fellows for these leadership positions.
Those seeking advanced training in interventional cardiology, electrophysiology, advanced heart failure/cardiac transplantation, and advanced imaging can tailor their third year of training to their field of interest. Fellows are eligible for board certification in echocardiography, nuclear cardiology, and cardiac CT during their three years of training in cardiology. Lastly, fellows pursuing an academic career can spend a substantial amount of time during the third year for research and medical education.
Meetings with the program leadership occur throughout the fellowship to discuss progress in clinical training, research, leadership, and future endeavors. Faculty and peer mentorship are provided to all fellows.
If you are a prospective applicant, rest assured that our program leadership and fellows are working hard to make your virtual experience as gratifying as possible. I invite you to explore our fellowship site to see the outstanding research productivity of our fellows and their national leadership roles. Most importantly, we pride ourselves in having outstanding camaraderie amongst our fellows and in having faculty members who are recognized leaders as clinicians, educators, and researchers.
Although these are times of social distancing, we can still remain socially connected. Please reach out to us via email or phone, and follow us on Twitter @BCMHeart.
Salim S. Virani, M.D., Ph.D.
Professor of Medicine, Section of Cardiology
Director, Cardiovascular Disease Fellowship Program
Co-Director, VA Advanced Fellowship Program in Health Services Research & Development
Baylor College of Medicine
Content
Affiliations with leading research and healthcare institutions in and around the Texas Medical Center, the world's largest healthcare complex, provide access to an exceptionally diverse array of people and resources. Discover how our affiliations enhance our education programs.
learn more