Master
Heading
Quantitative Real-Time Imaging of GSH Dynamics
Media Component
Credit
Jin Wang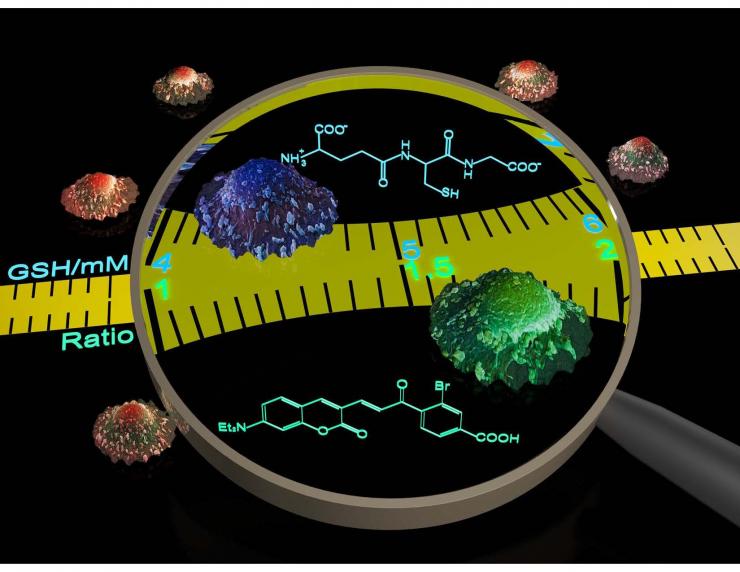 Content
Glutathione (GSH) is the most abundant non-protein thiol in eukaryotic cells. Together with its oxidized partner (GSSG), GSH maintains cellular redox homeostasis and regulates protein functions through S-glutathionylation. These important functions are dynamically regulated by the intracellular concentration and distribution of GSH. Currently, the concentration of intracellular GSH is derived from either cell lysates or GSH-S-transferase (GST) dependent probes. These approaches, however, cannot provide information about the real-time dynamics of GSH concentration changes.
Our group reported the first reversible reaction-based GSH probe (ThiolQuant Green) that can perform single-point quantification of GSH levels in living cells (ACS Chem Bio 2015). We developed a computational model to predict the thermodynamics and kinetics of thiol-Michael addition reactions (Organic Letters 2015), which guided the development of our 2nd generation GSH probe—RealThiol—that allows real-time monitoring of GSH dynamics in living cells (Nature Communications 2017). Furthermore, we have developed a series of organelle-specific GSH probes based on RealThiol (ACS Sensors 2017Antioxidants and Redox Signaling 2018) and have shared the RealThiol probe with >50 redox biology labs around the world through either Kerafast.com or Material Transfer Agreement (MTA). We expect RealThiol will become the "gold standard" for GSH quantification in living cells.
Heading
Drug Discovery towards Coactivator Targeted Therapies
Media Component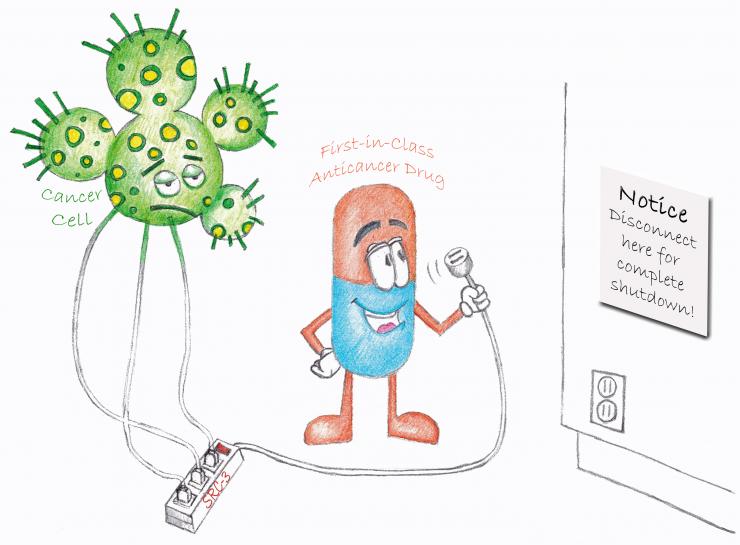 Content
Most targeted therapeutic drugs available are designed to inhibit only one pathway. However, drug resistance often occurs when tumors shift to alternative growth pathways, rendering the originally targeted pathway inessential for tumor growth. As a master regulator of cellular growth and development, steroid receptor coactivator-3 (SRC-3) sits at the nexus of many intracellular signaling pathways critical for cancer proliferation and metastasis. Targeting SRC-3, therefore, can impact many cancer signaling pathways simultaneously and may alleviate drug resistance problem. Through high throughput screening (HTS), the O'Malley group identified bufalin as a potent proof-of-concept SRC-3 small molecule inhibitor (SMI). Our group developed bufalin nanoparticles to reduce its cardiotoxicity (Cancer Research 2014) and synthesized a bufalin prodrug to enhance the aqueous solubility (PLoS One 2015). However, due to its strong cardiotoxicity, bufalin has limited translational potential.
We re-analyzed the HTS hits for SRC-3 SMIs and identified SI-1 with an IC50 value of 200 nM in cells. Through medicinal chemistry optimization, we developed SI-2, which selectively reduces SRC-3 protein levels and is highly potent (IC50 3-20 nM) towards killing breast cancer cells while not affecting normal cell viability. In addition, SI-2 significantly inhibits primary tumor growth and reduces SRC-3 protein levels in a breast cancer mouse xenograft model. In toxicology studies, we found that SI-2 causes no observable acute or chronic toxicity to major organs in vivo (PNAS 2016). One of the caveats is that SI-2 has a relatively short plasma half-life (1 h). We identified the metabolic "soft spot" of SI-2 and developed SI-X that has similar biological activities to SI-2 but significantly longer plasma half-life (6 h). Additionally, SI-X has ~40% oral bioavailability. Our pilot study demonstrated that SI-X can significantly inhibit tumor growth in an orthotopic pancreatic cancer mouse model. We envision that based on the SI-2 class of compounds we can develop the first clinically testable SRC-3 SMI and expand the arsenal to fight cancer.