Master
Media Component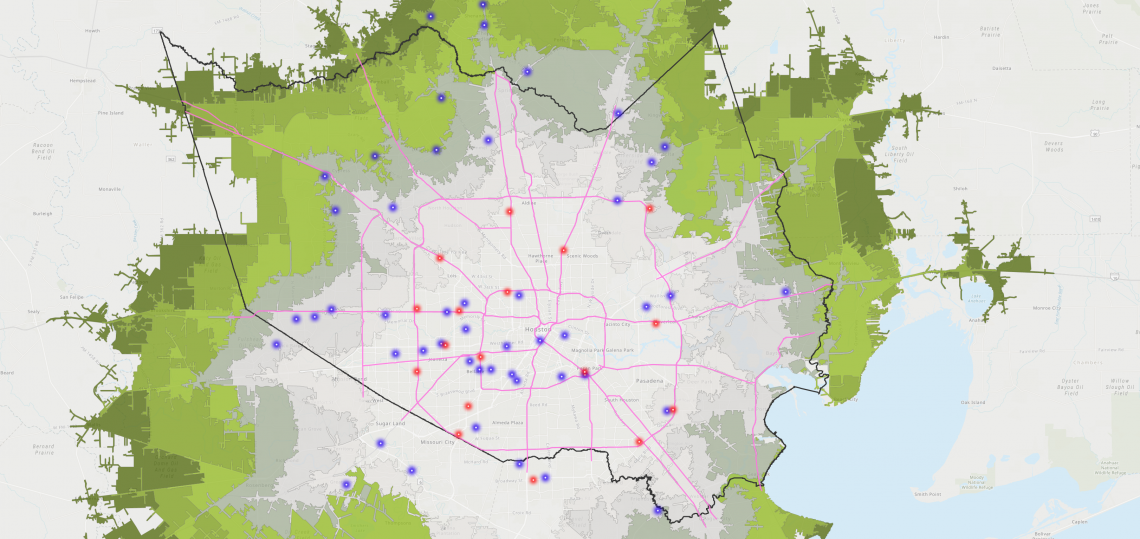 Heading
About the BioGeo Lab
Content
The Biomedical Geospatial Analytics and Modeling Lab (BioGeo Lab), led by Dr. Oluyomi, is organized across several Baylor entities, including the Epidemiology and Population Sciences (EPS), the Gulf Coast Center for Precision Environmental Health (GC-CPEH), the Environmental Health Service (EHS), and the Institute for Clinical & Translational Research (ICTR). The BioGeo Lab provides specialist services in geospatial data processing, spatial, and spatial statistics. The Lab has multiple licenses for Geographic Information Systems (GIS) software and applications, including Esri's suite of products; computers optimized for multi-thread spatial data processing, geostatistical software, expertise with geospatial analytics tools, and an extensive collection of regional, national, and international georeferenced databases. Our team provides expert guidance and consultation to ensure robust GIS operations and GIS analyses for research projects in a variety of biomedical research domains. In general, our consultation activities usually fall under one of these six areas: 
Advise on the geospatial and environmental measures that studies should consider during the study planning phase, including measures that are relevant or connected to other patient-level information (e.g., in electronic health record systems)
Advise on technical matters that are related to: instrument design and use; field data gathering activities; global positioning system data assembly, processing, and analysis
Provide access to and assess various spatial databases and datasets that are potentially related to the exposures or outcomes of interest to a research study, including non-chemical stressors (e.g., socioeconomic deprivation, crime, and tobacco retailers) and chemical stressors (e.g., air pollution and waste sites)
Conduct advanced epidemiological spatio-temporal analysis using several geospatial analysis toolsets that include topological, network, proximity, overlay, and geostatistical analyses tools/techniques
Produce maps from spatial data processing/analysis for visualization and stakeholder engagement
Advise on presentations, publications, and grant writing
Please let us know if we can help with your research activities by completing this short form.
Heading
BioGeo Lab Faculty Advisors
Heading
Selected GIS Databases at the BioGeo Lab
Content
The BioGeo Lab has access to several large datasets and databases including but not limited to the following: 
The Infogroup Consumer Historical Database (IHD) is described as the industry's premier consumer database, with 100 contributing sources and a full rebuild every month. Infogroup, the original compiler of the IHD, uses rigorous quality control protocols with over 7,500 proprietary software programs that help them to compile, clean, and enhance these records. The IHD will provide researchers with year-over-year neighborhood transitions location data starting in 2006 and moving forward, making it possible to either conduct research or implement programs that benefit from understanding health behaviors or disease risk factors over space and time. Product exclusively licensed for research use at Baylor. The BioGeo Lab will maintain paid annual maintenance license for the IHD.
ESRI Business Analyst (Esri BA) contains a variety of spatially referenced data necessary for robust assessment of the built/physical environment. Such datasets, from Business Analyst, are typically not available from municipalities, or when available, are not interoperable across geographic areas because of incompatible formats that are difficult to merge into a single coherent dataset. Esri BA data are provided at the smaller standard US census geographic levels (block group and census tract) that could be used to represent neighborhoods, and they are available for the entire United States and Canada. The Esri BA datasets include updated demographics, census demographics, tapestry segmentation, consumer spending, market potential, and business summary. Product exclusively licensed for research use at Baylor. The BioGeo Lab will maintain paid annual maintenance license for the Esri BA.
Esri Streetmap Premium (Esri SMP) provides enriched street data for use in the ArcGIS software environment to deliver high-quality and multiscale cartographic map display; accurate geocoding; and optimized network analysis. StreetMap Premium is an out-of-the-box solution that is designed specifically for use with ArcGIS Pro. It provides access to Network datasets that are well suited to model spatial analysis that rely on arterial information (e.g., creating a "distance-determined" customized catchment area that could be used to measure and localize specific environmental burden). Product exclusively licensed for research use at Baylor. The BioGeo Lab will maintain paid annual maintenance license for the Esri BA.
Houston Area Regional Data Warehouses and Resources contain several localized geographic datasets (e.g., land use types by parcels, appraisal district data on home values, local public transit systems, municipal public works data). Two major entities that curate and share these types of data (free and paid) in the Houston area include the Houston-Galveston Area Council (H-GAC) Geographic Data Workgroup and the Rice University Kinder Institute Urban Data Platform (Rice UDP). Members of the BioGeo Lab are registered members of these two entities and are therefore offered privileged access to the data they provide. The BioGeo Lab will maintain the privileged memberships at these entities.