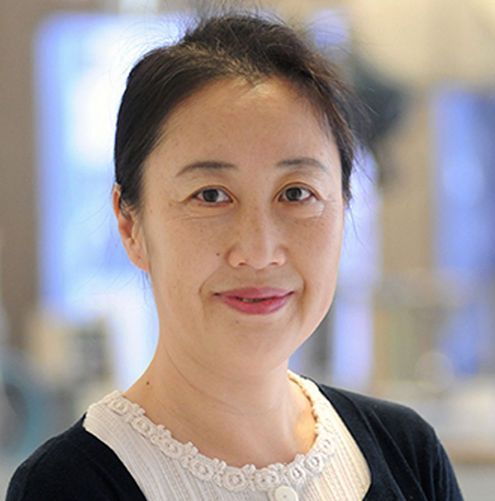 Email
Addresses
Cardiothoracic Surgery Research Laboratory (Lab)

Texas Heart Institute

6770 Bertner Ave.

C-1095

Houston, Texas 77030

United States

(832) 355-9952
Is this you?Log in to edit your profile.
Positions
Professor of Surgery

Division of Cardiothoracic Surgery
Baylor College of Medicine

Director, Aortic Diseases Research Laboratory

Surgery
Baylor College of Medicine
Education
PhD from University Of New South Wales

Sydney, NSW, Australia

MD from Beijing Medical College

Beijing, Beijing, China
Professional Interests
Aortic aneurysms and dissections
Diabetic vascular diseases
Vascular biology and diseases
Professional Statement
Dr. Ying Shen's research focuses on Vascular Diseases. One of her main interests is in the molecular mechanisms of aortic aneurysms and dissections. During the past few years, she has developed several projects investigating the signaling pathways that control aortic destruction, healing, and remodeling. She has also established mouse models of aortic aneurysms and dissections and used various techniques to evaluate the aortic structure and function. The ultimate goal of Dr. Shen's research is to use pharmacological treatment to prevent progressive aortic destruction and disease deterioration.
Selected Publications
Shen YH, Zhang L, Ren P, Nguyen MT, Zou S, Wu D, Wang XL, Coselli JS, Lemaire SA. "AKT2 Confers Protection Against Aortic Aneurysms and Dissections." Circ Res. 2013;112(4):618-32.
Li XN, Song J, Zhang L, LeMaire SA, Hou X, Zhang C, Coselli JS, Chen L, Wang XL, Zhang Y, Shen YH. "Activation of the AMPK-FOXO3 pathway reduces fatty acid-induced increase in intracellular reactive oxygen species by upregulating thioredoxin.." Diabetes. 2009;58(10):2246-57.
Wang XL, Zhang L, Youker K, Zhang MX, Wang J, LeMaire SA, Coselli JS, Shen YH. "Free fatty acids inhibit insulin signaling-stimulated endothelial nitric oxide synthase activation through upregulating PTEN or inhibiting Akt kinase." Diabetes. 2006;55(8):2301-10.
Wu D, Ren P, Zheng Y, Zhang L, Xu G, Xie W, Lloyd EE, Zhang S, Zhang Q, Curci JA, Coselli JS, Milewicz DM, Shen YH, LeMaire SA.. "NLRP3 (Nucleotide Oligomerization Domain-Like Receptor Family, Pyrin Domain Containing 3)-Caspase-1 Inflammasome Degrades Contractile Proteins: Implications for Aortic Biomechanical Dysfunction and Aneurysm and Dissection Formation.." Arterioscler Thromb Vasc Biol.. 2017 February 2 Pubmed PMID: 28153878
Mao Y, Luo W, Zhang L, Wu W, Yuan L, Xu H, Song J, Fujiwara K, Abe JI, LeMaire SA, Wang XL, Shen YH.. "STING–IRF3 Triggers Endothelial Inflammation in Response to Free Fatty Acid-Induced Mitochondrial Damage in Diet-Induced Obesity." Arterioscler Thromb Vasc Biol.. 2017 March 16;37((5)):920-929. Pubmed PMID: 28302626
Shen YH, Utama B, Wang J, Raveendran M, Duraisamy S, Waldman WJ, Belcher J, Vercellotti G, Martin D, Mitchelle B, Wang XL. "Human cytomegalovirus causes endothelial injury through the ataxia telangiectasia mutant and p53 DNA damage signaling pathways." Circ Res. 2004;28;94(10):1310-7.
Wu W, Xu H, Wang Z, Mao Y, Yuan L, Luo W, Cui Z, Cui T, Wang XL, Shen YH. "PINK1-Parkin-Mediated Mitophagy Protects Mitochondrial Integrity and Prevents Metabolic Stress-Induced Endothelial Injury." PLoS One. 2015;10(7):e0132499.
Wang X, LeMaire SA, Chen L, Shen YH, Gan Y, Bartsch H, Carter SA, Utama B, Ou H, Coselli JS, Wang XL. "Increased collagen deposition and elevated expression of connective tissue growth factor in human thoracic aortic dissection." Circulation. 2006;114((1 Suppl)):I200-5.
Yuan L, Mao Y, Luo W, Wu W, Xu H, Wang XL, Shen YH. "Palmitic acid dysregulates the Hippo-YAP pathway and inhibits angiogenesis by inducing mitochondrial damage and activating the cytosolic DNA sensor cGAS-STING-IRF3 signaling mechanism.." J Biol Chem.. 2017;292(36):15002-15015. Pubmed PMID: 28698384
Zhang MX, Ou H, Shen YH, Wang J, Wang J, Coselli J, Wang XL. "Regulation of endothelial nitric oxide synthase by small RNA." Proc Natl Acad Sci U S A. 2005;102(47):16967-72.