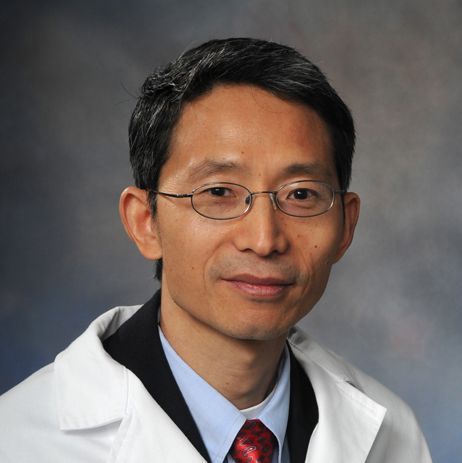 Email
Phone
Addresses
Office

BCM-Alkek Graduate School

Room: BCMN-N1220

Mail Stop: BCM600

Houston, Texas 77030

United States

Lab

BCM-Alkek Graduate School

Room: BCMN-N1220

Mail Stop: BCM600

Houston, Texas 77030

United States
Is this you?Log in to edit your profile.
Positions
Professor

Breast Center; Department of Molecular & Cellular Biology; Department of Molecular Virology & Microbiology
Baylor College of Medicine
Houston, TX, US

Member

Dan L Duncan Comprehensive Cancer Center
Baylor College of Medicine
Houston, Texas, United States
Education
BS from Jiangsu Agricultural College

07/1984 - Yangzhou, Jiangsu, China, People's Rep

MS from Jiangsu Agricultural College

07/1987 - Yangzhou, Jiangsu, China, People's Rep

PhD from Michigan State University

01/1996 - East Lansing, Michigan, United States

Postdoctoral Training at National Cancer Institute

01/2000 - Bethesda, Maryland, United States

Postdoctoral Training at Memorial Sloan Kettering Cancer Center

10/2002 - New York, New York, United States
Professional Interests
Breast cancer initiation and progression
Wnt signaling and cancer stem cells
Breast Cancer Prevention
JAK-STAT signaling in breast cancer
Professional Statement
Dr. Li was born in Jiangsu Province, China. He completed both his Bachelor's and Master's studies in the Department of Animal Sciences and Veterinary Medicine at Jiangsu Agricultural College (now part of Yangzhou University). In 1990, he moved to the United States and worked for one year as a visiting scholar at the USDA Avian Diseases and Oncology Laboratory, East Lansing, Michigan. In 1991, he started his doctoral studies in the Department of Microbiology at Michigan State University under the mentorship of Dr. Jerry Dodgson and obtained his PhD in 1996. After a short postdoctoral study in the Department of Biochemistry at the same university under the guidance of Dr. David DeWitt, in 1997 he began his cancer research career as a postdoctoral fellow at the National Cancer Institute, NIH, under the mentorship of Dr. Harold Varmus. When Dr. Varmus moved his lab to MSKCC in 2000, Dr. Li continued his training with him in Manhattan. In 2002, he was recruited to be on the faculty at this College.
Dr. Li primarily studies breast cancer initiation and metastasis. He has made significant contributions to the field of breast cancer: his lab elucidated the ATM-p53-ARF-mediated anticancer barriers (apoptosis and senescence) during breast cancer initiation, identified a mammary biopotential progenitor population which is marked by cytokeratin 6, and discovered molecular mechanisms underlying the impact of pregnancy on breast cancer risk. Importantly, his lab succeeded in repositioning the FDA-approved anti-JAK inhibitor, ruxolitinib, for preventing breast cancer in preclinical mouse models, and a clinical trial based on this preclinical work is ongoing. As ruxolitinib is administered short-term or intermittently to induce apoptosis of precancerous cells, this treatment regimen overcomes a critical concern of currently used cancer prevention drugs (antiestrogens) which require prolonged treatment and can have significant side effects.
His lab pioneered the use of the RCAS-TVA avian retroviral system for modeling breast cancer in mice (https://www.ncbi.nlm.nih.gov/pubmed/17090666). This method introduces genetic mutations into selected mammary cells (such as stem cells and specific progenitor cells) in the midst of normal cells in the mammary gland in mice at selected times. This method overcomes many of the shortcomings of existing rodent models and more closely mimics human breast cancer formation where only one or a few cells mutate to initiate the cancer development. His lab uses this unique method along with genetically engineered mouse models as well as human cell lines and patient tissue samples to investigate fundamental questions in breast cancer progression and cancer stem cells, as detailed in his lab webpage.
Funding
Novel LGR4 Oncogenic Signaling in Breast Cancer Progression and Metastasis

- #R01 CA204926
Grant funding from

NIH

ALK and TGF-Beta Resistance in Breast Cancer

- #BC142202
Grant funding from

DOD-CDMRP

Beyond Apoptosis: Bcl-xL in Breast Cancer Metastasis

- #BC151736P1
Grant funding from

DOD-CDMRP

The cell of origin of breast cancer metastasis

- #R21CA202227
Grant funding from

NIH

Intermittent Ruxolitinib to Target STAT5 Activation for Breast Cancer Prevention

- #P50 CA186784
Grant funding from

NIH-SPORE

Jak2-Stat5 Pathway Blockade To Prevent Breast Cancer

- #IIR12223625
Grant funding from

Susan G. Komen for the Cure

Ruxolitinib for Preventing Breast Cancer in Women on Neuroleptics

- #R01-CA205594
Grant funding from

NIH

LGR4 in Breast Cancer Progression and Therapy

- #BC160240P1
Grant funding from

DOD-CDMRP