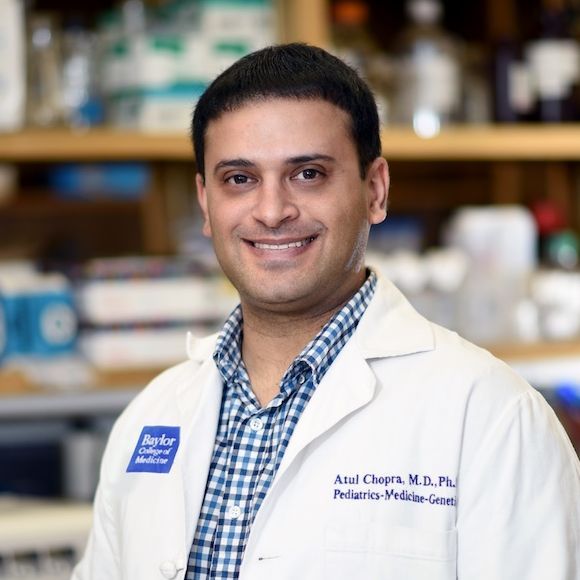 Email
Addresses
Clinic

Texas Children's Hospital

6701 Fannin Street

Clinical Care Center, Suite 1560

Houston, Texas 77030

United States

Office

1 Baylor Plaza

DeBakey M824

Houston, Texas 77030

United States

Lab

1 Baylor Plaza

DeBakey M825/CHOPRA

Houston, Texas 77030

United States
Is this you?Log in to edit your profile.
Positions
Caroline Wiess Law Scholar, Assistant Professor

Molecular and Human Genetics, Molecular and Cellular Biology
Baylor College of Medicine
Houston, TX

Attending Physician

Pediatric Genetics Clinic
Texas Children's Hospital
Houston, TX

Member

Dan L Duncan Comprehensive Cancer Center
Baylor College of Medicine
Houston, Texas, United States
Education
MD from MIMER Medical College

01/2003 - Pune, India

PhD from Baylor College of Medicine

06/2010 - Houston, Texas, United States
Molecular and Cellular Biology

Internship at Baylor College of Medicine

06/2011 - Houston, Texas
Medicine/Pediatrics

Residency at Baylor College of Medicine

07/2014 - Houston, Texas
Medical Genetics
Certifications
Clinical Genetics

American Board of Medical Genetics and Genomics
Professional Interests
Energy and metabolic homeostasis, asprosin biology, identification of novel disorders of energy balance in humans
Professional Statement
I am a physician-scientist at Baylor College of Medicine with clinical expertise in Medical Genetics and research expertise in the field of energy homeostasis and metabolic disease. Through the assessment of humans with genetic defects in the processing of energy, we are able to identify new genes and pathways that have escaped attention so far. This not only benefits patients but also allows us to take the discovery into the lab and focus on filling in the gap from the gene to the phenotype. The overarching aim is to help one patient at a time but also a broader swath of humanity via advancing medical knowledge and developing novel therapeutics. As an example of this, by studying a rare genetic disorder - Neonatal Progeroid Syndrome, our lab was the first to identify a novel hormone (that we named asprosin) that modulates hepatic glucose production and appetite stimulation using spatiotemporally distinct mechanisms when dietary fuel is unavailable. In the therapeutic arena, antibodies targeting asprosin are showing considerable promise by acutely lowering blood glucose and appetite, leading over the long term to improvement in type II diabetes and obesity respectively.
Funding
Caroline Wiess Law Scholar Award for Academic Excellence

Unrestricted funding from

The Caroline Wiess Law Endowment

Chao Physician-Scientist Award

Unrestricted funding from

The Ting Tsung and Wei Fong Chao Foundation

Clinical Scientist Development Award (K08)

- #1K08DK102529
Grant funding from

The National Institute of Diabetes and Digestive and Kidney Diseases (NIDDK)