Dr. Tashinga Musonza Earns Golden Scalpel Award
Media Component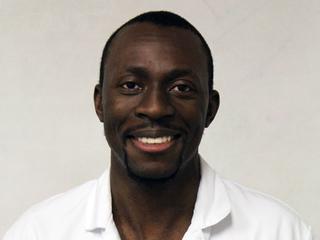 Content
Dr. Tashinga Musonza, general surgery resident in the Michael E. DeBakey Department of Surgery, was recently presented the 2019 Golden Scalpel Award by the Department of Emergency Medicine at Baylor College of Medicine.
The Golden Scalpel Award is presented on behalf of the faculty and residents of Emergency Medicine to a single resident consultant in recognition of excellent communication, efficiency, and patient care.
Dr. Musonza was born and raised in Zimbabwe. He came to the United States in 2006 and graduated from Lander University, Greenwood, South Carolina with a bachelor's degree in Nursing and a Biology Minor. He worked as an ICU nurse in Pinehurst, North Carolina prior to matriculating at Mayo Clinic Medical School in Rochester, Minnesota in 2011. In 2015, he joined the Baylor College of Medicine General Surgery Residency Program.

During his residency, he has published more than 20 peer reviewed journal articles, abstracts and book chapters in the field of trauma surgery. One of his most recent first author publications, "Trends in Resident Operative Trauma: How to train future trauma surgeons?" was published in the American Journal of Surgery and featured as an oral presentation at the Southwestern Surgical Congress, 71st meeting. Building upon this, he will be giving another oral presentation at this years' Southwestern Surgical Congress 72nd meeting, "General Surgery Resident Operative Experience in Vascular Trauma".
He has also participated in the hands-on cadaveric robotics training with the Texas Association of Surgical Skills Laboratories (TASSL) Advanced Resident Robotic Training Program for two consecutive years and will be assisting with teaching junior residents during the TASSL course this year.

Dr. Musonza will be joining the Colorado Springs Surgical Associates at Penrose Hospital as a Trauma Surgeon after graduation. He is passionate about surgical education and hopes to continue this by teaching 4th year general surgery residents from Baylor as they rotate through Penrose Hospital.