Dr. Ruth Simmons named as 2019 commencement speaker
Media Component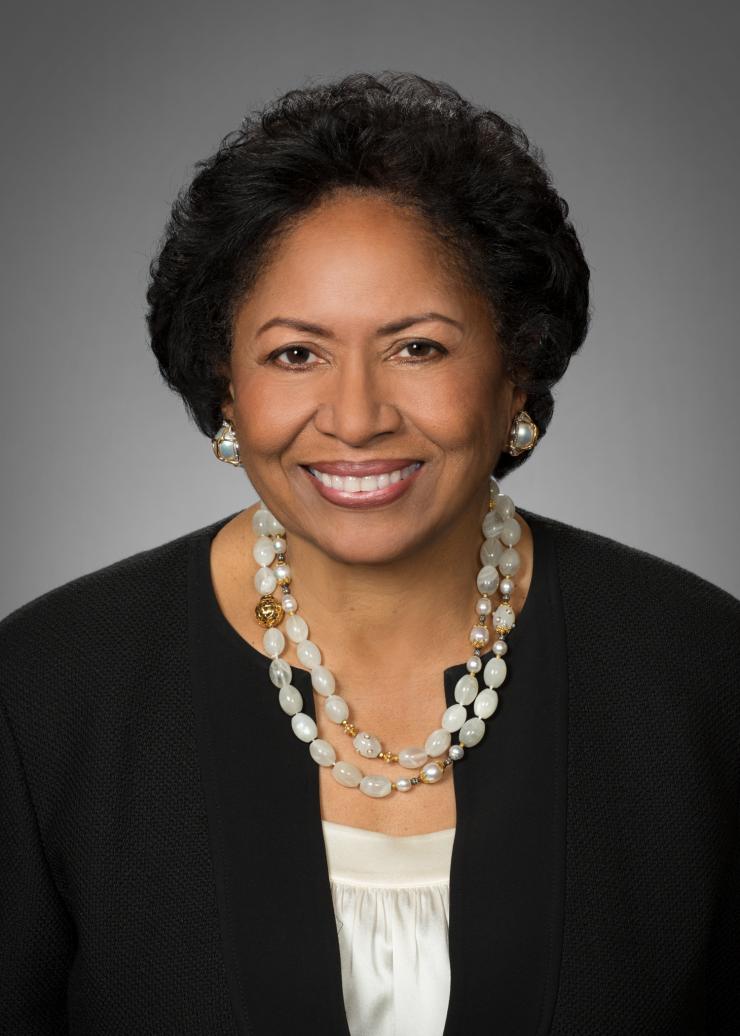 Content
Dr. Ruth Simmons, president of Prairie View A&M University, will provide the John E. Whitmore Lecture commencement address at Baylor College of Medicine's commencement ceremonies in May.
Along with Simmons, three others will receive honorary degrees: Dr. Erin O'Shea, president of Howard Hughes Medical Institute; Dr. Marla Guerra, who served as superintendent of the South Texas Independent School District for 17 years; and Liz Scott, co-executive director of Alex's Lemonade Stand Foundation.
"The four honorary degree recipients at Baylor College of Medicine this year are all exceptional in their fields, " said Dr. Paul Klotman, president, CEO and executive dean of the College. "We are pleased to recognize these incredible leaders who represent the areas most important to our institution. I have tremendous respect for each of them and their accomplishments and look forward to the ceremony in May."
The commencement ceremony for the School of Medicine and the Graduate School of Biomedical Sciences will be held May 28 at Jones H. Jones Hall for the Performing Arts in downtown Houston.
Simmons served as president of Brown University, the first African American president of an Ivy League school. She also previously served as provost at Spelman College and vice provost at Princeton. Simmons came out of retirement to take the helm at Prairie View A&M. She received a doctorate from Harvard in 1973 and is widely recognized for her focus on servant leadership and the importance of advancing high-quality education from students from all backgrounds.
O'Shea was named president of the Howard Hughes Medical Institute, one of the largest private funding organizations for biological and medical research in the United States, in 2016 after serving as chief scientific officer from 2013 to 2016. She is a leader in the fields of gene regulation, signal transduction and systems biology. She has been an HHMI investigator since 2000 and has served on the faculty of Harvard University and the University of California, San Francisco. She received her doctorate in chemistry from MIT.
Simmons and O'Shea will receive the Doctor of Letters in Medicine from Baylor. This degree is awarded to physicians or research scientists who have excelled in medicine through teaching, research or public service and whose acts have brought credit or advancement to Baylor or the profession of academic medicine.
As leader of the South Texas Independent School District, Guerra was instrumental in the expansion and success of Baylor's six partner high schools in this school district. The district showed great success under her leadership, with performance in state accountability consistently surpassing set targets and levels of others across the state. At the time of her retirement, the district ranked first in the state and sixth in the nation in the 2018 Best K-12 School District rankings.
Alex's Lemonade Stand Foundation, which funds pediatric cancer research at 135 institutions, was created following the death of Scott's daughter, Alex, of cancer at age 8. When she was 4, she told her parents she wanted to raise money to cure cancer in children through lemonade stands. At the time of her death, more than $1 million had been raised through lemonade stands run by children nationwide. Since the first lemonade stand in 2000, the foundation has raised more than $150 million to fund research and travel programs and to provide sibling support.
Guerra and Scott will receive the Doctor of Humanities in Medicine, awarded to individuals who have provided exceptional support or service directly or indirectly to Baylor or to academic medicine as a whole and to the community at large.