Baylor and TCH researchers honored with AACR Team Science Award
Media Component
Credit
Paul V. Kuntz/Texas Children's Hospital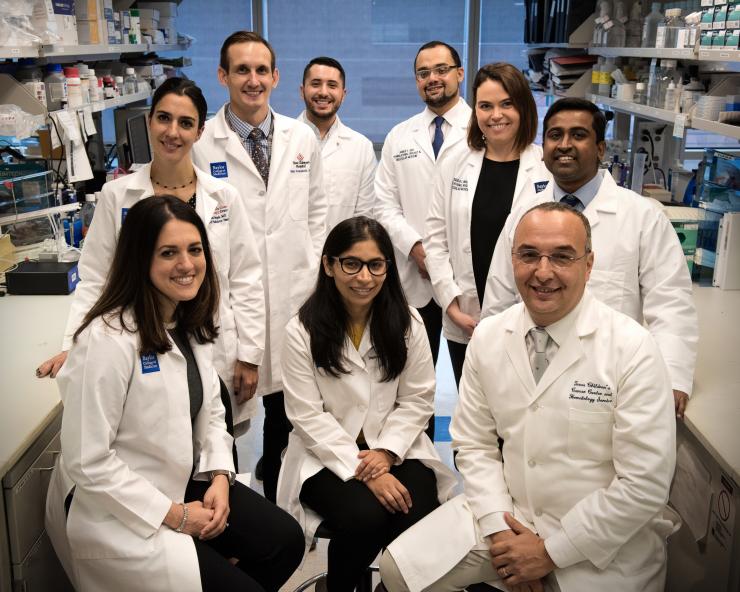 Content
The American Association for Cancer Research (AACR) has recognized the St. Baldrick's Foundation-Stand Up To Cancer Pediatric Cancer Dream Team with the 2021 AACR Team Science Award. Baylor College of Medicine and Texas Children's Cancer Center team leader Dr. Nabil Ahmed and researchers Dr. Meenakshi Hegde, Dr. Sujith Joseph, and Dr. Will Parsons are among those recognized. Bambi Grilley and Melanie Frost Moll also were recognized for their contributions to the team as advocates of childhood cancer research.

In early 2013, the St. Baldrick's Foundation and Stand Up To Cancer (SU2C) collaborated to create a Pediatric Cancer Dream Team to help develop new immunotherapy approaches for high-risk childhood cancers. The collaboration has resulted in 319 peer-reviewed published manuscripts, 44 patent applications, the generation of more than $118 million in additional grant funding, the creation of a new pediatric clinical trials network, and the treatment of more than 1,113 children through early-phase clinical trials.

"The creation of the Pediatric Cancer Dream Team allowed for unprecedented synergy between genomics and immunotherapy across several major institutions that are leaders in the field," said Ahmed, associate professor of pediatrics – hematology and oncology at Baylor and Texas Children's and scientist at the Dan L Duncan Comprehensive Cancer Center and the Center for Cell and Gene Therapy. "This network effectively enabled scientific discovery across disciplines in its most profound form, and, most importantly, it enabled the prompt translation of these discoveries into the clinic, giving hope to children with incurable cancer."

As part of the Pediatric Cancer Dream Team, the Baylor team discovered intra- and inter-tumoral heterogeneity in glioblastoma that leads to a critical mechanism of immune escape called antigen escape. Consequently, the Baylor team described first-in-class bivalent CAR molecules that can recognize targets in tandem, termed TanCAR, as well as bivalent and trivalent CAR T cells to target glioblastoma and leukemia, treating and preventing antigen escape. A trivalent CAR T cell product is now in preparation for a clinical trial in leukemia, the TriCAR ALL trial. Together with the Hospital for Sick Children (SickKids), the Baylor team discovered how locoregional delivery of CAR T cells is more efficacious and likely less toxic than intravenous delivery. A clinical trial, iCAR, is now recruiting patients based on this concept.

The team has since opened several clinical trials for pediatric solid tumors. Specifically, the Baylor team started the HEROS clinical trial series. HEROS established safety of HER2-directed CAR T cells in pediatric sarcoma. HEROS 2.0 demonstrated durable complete remissions in osteosarcoma and rhabdomyosarcoma and demonstrated that CAR T cells can have a "vaccine" effect that awakens the patient's own immune system response to fight the tumor. HEROS 3.0 will be recruiting next and will unleash this immune response through checkpoint blocking antibodies. Additionally, the Baylor team has led clinical studies in brain tumors, treating glioblastoma through the HER-GBM trial and taking advantage of locoregional delivery in the ongoing iCAR trial for several other incurable brain cancers.

The AACR Team Science Award recognizes an outstanding interdisciplinary team of researchers for their innovative and meritorious science that has advanced or may advance our fundamental knowledge of cancer, or a team that has applied existing knowledge to advancing the detection, diagnosis, prevention or treatment of cancer. Read more about this year's awardees here.