Master
Media Component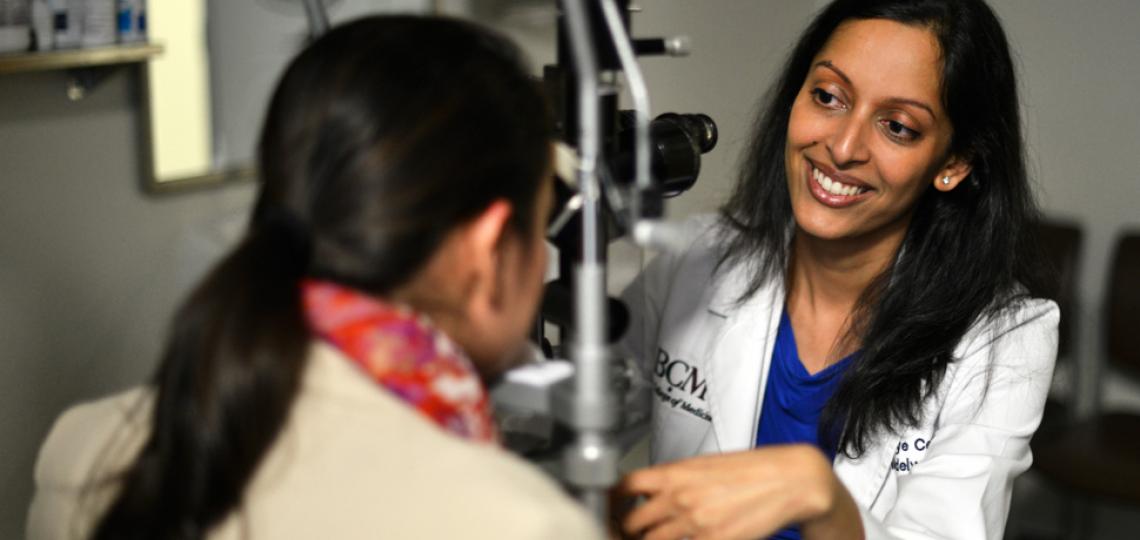 Heading
What Is Corneal Cross-Linking?
Content
Corneal cross-linking is an in-office procedure that works to strengthen and stabilize the cornea in eyes that have weakness from keratoconus or ectasia. At Baylor Medicine, our cornea specialists are experienced in the treatment of keratoconus and corneal ectasias.
Corneal cross-linking uses a combination of riboflavin drops and UV light to strengthen the cornea. The treatment creates additional links in areas of weakness of the cornea to prevent further damage and even reverse it.
Heading
What Is Keratoconus or Ectasia?
Content
The cornea is the dome-shaped window to the eye and needs to be smooth and regular shaped to see well. In certain conditions, the cornea has areas that become weak. When this occurs, the cornea starts to bulge, causing vision distortion.
Although glasses can correct some of this, most patients need additional treatment to get their best vision, such as contacts or even a cornea transplant.
Heading
Who Needs Corneal Cross-Linking?
Content
Patients with the following diseases may benefit from corneal cross-linking:
Keratoconus
Pellucid marginal degeneration
Ectasia after refractive surgery
Irregular astigmatism 
Heading
What Can I Expect With Corneal Cross-Linking?
Content
After your initial evaluation to determine if you are a candidate, you will come back for the treatment. The treatment is performed in an exam room with a combination of eye drops and light treatment for about 30 minutes. You should not feel any pain or discomfort, as you will receive numbing eye drops. After the procedure, you will go home with a bandage lens on the eye for comfort, and we will see you the next day in the clinic.
Heading
How Do I Know I Am a Candidate?
Content
To make an initial evaluation, please contact Amanda Vega at (713) 798-3176 or amandav@bcm.edu.