Master
Content
Some wrinkles are caused by repeated contraction of muscles in the face. Over time, creases formed can lead to a "persistent frown" and a more aged appearance. Precise use of Botox is the best approach to preventing and eliminating these lines. Treated facial muscles become relaxed for an average of three to four months. It may be used in addition to, or in place of other cosmetic procedures. The use of Botox for wrinkles is not covered by insurance and must be paid for by the patient at the time of treatment.
The most commonly injected areas include the forehead, glabella (between the eyebrows) and crow's feet (next to the eyes). The injections are slightly uncomfortable and may cause a temporary headache. Occasionally, there may be some swelling and bruising. Patients may resume normal activities immediately and no recuperation is needed. The full effect of Botox may take two weeks to be noted.
Media Component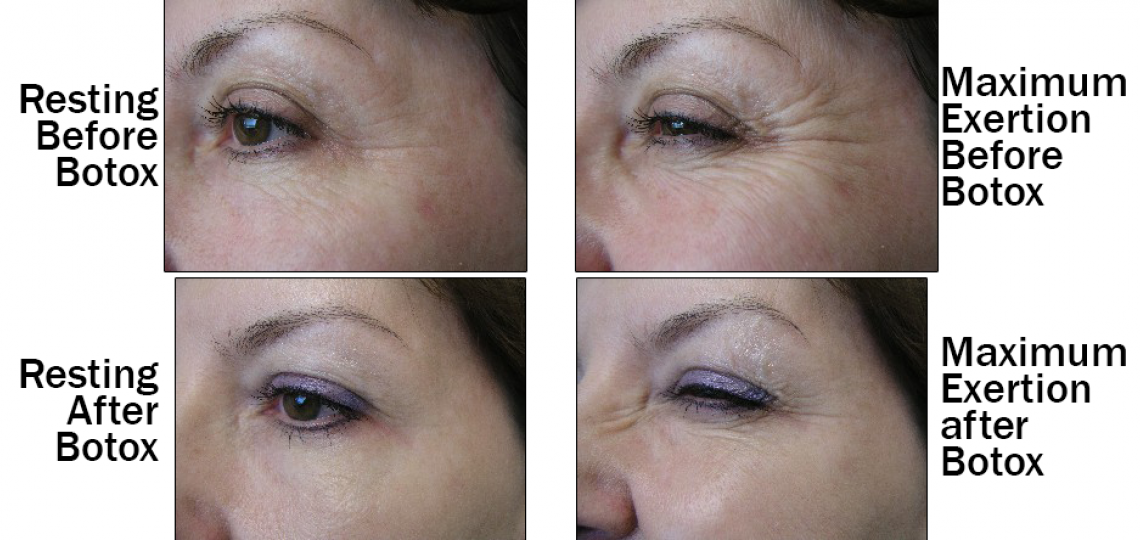 Content
The pictures above show the results for a Baylor Dermatology patient who received Botox treatment.
Heading
Additional Information
Content
No long-term side effects have been described with cosmetic use of Botox. Although officially approved by the FDA for cosmetic use in 2002, it has been used to improve facial wrinkles for many years. Botox is very safe and used in much larger doses in other fields of medicine. Rarely, the medication can affect nearby muscles, causing temporary, but unintended, muscle paralysis. Examples include eyelid drooping or double vision seen in a very small percentage of patients treated. Those effects are always temporary and often can be treated with eye drops.
Patients on selected medications or with certain medical disorders are not advised to have Botox. Captopril may inhibit Botox, while aminoglycoside antibiotics may exaggerate the effect. Individuals who are pregnant, have egg allergies, or a neuromuscular disorder are advised to avoid Botox.
After treatment a few simple techniques may maximize the benefit and minimize side effects. Gauze should be held over the skin until pinpoint bleeding stops. It is helpful to frown repeatedly during the first hour after injection. Patients should avoid touching the area or lying down for four hours.
In summary, Botox is a safe, effective, FDA-approved tool that may be used to treat certain types of wrinkles for three to four months at a time. Side effects as described above are minor and temporary. The procedure may be repeated as desired by the patient and may be used in combination with other treatments for a more youthful appearance.
Heading
Frequently Asked Questions - Botox
Heading
Frequently Asked Questions - Restylane®
Heading
Frequently Asked Questions - Other