Master
Content
Omentum is a student-run arts and literature publication at Baylor College of Medicine. It is a medical humanities journal at the Texas Medical Center and it aims to connect the arts, literature, and medicine. It is an annual publication that features art, music, dance, prose, and poetry from healthcare workers and students in the TMC.
Submissions for the Volume 3 Issue is now closed. 
Description
View the links below for access to Omentum Issues and corresponding media. 
Terms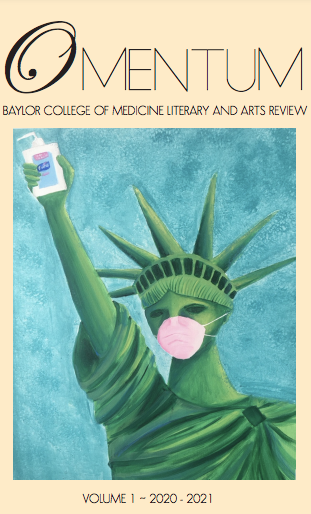 Item Definition
Omentum Volume 1 is available in paperback on Amazon. The price reflects the cost of hosting the journal on amazon and the printing cost with no profit to BCM or Omentum in order to maximize accessibility of the publication. Purchase this issue.
Heading
Publication Standards
Content
Submissions should connect to themes related to medicine or the medical humanities in some way. Omentum is not a place for opinion or overtly persuasive pieces.
Prose or poetry: no word limit
Music: mp3 or mp4 format*
Art: jpeg or png files
Dance videos: mp4 format*
* Music and Dance videos may not contain any copy written music.
Previously published pieces are accepted, as long as the author or artist has not granted exclusive publishing rights to that other publication.
The confidentiality of information related to any patient or patient encounter is an ethical and legal obligation of all health care providers, and this publication seeks to uphold those same standards. Therefore, submissions that contain PHI or identify another individual will not be published unless signed permission is included. In addition to written details, this includes artwork and photography that could reasonably identify an individual.
Heading
Submission Deadline and Form
Content
Submissions for the Volume 3 Issue is now closed. Please check back for Volume 4 to open later in 2023.
Heading
Submission Review
Content
Each submission will be reviewed by our editorial board. Not all submissions will be published, and your submitted piece may be edited. If you have questions or need assistance in meeting the standards, contact us at omentum-editors@bcm.edu.