Master
Media Component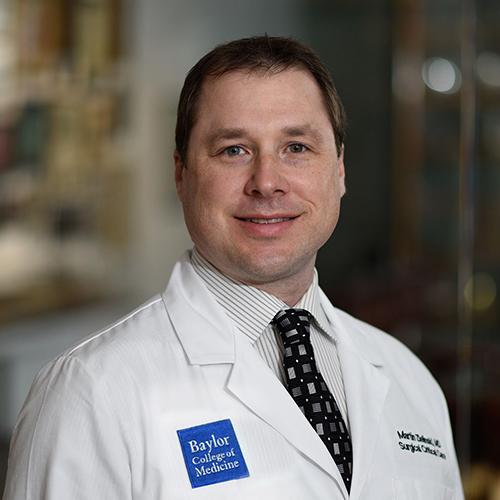 Content
Baylor College of Medicine has a profound history in the care of trauma and acute care surgery patients. Dr. Kenneth Mattox, a true pioneer who, by helping define what trauma surgery was, had an immeasurable impact on our field. His development of new surgical techniques, innovative systems of care, and a team-based culture necessary for around the clock attention to our patients raised the bar for us all. It is with these principles at the forefront that the Division of Trauma and Acute Care Surgery will move into the future. 
As the inaugural division chief, I am honored to lead a talented group of surgeons and clinicians with broad expertise in trauma, emergency general surgery, surgical critical care, and elective general surgery. These leaders operate throughout Baylor campuses including Baylor St. Luke's Medical Center, Ben Taub Hospital, and the Michael E. DeBakey Veterans Affairs Medical Center. Our surgeons truly provide the breadth of general surgery services necessary to support patient care at each of these sites 24 hours a day, 7 days a week, 365 days a year.
Baylor St. Luke's Medical Center
At our primary private teaching hospital, division surgeons treat a high-volume of critically ill patients who present with complex surgical emergencies including bowel obstruction, perforated diverticulitis and peptic ulcers, bowel ischemia, appendicitis, and cholecystitis. We provide extensive inpatient and outpatient elective services such as laparoscopic and robotic approaches for small bowel and colon resections, ostomy formation, splenectomy, and cholecystectomy. In addition to our surgical roles, we also support other surgeon's practices in two distinct surgical and thoracic intensive care units. Using our background as fellowship trained intensivists, we provide critical care to cardiac, thoracic, and emergency general surgery patients with respiratory failure, sepsis, and cardiac issues requiring advanced monitoring and therapies. Another program we are particularly proud of is the new Baylor Hernia Center which is a team-based approach to the care of inguinal, ventral, and complex recurrent abdominal wall hernias. Our faculty have expertise with open, laparoscopic, and robotic approaches and will recommend the best treatment method for your hernia.
Ben Taub Hospital
A county hospital renowned as a leader in trauma, Ben Taub is one of two Houston-area Level I trauma centers that specializes in the care of severely injured patients. The team is guided by nationally recognized surgical leaders who advance evidence-based innovative trauma care through our outstanding clinical service, scholarly activity and high-quality resident and fellow trainees. Our goal is to provide rapid and accessible care to every patient using a multidisciplinary team-based approach to ensure best outcomes.
Michael E. DeBakey Veterans Affairs Medical Center
Recognized as a quality leader in the VA system, the MEDVAMC delivers state-of-the-art surgical care to our veterans. The surgical faculty perform the entire range of general surgery procedures and extensive complex procedures. The work of our subspecialty focused surgeons is complemented by an experienced Acute Care Surgery team boarded in Surgical Critical Care and with unparalleled expertise in the management of critically ill patients with emergent surgical problems.
Division employees include surgeon-scientists and educators who are leaders in their fields. We have advanced research in hemorrhage resuscitation, novel blood product utilization, bowel obstruction, and set the national standards of surgical outcomes. As a member of the LITES Network (Linking Investigations in Trauma and Emergency Services), we are at the forefront of trauma research. Our training activities with Baylor surgery residents, one of the top programs in the country, provides them with broad exposure to clinical opportunities who will disseminate these advancements globally. We have a nationally renowned ACGME-approved surgical critical care fellowship that recruits the brightest and hardest working surgical graduates who gain both adult and pediatric proficiency, through our affiliation with Texas Children's Hospital, in critical care and trauma surgery. Surgeons are only a part of our team, the cadre of Advanced Practice Providers who bring a wealth of knowledge and compassion and are truly the heart of our Acute Care Surgery service lines.  
Please explore the website and get to know us, our research, and the ways we are advancing the care of acute care surgery patients. 
Martin D. Zielinski, M.D., FACS
Professor and Chief
Division of Trauma and Acute Care Surgery