Master
Media Component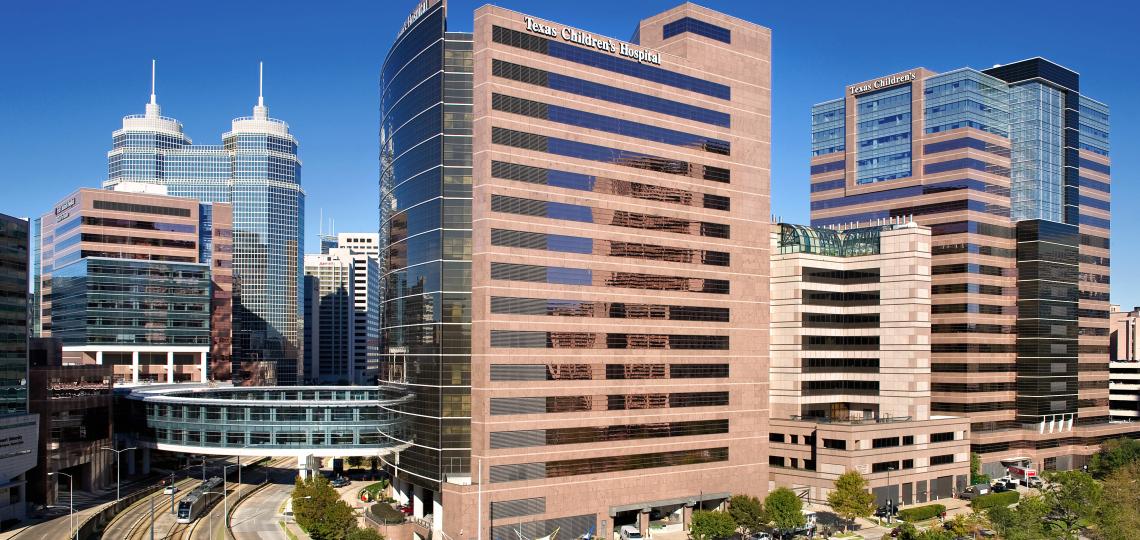 Heading
Texas Children's Hospital
Content
America's largest pediatric hospital, Texas Children's continues to grow to serve the Houston community.
Heading
About the Fellowship
Content
Texas Children's Hospital will be the main clinical site for the Baylor College of Medicine Pediatric Hospice and Palliative Medicine Fellowship Program.
Texas Children's Hospital is a 600 bed quaternary care, free-standing pediatric hospital within the Texas Medical Center that houses an emergency department, multiple acute care floors for general pediatric as well as pediatric subspecialty care, pediatric intensive care units and step-down units, a neonatal intensive care unit, and a cardiovascular intensive care unit, in addition to a vast array of operating suites and outpatient clinics.
The Pavilion for Women at Texas Children's Hospital houses a state of the art fetal diagnostic and fetal surgery program. The Pediatric Advanced Care Team is an interdisciplinary palliative care team which provides consultation for inpatients at Texas Children's and the Pavilion for Women as well as for outpatients seen in the attached outpatient clinic complex.
Heading
Pediatric Advanced Care Team
Content
Consultations for children with serious illness are generally to assist with goals of care discussions, complex care coordination, advanced symptom management, anticipatory grief and bereavement support, and end of life care. PACT consists of attending physicians, nursing, social work, chaplaincy and bereavement support. In addition, PACT has support for research and quality improvement work through the Section of Palliative Care. While at Texas Children's, the fellow will have clinical experiences at Texas Children's that involve rotating on the inpatient palliative care consult service, seeing ambulatory palliative care patients in the outpatient setting, following pediatric patients while on the PACT rotations who are receiving care at home, rotating with the outpatient pain team in the ambulatory clinic, and elective clinical experiences.
The fellow will have the opportunity to work with the core PACT faculty (seven faculty) as well as the adjunct PACT faculty (12 faculty) and will always have direct or indirect faculty supervision. All PACT faculty are board eligible or board certified in Pediatrics and Hospice and Palliative Medicine. The volume of patients seen by the PACT consult services and the number of outpatient clinic visits is robust given the size and scope of Texas Children's Hospital. The inpatient consult service holds an average census of over 20 with outpatient clinic visits of five-ten per week.
In addition, PACT will assist with the care of pediatric patients home with hospice services. In addition to direct patient care, the fellow will have the opportunity at Texas Children's Hospital to participate in a multitude of educational programs including didactics, online learning modules, small group learning and bedside teaching. The variety and volume of patient encounters that the fellow will experience while at Texas Children's will provide the basis for bedside teaching by faculty, collaborating with members of the inter-disciplinary team and hospital staff at large, research and reflection, and will be sustained by the large PACT faculty as well as the administrative and financial support that has been dedicated to PACT and the Texas Children's Hospital Pediatric Palliative Care Fellowship by the Department of Pediatrics.
Content
Houston Hospice is an adult and pediatric hospice located within one mile of Texas Children's Hospital that has a 32-bed inpatient unit and multiple home-based hospice teams. They provide hospice services for patients in the Houston Metropolitan Area and currently houses the only inpatient hospice unit for children in the area. The fellow will complete both the adult and pediatric hospice rotations with Houston Hospice. Seeing and treating patients at home, in the context of their family, neighborhood, and physical environment highlights unique aspects of total patient management and necessitates working with the interdisciplinary team. Likewise, caring for patients in the inpatient unit, where aggressive symptom management or end of life management are the goals of care, is important in developing a well-rounded skill set as a hospice and palliative medicine physician.
Heading
HealthBridge Children's Hospital
Content
Finally, The fellow will rotate at HealthBridge Children's Hospital to fulfill the long-term care requirement for the Hospice and Palliative Medicine Fellowship Program. HealthBridge is a 40 bed, privately-owned, post-acute facility that provides inpatient services for medically complex children who are in need of "step down" ICU services (long-term ventilator wean or management, intravenous infusions/antibiotics) or rehabilitation services. This is an essential component of education for the fellow given the large numbers of children with complex health needs that require palliative care services. The fellow will have experiences managing patients in these two arenas under the close supervision of an in-house pediatric hospitalist and an in-house physiatrist as well as collaborating with other members of the multi- disciplinary team such as respiratory therapy, physical/speech/occupational therapy, nutrition, child life, social work, pharmacy, nursing, and sub-specialty physicians.
Content
America's fourth largest city is a great place to live, work and play. Find out why.