Master
Media Component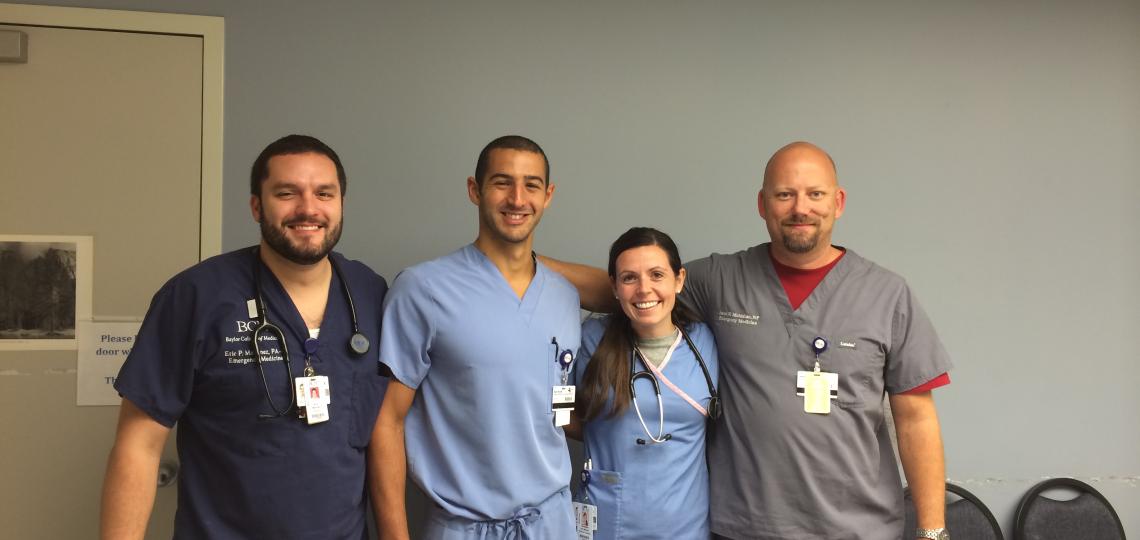 Heading
About the Program
Content
We are committed to provide excellence in emergency medicine education, research, and medical service to our patients and community.
Program History
Since 2010, Emergency Medicine at Baylor College of Medicine has offered a one-year EM Fellowship for physician assistants. Building upon PA's generalist medical education, the fellowship will enable physician assistants to become an integral team member in the specialty field of emergency medicine. The fellowship is a complement to Baylor's Emergency Medicine Residency. Our program gives each fellow the necessary skills to work competently and efficiently in every aspect of emergency medicine.
Program Highlights
We prepare physician assistants for a career in emergency medicine as competent, highly functional members of the emergency healthcare team.
Our program provides physician assistants with further education, specialized clinical and professional experience that distinguishes them from non-specialty trained PAs.
The curriculum and training or our program prepares physician assistants for the Emergency Medicine CAQ Exam.
Heading
Why Pursue Postgraduate Education?
Content
It's an exciting time to be a physician assistant! We are truly an important piece of ever changing health care reform. According to the AAPA in 2007 over 12 percent of all emergency department visits are seen by advanced practice providers. This is expected to increase exponentially in the upcoming years. PAs play a vital role in the future of emergency care.
Emergency medicine is an exciting specialty focused on the treatment of acute and urgent medical conditions. Emergency practitioners treat the full spectrum of patients using skills ranging from those of a general practitioner to specialists. While not required, there are several benefits of completing an emergency medicine fellowship.
Perhaps the most important and noticeable is the increased knowledge base. This is achieved by working along side board certified emergency physicians and reinforced with didactic training. It can be difficult to obtain a job in emergency medicine without experience; the fellowship is a great way to gain valuable experience. There are also many both tangible and non-tangible benefits including: Increased respect from physician colleagues, potential for increased compensation, increased productivity and patient satisfaction, potential for leadership positions and promotions, advanced skill proficiency, and many more.
Heading
Director's Message
Content
View a message from Eric Martinez, MPAS, PA-C, director of the Emergency Medicine Physician Assistance Program.
View Message
Content
Affiliations with leading research and healthcare institutions in and around the Texas Medical Center, the world's largest healthcare complex, provide access to an exceptionally diverse array of people and resources. Discover how our affiliations enhance our education programs.
Learn More