Master
Content
The Dan L Duncan Comprehensive Cancer Center is an NCI-designated comprehensive cancer center located in the heart of the Houston metropolitan area, which is comprised of a unique diverse demographic population. The DLDCCC recognizes the tremendous value of human biospecimen in a continuously learning healthcare system that aims to translate information gathered in clinical settings to enable and direct cancer research. By supporting biobanking efforts, the DLDCCC facilitates research on the causes of cancer, the identification of new treatments for cancer, and on factors that affect clinical outcomes and survival among patients with cancer.
The DLDCCC biospecimen bank currently encompasses over 400,000 individual specimens representing 370 unique disease diagnoses and over 160 unique disease sites representative of the racial and ethnic diversity of Harris County and the greater Houston area. These specimens are made available to cancer researchers within Baylor College of Medicine, the Texas Medical Center and throughout the world at a minimal to no cost basis at the recommendation of the Tissue Use Committee following an application documenting relevant research projects. We encourage interested researchers to submit an application for specimens using the link below, or to contact us for more information regarding the DLDCCC Biobank.
Request Information on Specimen Availability
Heading
Core Services Offered
Content
Biobanking collection efforts are integrated across various department and disease focus groups within the DLDCCC as evidenced by the list of participating investigators (see below). The DLDCCC supports two cores that provide collection services at our affiliate clinical sites: Human Tissue Acquisition and Pathology Shared Resource; and Population Sciences Biorepository. The two cores, which collect tissues and bio-fluids, respectively, coordinate closely with each other and work with individual investigators and with clinical centers to recruit subjects, and collect and process specimens for research purposes. Disease domain champions facilitate the annotation of specimens with relevant risk factor, clinical, pathological, and outcome/survival data. We're happy to assist with grant consultations reading specimens availability prior to submittal.
Biobanking Services Inquiry Link
Heading
Human Tissue Acquisition and Pathology
Content
The HTAP Shared Resource provides facilities for the following services:
Patient recruitment, consenting and collection of excess tissue from surgical samples
Sample preparation for assay (sectioning, scrolls, etc)
Sample shipping
Retrieval of paraffin blocks
Quality assessment (cellularity, etc)
Short-term and long-term biospecimen storage
General Histology services—tissue processing, sectioning and staining (human samples, animal models, and cell lines)
Immunohistochemistry & TUNEL
Laser Capture Microdissection
Imaging and Analysis of IHC stained slides
Tissue microarray development
Pathology Consultation
For more information on HTAP Shared Resource
Heading
Population Sciences Biorepository
Content
The PSB Shared Resource provides resources and facilities for the following services:
Patient recruitment, consenting and specimen collection (blood, swabs, other bodily fluids)
Disease or project focused questionnaire development and administration
Phlebotomy for research subjects
Sample processing and aliquoting
DNA/RNA purification and quantification (concentration, quality)
Whole genome amplification
Sample preparation for assay
Sample shipping
Short-term and long-term biospecimen storage
For more information on PSB Shared Resource
Heading
Collection Process Overview:
Content
It is the intent of the DLDCCC bank to provide high quality, well-annotated biospecimens. Oversight of all biobanking activities within the center is provided by the Baylor internal review board who verify that all procedures and protocols follow the strictest medical ethics and regulatory guidelines. The collection process is initiated with informed patient consent after which residual specimens not required for patient care are carefully collected, cataloged and preserved.
Media Component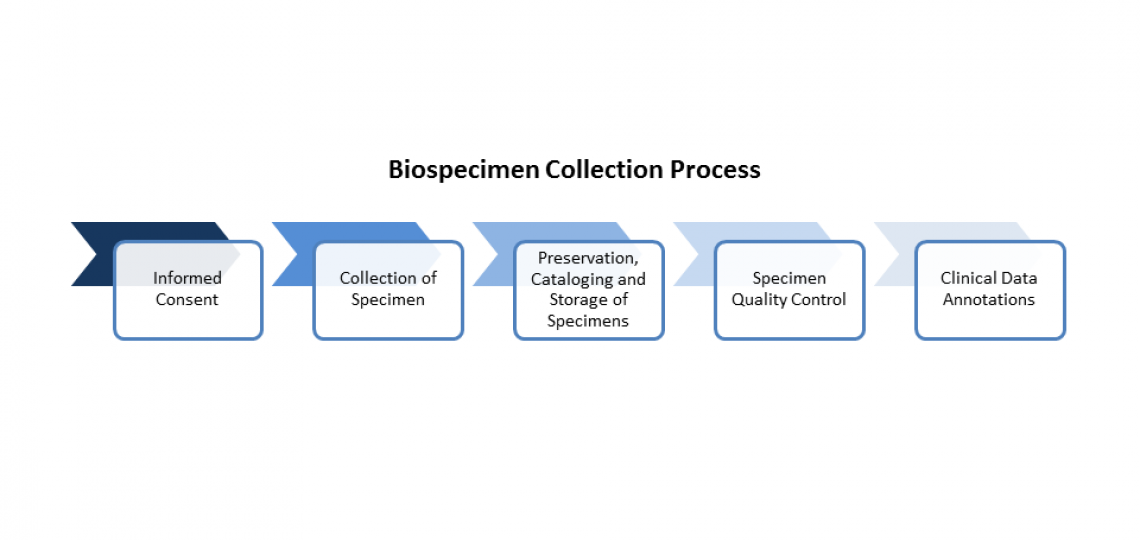 Heading
Quality Assurance
Content
Quality assessments of banked samples vary depending on the type of sample procured and how the sample is processed. For example, within the HTAP core, slides are generated and reviewed by a staff pathologist for confirmation of diagnostic data, and specimen cellularity. Molecular samples are tested for concentration and molecular integrity. These data are then attached to the specimen and provided to researchers upon request.
Heading
Participating Collaborative Investigators:
Content
Participating investigators with disease focus:
Matthew Anderson, MD, Ph.D .- Gynecological Cancer
Hashem El-Serag, M.D., M.P.H. - Hepatocellular Carcinoma
William Fisher, M.D. - Pancreatic Cancer
Helen Hislop, M.D., DSc & Carl Allen, M.D. - Lymphoma
Seth Lerner, M.D. - Urologic Oncology
Akashi Patel, M.D. - Brain Cancer
Andrew Sikora, M.D., Ph.D. - Head and Neck Cancer
Bryan Burt, M.D., FACS - Lung Cancer
Heading
Request for Specimen:
Content
Please have the following information available when applying for specimen:
IRB protocol number, issuing site, and expiration date for protocol covering specimen usage
Research project summary including rationale, assays to be performed and sample size (one page)
Disease site and diagnosis required
Required material type and specimen numbers (frozen tissue, FFPE tissue, blood, blood products, etc.)
Short list of desired clinical parameters for the study
Apply for Specimen
Heading
Researchers Who Receive Specimen
Content
Any publications that result from use of DLDCCC provided specimens must acknowledge the sources of the specimens (i.e. HTAP core and/or PSB) and must cite the cancer center support grant (P30CA125123), which underwrites both cores regardless of other sources of funding for the research.