Master
Heading
Improving Responses to Enteric Infections and Vaccines
Content
Gastrointestinal infections are a leading cause of morbidity and mortality in children under the age of five worldwide, and effective vaccines are key to decreasing the burden of disease. Oral vaccines are an attractive strategy for immunizing populations, particularly in low-income settings with the highest disease burden; however, the immunogenicity and efficacy of live, oral vaccines are impaired in infants from low-income countries compared to high-income countries. While multitudes of factors are believed to contribute to the poor response, there is a paucity of pre-clinical models to study host-pathogen and host-vaccine interactions, and a lack of mechanistic studies that identify key players affecting susceptibility and responses to infection. A major theme of our lab is to address this critical knowledge gap and define factors that contribute to disease susceptibility, and to develop approaches to improve immune responses to infectious agents and vaccines.
Media Component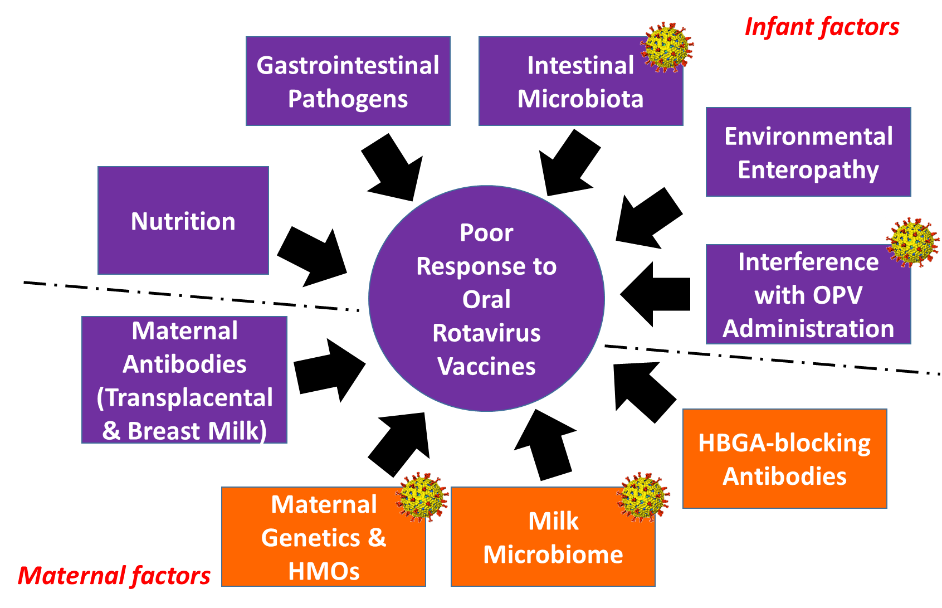 Heading
Glycans in Infectious Diseases
Content
Glycans (sugars; complex carbohydrate structures; monosaccharides and polysaccharides) are one of the four fundamental macromolecules along with nucleic acids, proteins, and lipids. Glycans are essential for the normal functioning of every cell and are involved in the pathophysiology of every major disease, ranging from enteric infections and inflammation to autoimmune dysfunction and cancer metastasis.  Recent technological advances in glycobiology have resulted in unprecedented discoveries delineating novel pathogen–host glycan interactions. For example, our recent multi-disciplinary collaborative project led to a paradigm shift in the understanding of neonatal rotavirus infections. Some fundamental questions our research program seeks to answer are: (i) Is the expression of cell surface glycans a key factor in susceptibility to infectious agents? (ii) How do changes in glycan expression (e.g. during development or modulated by the microbiome) affect infectivity by a pathogen? (iii) What mechanisms are used by the host to block interactions between the pathogen and host glycans and can this be exploited to develop better vaccine or therapeutics?
Media Component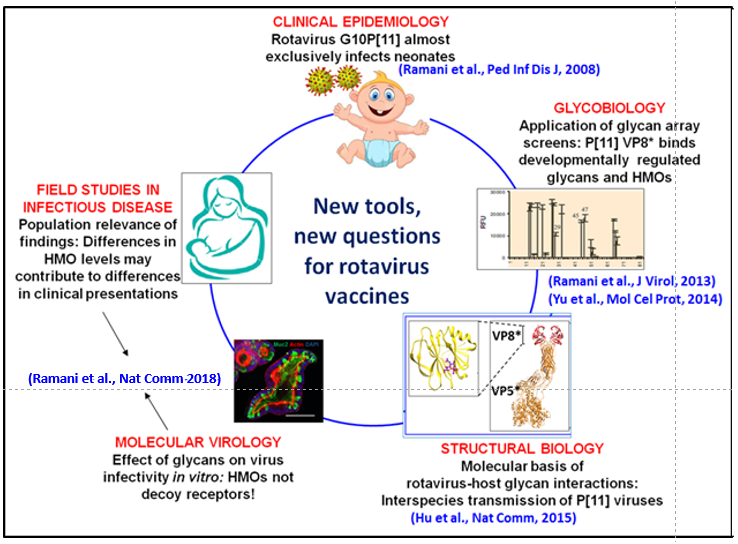 Heading
Bioactive Factors in Breast Milk and Neonatal Gut Health
Media Component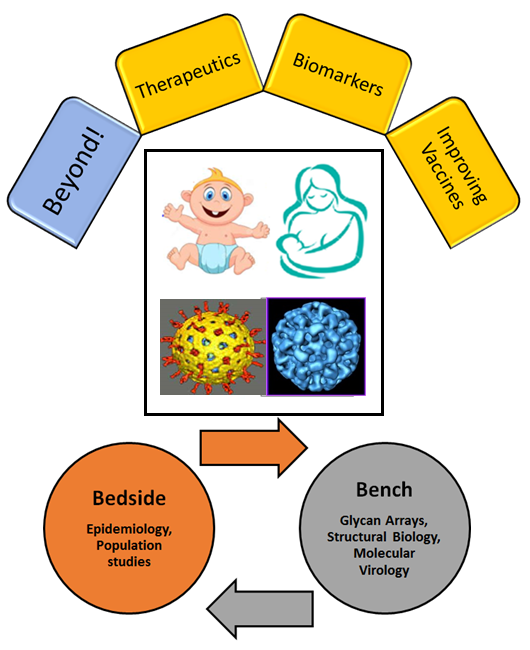 Content
Breast milk contains a number of biologically active components such as immunoglobulins, growth hormones, human milk oligosaccharides (HMOs) and microbiota that play critical roles in infant intestinal homeostasis and immune development. Our current research on bioactive factors in breast milk focuses on HMOs and the breast milk microbiome, and how they can be developed as therapeutics and biomarkers.