Master
Media Component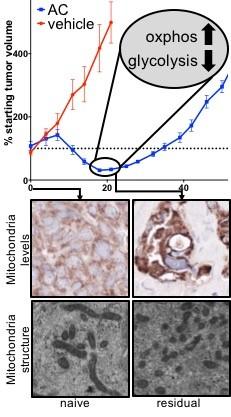 Content
Mechanisms of mitochondrial plasticity in residual TNBCs
Metabolic adaptation is an emergent mechanism by which tumor cells can evade therapy. We have found that residual TNBCs following chemotherapy heavily favor mitochondrial oxidative phosphorylation (OXPHOS) over glycolysis to meet their energetic demands. Heightened OXPHOS in residual TNBC is accompanied by elevated mitochondrial load (right, upper panel) and altered mitochondrial fusion-fission dynamics (right, lower panel). We are using multi-modal tissue imaging methodologies, molecular biology, biochemistry, genetic, and pharmacologic techniques to mechanistically dissect the role of mitochondrial dynamics in metabolic plasticity in TNBC.
Media Component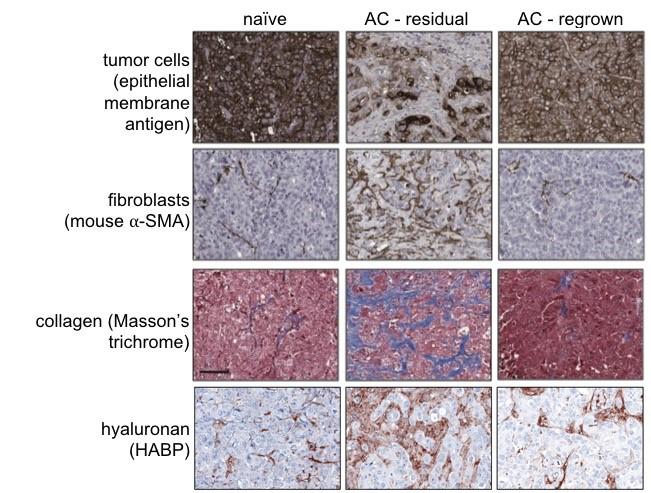 Content
Tumor micro-environment contributions to TNBC chemoresistance: Extracellular matrix & immune therapies
Extensive fibrotic desmoplasia is observed in residual TNBC tumors following chemotherapy treatment. As shown on the left, PDX residual tumors have infiltration of fibroblasts and deposition of various ECM components that is reverted as tumors relapse. Our goal is to elucidate the functional contributions of tumor cell-ECM interactions to survival and relapse of post-chemotherapy residual disease. Furthermore, we are investigating mechanisms of metabolic crosstalk between tumor and stroma cell populations. We are answering these questions using multi-spectral quantitative pathology imaging, tumor-stroma co-culture organoid models, genetic, and pharmacologic tools in PDX models and TNBC cell lines.
Based on expression of cell-surface antigens such as mucins (e.g. MUC1), we will assess the anti-tumor activity of multi-tumor antigen-specific T cells against treatment-naive and chemoresistant TNBC cells.
Media Component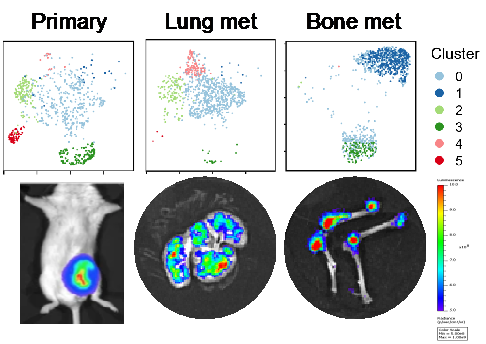 Content
Clonal tracking & single-cell analysis of multi-organ metastases to investigate phenotypic and metabolic plasticity
We have optimized methodologies such that PDX tumor cells are tractable systems with which state-of-the art lineage tracing and functional genomics technologies can be leveraged. We will implement expressed barcode libraries in which transcription-competent DNA barcodes are introduced into tumor cells and are readable by single-cell RNA sequencing. This enables simultaneous delineation of clonal lineage and transcriptomic intra-tumor heterogeneity of metastatic TNBCs.
We previously discovered that a shared set of clonal lineages comprise the bulk of the metastatic tumor cell populations in secondary organs of PDX models. Using in vivo bioluminescent imaging and single-cell transcriptomics, we have identified reproducible patterns of transcriptomic plasticity in these multi-organ metastases. A subset of transcriptomic programs harbored in metastatic tumor cell subpopulations impinge on metabolic pathway, the functional roles of these pathways are being investigated with the goal of perturbing the survival and/or outgrowth of TNBC tumor cell subpopulations in secondary organ sites.
Media Component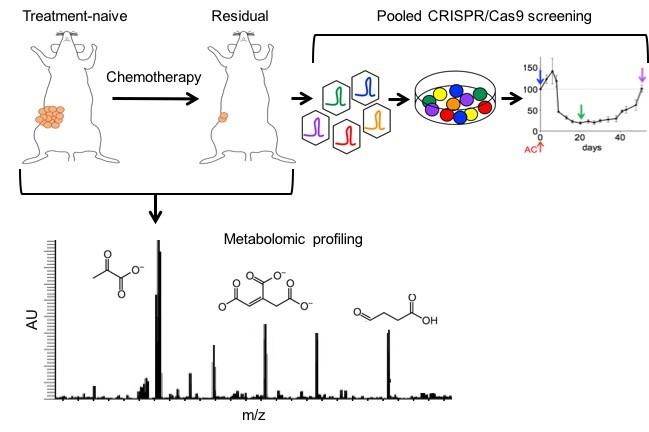 Content
Metabolomics of tumor & immune cell populations & functional genomics to combat TNBC therapy resistance
We are conducting comprehensive metabolomic profiling of pre- and post-treatment PDX tumor and stroma cells to discover metabolic adaptations harnessed by TNBC to evade chemotherapy. To complement this discovery approach, we will conduct functional genomics using pooled CRISPR/Cas9 screening libraries targeting candidate metabolic regulators. Screening libraries will be used in vitro using TNBC cell lines and PDX-derived organoid cultures and ultimate in vivo to conduct screens in mice bearing orthotopic PDX tumors.
As metabolic competition between cancer and immune cells has been documented but the impact on NACT resistance is unknown, we will conduct metabolomic tracing of labeled carbon fuels in tumor cells vs. T cells. This experimental platform will provide me the opportunity to carefully delineate the impact of NACT on T cell metabolism in TNBC.