Master
Content
Our body needs a skeleton to move but also for a number of important physiological functions necessary for every day's life. Genetic diseases, accidents or different types of cancers can deleteriously impact the skeleton and its functions, and it is also likely that an abnormal skeleton alters normal body development or function. Understanding how bones form, grow, stay resilient during many years and repair after injury is thus important to uncover the new therapeutic targets necessary for prevention or improved management of skeletal conditions affecting the quality of life our aging population.
Our research program combines the use of genetic mouse models, pharmacological approaches and gain or loss-of-function strategies to investigate mechanisms of bone development, repair and aging. Ongoing work focuses on the skeletal maladies in children with neurofibromatosis type 1 (NF1), on the role of the autonomic nervous system in the regulation of bone remodeling, and on the formation and aging of the joints and intervertebral discs.
Heading
Lab Opportunities
Content
If you are a student in an affiliated graduate program and are interested in rotating in our lab, please contact Dr. Elefteriou (florente@bcm.edu). Otherwise, you must first apply directly to one of the graduate programs: https://www.bcm.edu/education/graduate-school-of-biomedical-sciences/programs
Content
NIH:
R01 AG055394 (Elefteriou)  7/15/2017- 5/31/2022
DOD NF180077 (Elefteriou)  7/1/2019- 6/30/2021  
DOD NF190061 (Cuko, Elefteriou) 9/1/2020 - 8/31/2022
Media Component
Credit
Dr. Matt. Karolak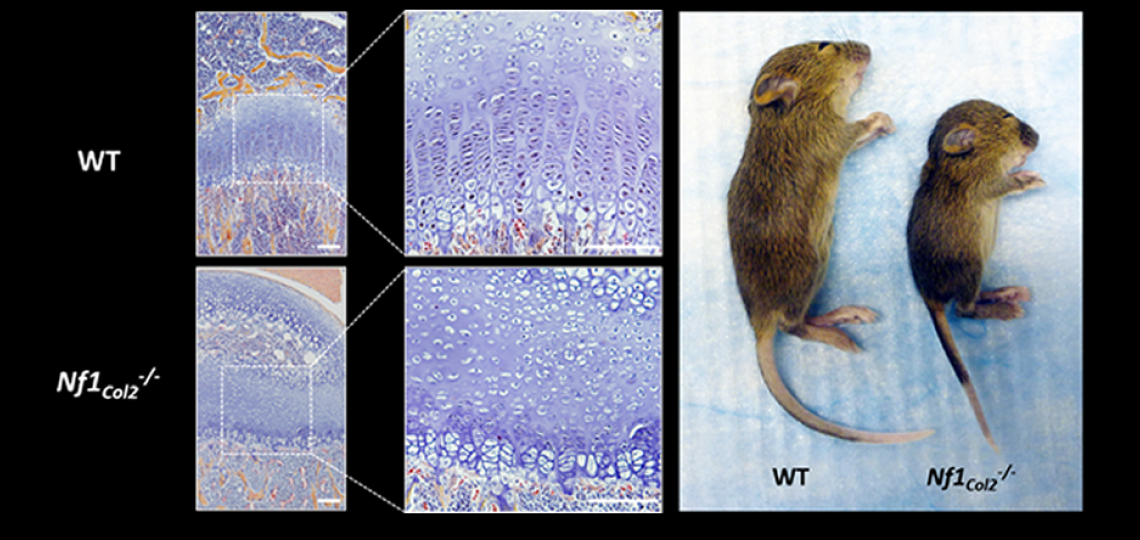 Heading
Role of Neurofibromin in the Bone Mesenchymal Lineage
Content
By studying how Nf1 loss-of-function impacts the maturation and function of chondrocytes and osteoblasts, we seek to understand the etiology of the skeletal maladies associated with neurofibromatosis type 1 (NF1), which includes dystrophic scoliosis, tibia bowing and recalcitrant healing.
Media Component
Credit
Dr. Weixi Wang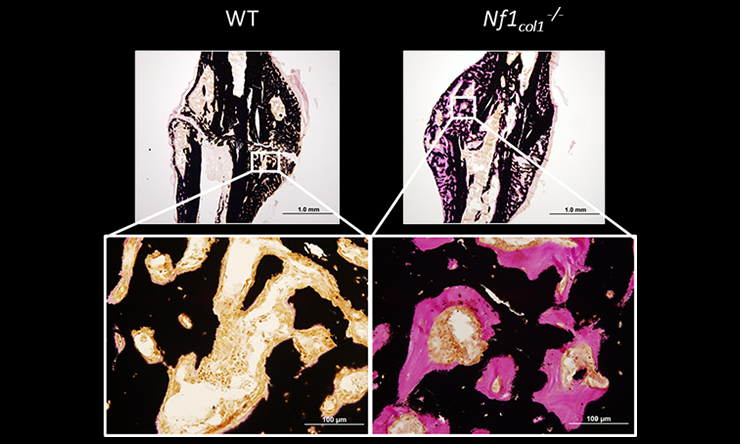 Heading
Reduced Bone Mineralization in NF1
Content
Our studies identified porosity, abnormal bone mineralization and weak mechanical properties in mouse models of NF1 bone dysplasia. 
Media Component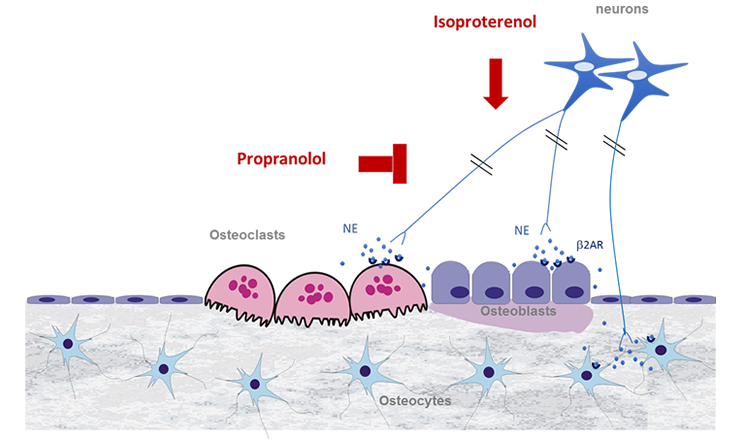 Heading
Influence of Autonomic Nerves on Bone Remodeling
Content
This project addresses the biological relevance of our previous work that provided evidence for a role of adrenergic signaling in the bone remodeling process. Our current focus is on the role of sympathetic and parasympathetic nerves in the process age-related bone loss.
Media Component
Credit
Dr. L. Clement-Demange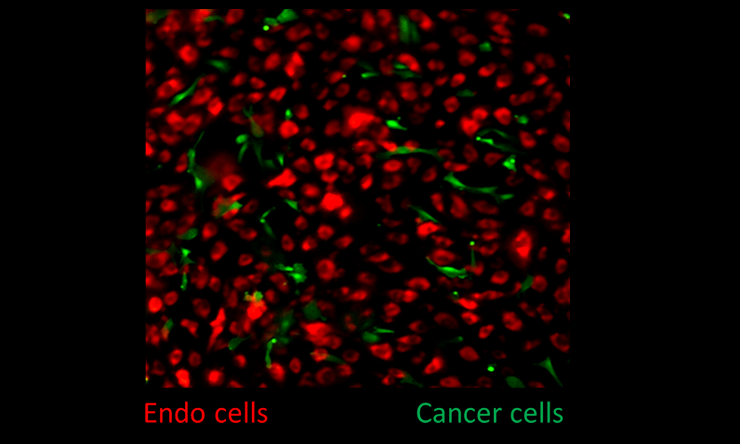 Heading
Influence of Autonomic Nerves on Skeletal Metastasis
Content
We are investigating how sympathetic nerve activation modifies the bone marrow environment to favor the establishment and growth of metastatic breast cancer cells, a condition relevant to the reduced 5-year survival of breast cancer patients subjected to chronic stress.
Media Component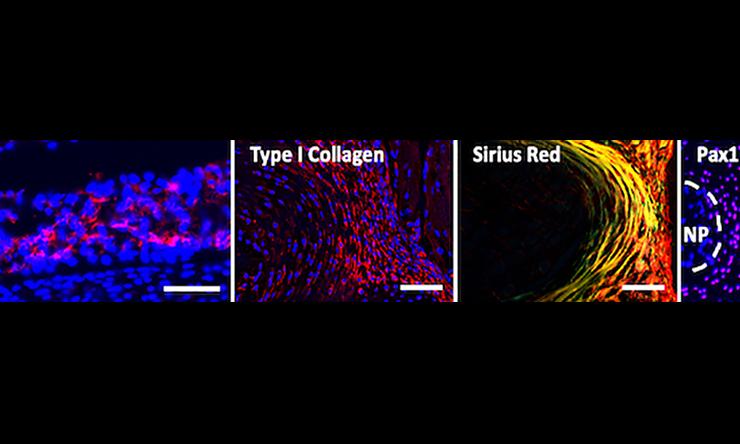 Heading
Growth Plate and Intervertebral Disc Development
Content
We are interested in better understanding how cells in growth plates and intervertebral discs can actively proliferate and generate their rich extracellular matrix, while under hypoxia, low nutrient availability and hyperosmotic conditions.