Master
Media Component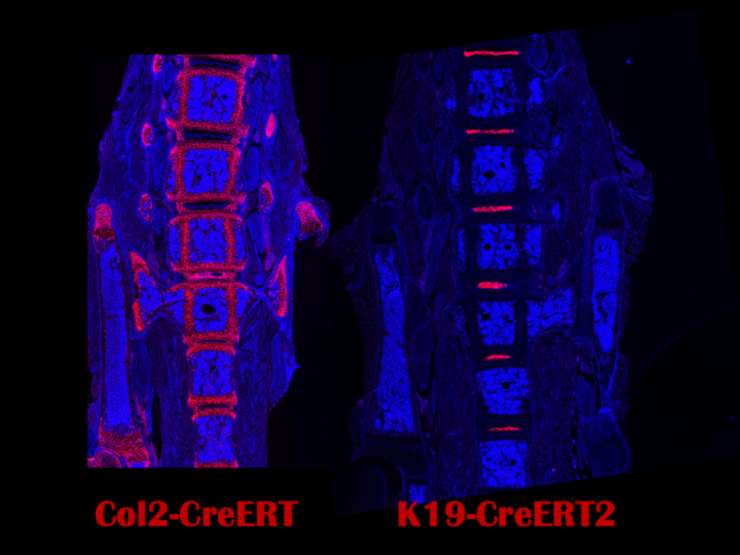 Content
Research in the Elefteriou laboratory is focused on understanding how bones form, grow, age and repair. Through the lens of the skeletal maladies associated with neurofibromatosis type 1 (NF1), we study mechanisms important for growth plate elongation, skeletal stem cell differentiation and function, bone mineralization and bone repair, we generate pre-clinical models and investigate new therapeutic targets for the prevention and improved management of NF1 pseudarthrosis and dystrophic scoliosis.
Another area of active research in the laboratory is about the interaction between autonomic nerves and bone cells, which is relevant to mechanisms of bone aging, osteoporosis and integrative tissue biology. Finally, we are interested in how cells in growth plates and intervertebral discs differentiate, function and survive despite the anoxic, hyperosmotic and low nutrient microenvironment they are exposed to.
View our Projects
Content
If you are a student in an affiliated graduate program and are interested in rotating in our lab, please contact Dr. Elefteriou (florente@bcm.edu). Otherwise, you must first apply directly to one of the graduate programs.
The Elefteriou Laboratory has an open position for a Postdoctoral Associate. Interested candidates should apply through the job posting on the BCM jobs website (job requisition ID8078). 
Baylor College of Medicine is an Equal Opportunity/Affirmative Action/Equal Access Employer.
Content
NIH R01AR077949 (Elefteriou) - 04/01/2021 – 03/31/2026
DOD NF190061 (Cuko, Elefteriou) - 9/1/2020 - 8/31/2022
NIH R01 AG055394 (Elefteriou) - 7/15/2017- 5/31/2022
NCI R01CA183878 (Zhang, Elefteriou) - 01/09/2014-03/31/2025