Master
Media Component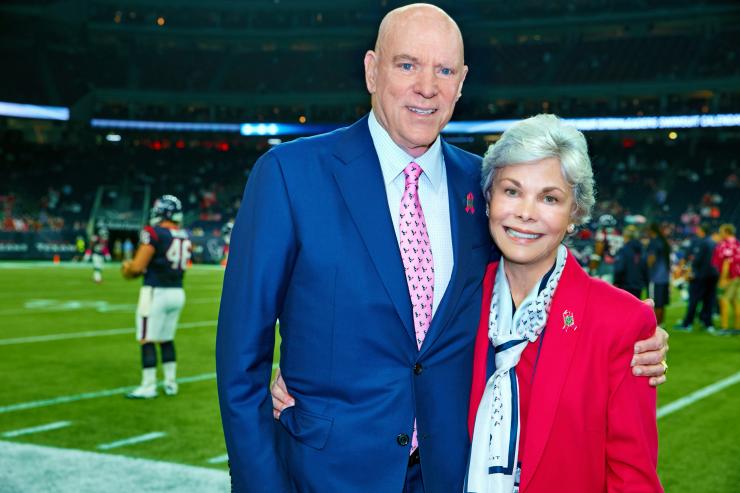 Content
Even before founding the McNair Medical Institute and The Robert and Janice McNair Foundation, Bob and Janice McNair were longtime supporters of education at all levels.
It began with a program in Bob McNair's hometown of Forest City, N.C., where he decided it would be beneficial to initiate a program to help students go to college. Pairing high school students with mentors during a student's freshman year, the program doubled the percentage of graduates who attended college.
The couple then developed the McNair Scholars programs to provide scholarships to out-of-state students at their respective alma maters: the University of South Carolina (Bob) and Columbia College (Janice).
Heading
Institute Established to Recruit Talent
"Intellect is the engine. We just think perhaps that this will provide some additional impetus to move along discoveries. Janice and I are excited to be a part of this whole effort, and we are looking forward to producing many medical advances and discoveries that will lead to cures." - Bob and Janice McNair
Content
At Baylor College of Medicine, Janice and Bob built on Baylor's M.D./Ph.D. program by establishing the McNair M.D./Ph.D. Scholars program in 1998. The program supports students through medical and graduate school.
In 2007, they launched the McNair Medical Institute at Baylor, with the intention of recruiting talented scientists and physician-scientists from around the world to the Texas Medical Center. These McNair Scholars pursue collaborative and transformational research in the areas of cancer, diabetes and neurosciences. The McNair Scholars are all members of the McNair Medical Institute at The Robert and Janice McNair Foundation. Bob and Janice chose the initial areas of focus in part based on the experiences of family and friends.
Bob McNair was founder of the Houston Texans NFL franchise and served as a member of the Baylor Board of Trustees from 1994 until his death. Since Bob McNair's passing in November 2018, Janice and their children — Ruth, Cary, Cal and Melissa — carry on the important work of the McNair Scholars program. Janice now serves as Co-Founder and Senior Chair of the Houston Texans and Senior Chair of McNair Interests.