Master
Media Component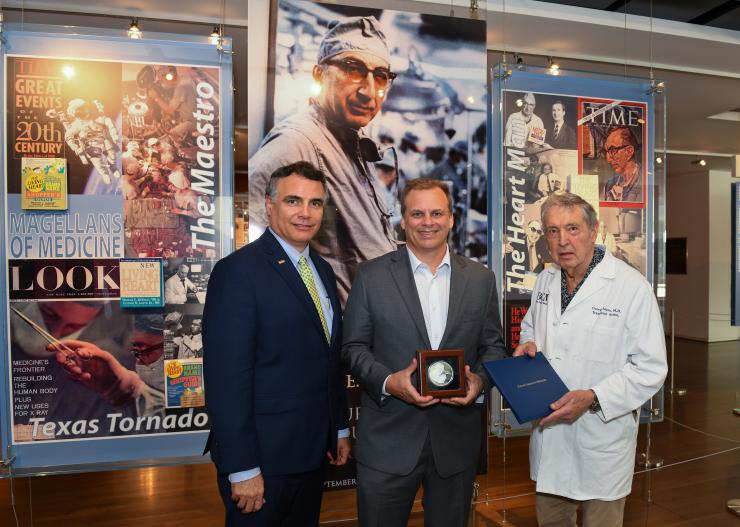 Content
Area: Molecular Virology and Microbiology
Therapeutic Microbiology Laboratory; Professor of Molecular Virology and Microbiology; Alkek Center for Metagenomics and Microbiome Research; Dan L Duncan Comprehensive Cancer Center
Dr. Britton's research and that of his lab is focused on the study of C. difficile, a bacterium that can cause serious infections in humans. The impact of C. diff, as it is commonly called, is staggering – about 14,000 deaths annually result from C. diff infection in the U.S. alone, and 200,000 worldwide. What's particularly troubling is that antibiotics used to treat infections are actually a risk factor for C. diff infection by clearing away beneficial bacteria and allowing C. diff to gain a stronghold in the gastrointestinal tract. The Britton lab is interested in understanding the molecular pathogenesis of C. difficile, and recently their work has focused on how changes in food additives can drive the emergence of pandemic strains of pathogenic bacteria such as C. difficile in the human GI tract. Specifically, the work describes how the sugar trehalose and its incorporation into the Western diet has enabled the growth of two strains of the bacterium. This work, published in Nature with a follow-up review in the journal Gut Microbes, was widely reported throughout the world and is likely to inform FDA policy on the approval of such additives. To conduct the work of his lab, Dr. Britton has invented Mini-Bioreactor Arrays that enable the growth of intestinal communities, and this has greatly enhanced the ability to perform microbiome research at the College.
Dr. Britton's nomination was based on the following publications:
Collins J, Robinson C, Danhof H, Knetsch CW, van Leeuwen HC, Lawley TD, Auchtung JM, Britton RA. Dietary trehalose enhances virulence of epidemic Clostridium difficile. Nature. 2018 Jan 18;553(7688):291-294. doi: 10.1038/nature25178. Epub 2018 Jan 3.
J Collins, H Danhof & R Britton (2019). The role of trehalose in the global spread of epidemic Clostridium difficile, Gut Microbes, 10:2, 204-209, DOI: 10.1080/19490976.2018.1491266.
H Velly, R Britton & G Preidis (2017). Mechanisms of cross-talk between the diet, the intestinal microbiome, and the undernourished host., Gut Microbes, 8:2, 98-112, DOI: 10.1080/19490976.2016.1267888.
Heading
DeBakey Award Nominations
Content
Baylor College of Medicine faculty members are invited to nominate colleagues for Michael E. DeBakey, M.D., Excellence in Research Awards. Learn more.