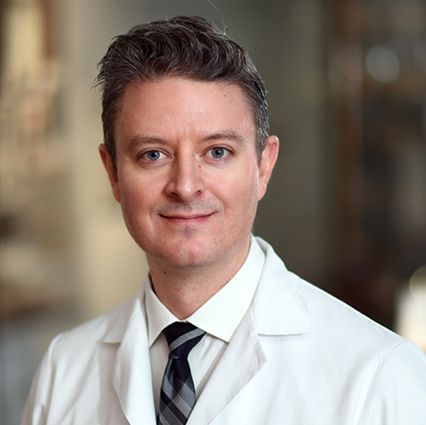 Email
Addresses
Baylor College of Medicine Medical Center McNair Campus (Clinic)

Endocrine Surgery Clinic

Dan L Duncan Comprehensive Cancer Center

7200 Cambridge St, 7th floor

Houston, Texas 77030

United States

(713) 798-2262

REQUEST VIRTUAL VISIT
Websites
Publications by Dr. Grogan
Dr. Grogan on Click2Houston
Dr. Raymon Grogan of Baylor College of Medicine stops by Houston's Morning Show on Fox 26 News to talk about the new procedure.
Is this you?Log in to edit your profile.
Positions
Associate Professor of Surgery

Division of General Surgery
Baylor College of Medicine

Section Chief, Endocrine Surgery

Baylor St. Luke's Medical Center
Board Certifications
American Board of Surgery
Education
Clinical Fellowship at University of California, San Francisco

San Francisco
Endocrine Surgery

Research Fellowship at University of California, San Francisco

San Francisco
Endocrine Surgery

Residency at Stanford University

Stanford
General Surgery

MD from University of Miami School of Medicine

Miami

BS from Emory University

Atlanta

MPH from University of Chicago

Chicago
Dr. Raymon H. Grogan is a board certified surgeon practicing in Houston, Texas as a specialist in Endocrine Surgery. He has helped co-author several national guidelines in the area of endocrine surgery and is a well-respected surgeon nationally. In addition to having expertise in the traditional surgical approaches to thyroid, parathyroid, adrenal, and endocrine pancreas diseases Dr. Grogan is a pioneer of several novel techniques for operating on the thyroid and parathyroid. He is one of only a few experts in the United States on Transoral Endocrine Surgery, a novel approach to surgery for both thyroid and parathyroid disease that leaves no visible scar. Dr. Grogan was one of the first surgeons to perform this operation in the United States, and the first surgeon to perform this operation in Chicago and the Midwest. He is also an expert in other forms of minimally invasive thyroid, parathyroid and adrenal surgery.
Dr. Grogan is originally from Florida, and began his training as an undergraduate at Emory University in Atlanta, followed by medical school at the University of Miami, in Miami, Florida. He continued his training with a surgical internship in New York and a research fellowship in microvascular surgery at New York University in Manhattan. He then went on to General Surgery Residency training at Stanford University in Palo Alto, California followed by research and clinical fellowships in Endocrine Surgery at the University of California San Francisco; a fellowship program widely considered to be one of the best in the world. After completing training he took his first faculty position as part of the prestigious endocrine surgery unit at the University of Chicago where he was the Director of the Endocrine Surgery Research Program, Director of the Endocrine Surgery Fellowship Program, Associate Program Director of the General Surgery Residency Program, and Chair of the Resident Research Advisory committee. During his tenure in Chicago Dr. Grogan travelled abroad to Bangkok, Thailand to learn the Transoral Thyroidectomy technique from the world's expert Dr. Angkoon Anuwong, and then returned to Chicago and started the transoral neck surgery program.
In addition to being a full-time clinical surgeon, Dr. Grogan also runs a well-known translational research program. He has a Master's of Science with a focus on epidemiology and biostatistics. He is the Principal Investigator and founder of the North American Thyroid Cancer Survivorship Study, which is a longitudinal cohort study that currently has nearly 3,000 participants enrolled and continues to expand. Through this work Dr. Grogan has published several novel findings related to thyroid cancer survivorship and has helped start a national discussion on ways to improve quality of life in these patients. In addition to this Dr. Grogan has published several papers on health outcomes related to endocrine surgery as well as translational papers on the genetics and epidemiology of endocrine diseases. Most recently Dr. Grogan has begun research on the relationship between the human microbiome and thyroid disease. In 2017 he was awarded the prestigious Paul LoGerfo Research Grant from the American Association of Endocrine Surgeons to study this relationship.
Memberships
American College of Surgeons

Fellow

American Association of Clinical Endocrinologists

American Association of Endocrine Surgeons

American Society of Clinical Oncology

Association for Academic Surgery

Association for Clinical and Translational Science

International Society of Surgery

International Association of Endocrine Surgeons
Honors & Awards
Top Doctor of Chicago

Castle Connolly Medical LTD (01/2017 - 12/2017)