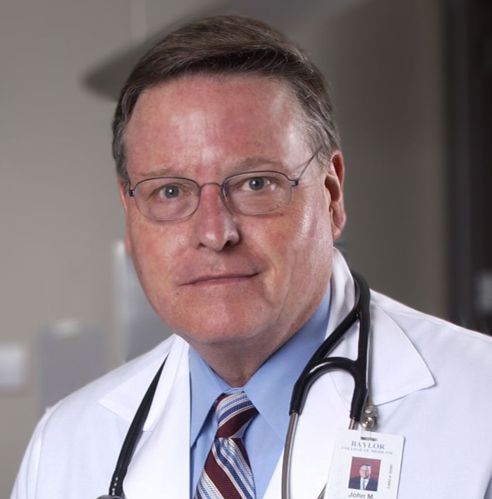 Phone
Websites
Abdominal Transplant and Liver Disease Clinic
The transplant hepatology team has provided leadership for an ambitious international initiative to formally change the name of PBC from "Primary Biliary Cirrhosis" to "Primary Biliary Cholangitis."
Is this you?Log in to edit your profile.
Positions
Professor of Medicine and Surgery

Division of Abdominal Transplantation
Baylor College of Medicine

Chief of Hepatology

Baylor College of Medicine

Director, Baylor Liver Health

Baylor College of Medicine
Education
Residency from University of Rochester Strong Memorial Hospital

01/1974 - Rochester, New York, United States

M.D. from Stanford University School Of Medicine

01/1972 - Stanford, CA, United States

Gastroenterology Fellowship from University Of California, San Francisco School Of Medicine

01/1978 - San Francisco, CA, United States

Clinical Associate from National Institutes Of Health

01/1977 - Bethesda, Maryland, United States
Certifications
Diplomate - Transplant Hepatology

American Board of Internal Medicine

Diplomate - Gastroenterology

American Board of Internal Medicine

Diplomate - Internal Medicine

American Board of Internal Medicine

Diplomate

National Board of Medical Examiners
Honors & Awards
Distinguished Scientist Award

St. Luke's Hospital

George Jamieson Award for Outstanding Public Service

American Liver Foundation

Best Doctors in America

American Health

America's Top Doctors

Castle Connolly Medical Ltd.

Who's Who in America

America's Registry of Outstanding Professionals

Who's Who in Science and Engineering
Professional Interests
Liver failure
Hepatitis
Cirrhosis
Primary sclerosing cholangitis
Drug-induced liver injury
Wilson disease
Hemochromatosis
Alpha-1-antitrypsin deficiency
Hepatocellular carcinoma (HCC) and cholangocarcinoma,
Gastroesophageal varices
Hepatic encephalopathy
Professional Statement
Dr. Vierling is board certified in internal medicine and gastroenterology and a Fellow of the American College of Physicians. He created a liver transplant program at the University of Colorado Health Sciences Center.
Dr. John M. Vierling directs Advanced Liver Therapies, a clinical research unit devoted to hepatobiliary diseases. He and his research staff are conducting phase 1-3 studies of diagnostics and therapies in chronic hepatitis B, chronic hepatitis C, primary biliary cirrhosis, non-alcoholic fatty liver disease, anti-fibrotic therapy to prevent cirrhosis, hepatic encephalopathy, and measurement of hepatocellular function using 13C-labeled compounds.
Dr. Vierling's basic science laboratory investigations have used murine models to study the immunopathogenesis of non-suppurative destructive cholangitis, which destroys bile ducts in primary biliary cirrhosis, an autoimmune liver disease, as well as in two alloimmune diseases, hepatic allograft rejection and chronic graft-versus-host disease. Dr. Vierling is the author of numerous research publications.
Dr. Vierling's primary research interests are the immunopathogenic mechanisms involved in hepatobiliary injury caused by viral infection, autoimmunity, alloimmunity, and non-alcoholic fatty liver disease. By emphasizing a "laboratory bench to bedside" philosophy, Dr. Vierling has also been active in the design and execution of clinical therapeutic trials of antiviral agents for treatment of hepatitis B and C infections in patients before and after liver transplantation, and trials of immunosuppressive drugs in liver transplantation and autoimmune liver diseases.
Memberships
American Association for the Study of Liver Diseases

President, 2006

American Gastroenterological Association

Fellow