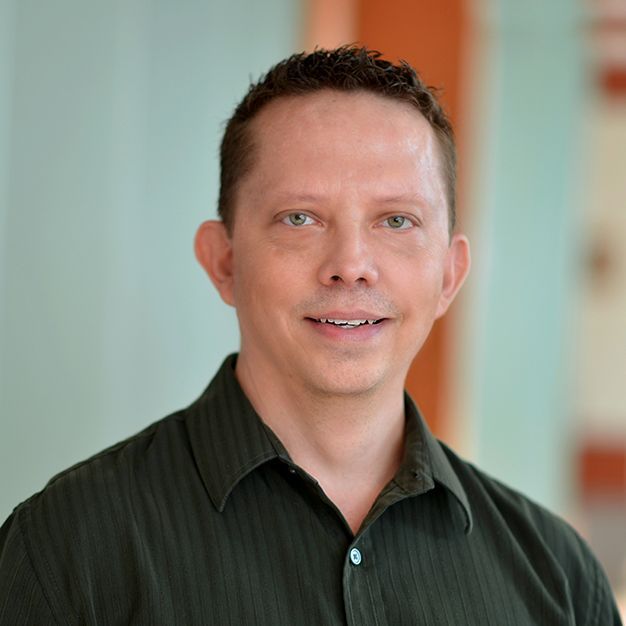 Email
Phone
Is this you?Log in to edit your profile.
Positions
Associate Professor

Molec. Physiology/ Rodney
Baylor College of Medicine
Houston, TX, US
Education
Post-Doctoral Fellowship at University Of Maryland At Baltimore

01/2004 - Baltimore, Maryland, United States

PhD from Baylor College Of Medicine

01/2001 - Houston, Texas, United States

MS from University Of Texas Health Science Center

01/1996 - San Antonia, Texas, United States
Professional Interests
Biomedical Imaging
Cardiovascular Sciences
Cell and Developmental Biology
Human Disease
Skeletal Muscle Physiology
Professional Statement
Real-time imaging of sub-cellular reactive oxygen species, Ca2+ signaling, and excitation-contraction coupling in skeletal muscle under physiological and pathophysiological conditions.
Selected Publications
Pal,Rituraj; Palmieri,Michela; Loehr,James A. Li,Shumin; Abo-Zahrah,Reem; Monroe,Tanner O. Thakur,Poulami B. Sardiello,Marco; Rodney,George G.. "Src-dependent impairment of autophagy by oxidative stress in a mouse model of Duchenne muscular dystrophy." Nat Commun. 2014;5:5425. Pubmed PMID: 25028121
Pal,Rituraj; Monroe,Tanner O. Palmieri,Michela; Sardiello,Marco; Rodney,George G.. "Rotenone induces neurotoxicity through Rac1-dependent activation of NADPH oxidase in SHSY-5Y cells." FEBS Lett. 2014 January;588(3):472-481.
Pal R, Basu Thakur P, Li S, Minard C, Rodney GG. "Real-time imaging of NADPH oxidase activity in living cells using a novel fluorescent protein reporter.." PLoS ONE. 2013;8(5):e63989. Pubmed PMID: 23704967
Lanner JT, Georgiou DK, Dagnino-Acosta A, Ainbinder A, Cheng Q, Joshi AD, Chen Z, Yarotskyy V, Oakes JM, Lee CS, Monroe TO, Santillan A, Dong K, Goodyear L, Ismailov II, Rodney GG, Dirksen RT, Hamilton SL. "AICAR prevents heat-induced sudden death in RyR1 mutant mice independent of AMPK activation.." Nat. Med.. 2012;18(2):244-51. Pubmed PMID: 22231556
Schneider MF, Rodney GG, Ward CW. "Local Ca2+ release events in skeletal muscle.." J. Muscle Res. Cell. Motil.. 2004;25(8):587-9. Pubmed PMID: 16118845
Bisnett T, Anzueto A, Andrade FH, Rodney GG, Napier WR, Levine SM, Maxwell LC, Mureeba P, Derdak SD, Grisham MB, Jenkinson SG. "Effect of nitric oxide synthase inhibitor on diaphragmatic function after resistive loading.." Comp. Biochem. Physiol., Part A Mol. Integr. . 1998 January;119(1):185-90. Pubmed PMID: 11253784
Rodney GG, Schneider MF. "Calmodulin modulates initiation but not termination of spontaneous Ca2+ sparks in frog skeletal muscle.." Biophys. J.. 2003 August;85(2):921-32. Pubmed PMID: 12885639
Rodney GG, Williams BY, Strasburg GM, Beckingham K, Hamilton SL. "Regulation of RYR1 activity by Ca(2+) and calmodulin.." Biochemistry. 2000 July 4;39(26):7807-12. Pubmed PMID: 10869186
Moore CP, Rodney G, Zhang JZ, Santacruz-Toloza L, Strasburg G, Hamilton SL. "Apocalmodulin and Ca2+ calmodulin bind to the same region on the skeletal muscle Ca2+ release channel.." Biochemistry. 1999 June 29;38(26):8532-7. Pubmed PMID: 10387100
Brown LD, Rodney GG, Hernández-Ochoa E, Ward CW, Schneider MF. "Ca2+ sparks and T tubule reorganization in dedifferentiating adult mouse skeletal muscle fibers.." Am. J. Physiol., Cell Physiol.. 2007 March;292(3):C1156-66. Pubmed PMID: 17065203
Rodney GG, Wilson GM, Schneider MF. "A calmodulin binding domain of RyR increases activation of spontaneous Ca2+ sparks in frog skeletal muscle.." J. Biol. Chem.. 2005 March 25;280(12):11713-22. Pubmed PMID: 15640144
Rodney GG, Moore CP, Williams BY, Zhang JZ, Krol J, Pedersen SE, Hamilton SL. "Calcium binding to calmodulin leads to an N-terminal shift in its binding site on the ryanodine Receptor.." J. Biol. Chem.. 2001 January 19;276(3):2069-74. Pubmed PMID: 11035044
Rodney GG. "Calmodulin in adult mammalian skeletal muscle: localization and effect on sarcoplasmic reticulum Ca2+ release.." Am. J. Physiol., Cell Physiol.. 2008 May;294(5):C1288-97. Pubmed PMID: 18322139
Pate P, Mochca-Morales J, Wu Y, Zhang JZ, Rodney GG, Serysheva II, Williams BY, Anderson ME, Hamilton SL. "Determinants for calmodulin binding on voltage-dependent Ca2+ channels.." J. Biol. Chem.. 2000 December 15;275(50):39786-92. Pubmed PMID: 11005820
Ward CW, Rodney GG. "Does a lack of RyR3 make mammalian skeletal muscle EC coupling a 'spark-less' affair?." J. Physiol. (Lond.). 2008 January 15;586(2):313-4. Pubmed PMID: 18192614
Zhang Y, Rodney GG, Schneider MF. "Effects of azumolene on Ca2+ sparks in skeletal muscle fibers.." J. Pharmacol. Exp. Ther.. 2005 July;314(1):94-102. Pubmed PMID: 15831441
Xiong LW, Newman RA, Rodney GG, Thomas O, Zhang JZ, Persechini A, Shea MA, Hamilton SL. "Lobe-dependent regulation of ryanodine receptor type 1 by calmodulin.." J. Biol. Chem.. 2002 October 25;277(43):40862-70. Pubmed PMID: 12185083
Michaelson LP, Shi G, Ward CW, Rodney GG. "Mitochondrial redox potential during contraction in single intact muscle fibers.." Muscle Nerve. 2010 October;42(4):522-9. Pubmed PMID: 20730875
Zhang JZ, Wu Y, Williams BY, Rodney G, Mandel F, Strasburg GM, Hamilton SL. "Oxidation of the skeletal muscle Ca2+ release channel alters calmodulin binding.." Am. J. Physiol.. 1999 January;276(1):C46-53. Pubmed PMID: 9886919
Schneider MF, Rodney GG. "Peptide and protein modulation of local Ca2+ release events in permeabilized skeletal muscle fibers.." Biol. Res.. 2004;37(4):613-6. Pubmed PMID: 15709689
Ziman AP, Ward CW, Rodney GG, Lederer WJ, Bloch RJ. "Quantitative measurement of Ca²(+) in the sarcoplasmic reticulum lumen of mammalian skeletal muscle.." Biophys. J.. 2010 October 20;99(8):2705-14. Pubmed PMID: 20959112
Rodney GG, Krol J, Williams B, Beckingham K, Hamilton SL. "The carboxy-terminal calcium binding sites of calmodulin control calmodulin's switch from an activator to an inhibitor of RYR1.." Biochemistry. 2001 October 16;40(41):12430-5. Pubmed PMID: 11591164