Stephen Pflugfelder, M.D.
Picture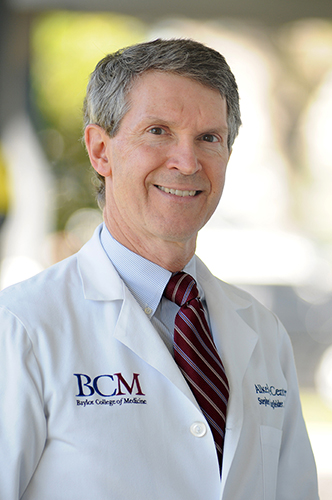 Stephen Pflugfelder, M.D.
Professor and James and Margaret Elkins Chair in Ophthalmology
Email
stevenp@bcm.edu
Positions
Professor and James and Margaret Elkins Chair in Ophthalmology

Ophthalmology
Baylor College of Medicine
Houston, TX
Addresses
Jamail Specialty Care Center - Alkek Eye Center (Clinic)

1977 Butler Blvd.
2nd Floor
Houston, TX 77030
United States
Phone: (713) 798-6100
https://www.bcm.edu/healthcare/care-centers/eye
Education
MD from State University of New York Upstate College of Medicine

01/1981 - Syracuse, NY
Alpha Omega Alpha
Fellowship at University of Miami School of Medicine - Bascom Palmer Eye Institute

01/1986 - Miami, FL
Cornea and External Eye Diseases
Residency at Baylor College of Medicine - Cullen Eye Institute

01/1985 - Houston, TX
Ophthalmology
Internship at Presbyterian University of Pennsylvania Medical Center

01/1982 - Philadelphia, PA
Internal Medicine
BA from Colgate University

01/1977 - Hamilton, New York United States
Biology: Summa cum laude
Certifications
American Board of Ophthalmology
Professional Interests
Corneal transplant (penetrating and endothelial)
Corneal epithelial stem cell transplantation
Ocular surface reconstruction
Keratoprosthesis
Corneal collagen cross-linking
Cataract and intra-ocular lens surgery
Professional Statement
My clinical interests focus on diagnosis and medical and surgical therapy of tear and ocular surface disease, including complicated cases. I also specialize in transplantation of limbal epithelial stem cells for patients with traumatic or inflammation induced corneal epithelial stem cell deficiency and endothelial transplantation for corneal endothelial disease.
Websites
Baylor College of Medicine
Selected Publications
Alex A, Edwards A, Hays JD, Kerkstra M, Shih A, de Paiva CS, Pflugfelder SC

"Factors predicting the ocular surface response to desiccating environmental stress.." Invest. Ophthalmol. Vis. Sci.. 2013;54(5):3325-32. Pubmed PMID: 23572103

Tukler Henriksson J1, Coursey TG1, Corry DB2, De Paiva CS1, Pflugfelder SC1.

"IL-13 Stimulates Proliferation and Expression of Mucin and Immunomodulatory Genes in Cultured Conjunctival Goblet Cells.." Invest Ophthalmol Vis Sci.. 2015 Jul;56(8):4186-97. Pubmed PMID: 26132778

Moore QL1, De Paiva CS1, Pflugfelder SC2.

"Effects of Dry Eye Therapies on Environmentally Induced Ocular Surface Disease.." Am J Ophthalmol.. 2015 Jul;160(1):135-42. Pubmed PMID: 25868759

Pflugfelder SC, De Paiva CS, Moore QL, et.

"Aqueous tear deficiency increases conjunctival interferon-gamma (IFN-y) expression and goblet cell loss.."

Investigative ophthalmology & visual science. 2015;