Mary Newsome, Ph.D.
Picture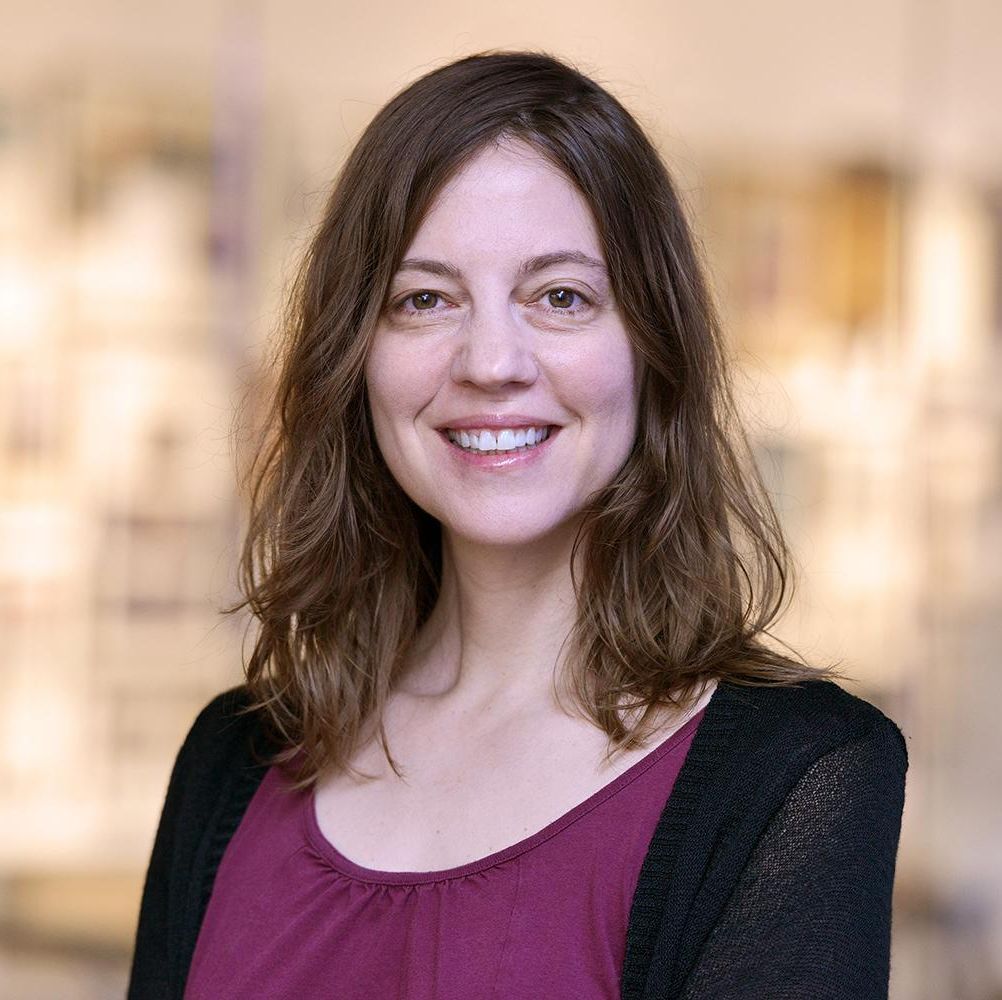 Email
mnewsome@bcm.edu
Positions
Associate Professor

H. Ben Taub Department of Physical Medicine & Rehabilitation
Baylor College of Medicine
Houston, TX US
Research Health Scientist

Michael E. DeBakey VA Medical Center

Addresses
Cognitive Neuroscience Laboratory (Office)

Neurosensory Building
Houston, TX 77030
United States
Phone: (713) 791-1414
mnewsome@bcm.edu
Education
Post-Doctoral Fellowship at Baylor College Of Medicine

01/2003 - Houston, Texas United States
Cognitive Neuroscience
Post-Doctoral Fellowship at Rice University

10/2001 - Houston, Texas United States
Cognitive Neuropsycholgy
PhD from Princeton University

10/1999 - Princeton, New Jersey United States
Cognitive Psychology
AB from Kent State University

08/1991 - Kent, Ohio United States
Psychology, English
Professional Statement
I research effects of traumatic brain injury (TBI) on brain activation during cognitive tasks and on functional connectivity to understand the nature of neuroplasticity. My research interests include resilience of brain structures and function. My grants investigate the neural mechanisms involved in TBI and PTSD before and after novel treatments in veterans exposed to blast.
Websites
The Computational and Integrative Biomedical Research Center is a resource to help students and faculty address the broad range of analytical problems posed by the complexity of high throughput biological datasets. The goal of the center is to help bridge the translational gap from data to models, and from models to drug discovery and personalized therapy by fostering collaborations and developing original quantitative approaches to biological and clinical problems.
Selected Publications
Wilde EA, Bouix S, Tate DF, Lin AP, Newsome MR, Taylor BA, Stone JR, Montier J, Gandy SE, Biekman B, Shenton ME, York G.

"Advanced neuroimaging applied to veterans and service personnel with traumatic brain injury: state of the art and potential benefits.." Brain imaging and behavior. 2015

September ;

9

(3)

:

367-402.

Pubmed PMID: 26350144

Newsome MR, Durgerian S, Mourany L, Scheibel RS, Lowe MJ, Beall EB, Koenig KA, Parsons M, Troyanskaya M, Reece C, Wilde EA, Fischer BL, Jones SE, Agarwal R, Levin HS, & Rao SM

"Disruption of caudate working memory activation in chronic blast-related traumatic brain injury." NeuroImage: Clinical. 2015

8

:

543-53.

Pubmed PMID: 26110112

Avci, G., Hanten, G., Schmidt, A. T., Li, X., Orsten, K., Post, M., Faber, J. F., & Newsome, M. R

"Cognitive contributors to resilience in youth from underserved populations: a brief report."

Journal of Public Mental Health. 2013

September 16;

12

(3)

:

165 - 170.

Newsome MR, Scheibel RS, Mayer AR, Chu ZD, Wilde EA, Hanten G, Steinberg JL, Lin X, Li X, Merkley TL, Hunter JV, Vasquez AC, Cook L, Lu H, Vinton K, Levin HS.

"How functional connectivity between emotion regulation structures can be disrupted: preliminary evidence from adolescents with moderate to severe traumatic brain injury.." J Int Neuropsychol Soc. 2013

19

(8)

:

911-24.

Pubmed PMID: 23981357
Schmidt, A. T., Avci, G., Hanten, G. R., Li, X., Orsten, K. D., & Newsome, M. R

"Relating resilience factors and decision-making skills in two groups of underserved adolescents: implications for intervention."

Journal of Juvenile Justice. 2013

2

(2)

:

63-72.

Newsome MR, Scheibel RS, Chu Z, Hunter JV, Li X, Wilde EA, Lu H, Wang ZJ, Lin X, Steinberg JL, Vasquez AC, Cook L, Levin HS

"The relationship of resting cerebral blood flow and brain activation during a social cognition task in adolescents with chronic moderate to severe traumatic brain injury: a preliminary investigation.." Int. J. Dev. Neurosci.. 2012

May ;

30

(3)

:

255-66.

Pubmed PMID: 22120754

Newsome MR, Scheibel RS, Hanten G, Chu Z, Steinberg JL, Hunter JV, Lu H, Vasquez AC, Li X, Lin X, Cook L, Levin HS

"Brain activation while thinking about the self from another person's perspective after traumatic brain injury in adolescents.." Neuropsychology. 2010

March ;

24

(2)

:

139-47.

Pubmed PMID: 20230107

Newsome MR, Scheibel RS, Seignourel PJ, Steinberg JL, Troyanskaya M, Li X, Levin HS

"Effects of methylphenidate on working memory in traumatic brain injury: a preliminary FMRI investigation.." Brain Imaging Behav. 2009

September ;

3

(3)

:

298-305.

Pubmed PMID: 22005992

Newsome MR, Steinberg JL, Scheibel RS, Troyanskaya M, Chu Z, Hanten G, Lu H, Lane S, Lin X, Hunter JV, Vasquez C, Zientz J, Li X, Wilde EA, Levin HS

"Effects of traumatic brain injury on working memory-related brain activation in adolescents.." Neuropsychology. 2008

July ;

22

(4)

:

419-25.

Pubmed PMID: 18590353

Newsome MR, Scheibel RS, Hunter JV, Wang ZJ, Chu Z, Li X, Levin HS

"Brain activation during working memory after traumatic brain injury in children.." Neurocase. 2007

February ;

13

(1)

:

16-24.

Pubmed PMID: 17454685

Newsome MR, Scheibel RS, Steinberg JL, Troyanskaya M, Sharma RG, Rauch RA, Li X, Levin HS

"Working memory brain activation following severe traumatic brain injury.." Cortex. 2007

January ;

43

(1)

:

95-111.

Pubmed PMID: 17334210

Scheibel RS, Newsome MR, Steinberg JL, Pearson DA, Rauch RA, Mao H, Troyanskaya M, Sharma RG, Levin HS

"Altered brain activation during cognitive control in patients with moderate to severe traumatic brain injury.." Neurorehabil Neural Repair. 2007

21

(1)

:

36-45.

Pubmed PMID: 17172552

Scheibel RS, Newsome MR, Troyanskaya M, Lin X, Steinberg JL, Radaideh M, Levin HS

"Altered brain activation in military personnel with one or more traumatic brain injuries following blast.." J Int Neuropsychol Soc. 2012

January ;

18

(1)

:

89-100.

Pubmed PMID: 22132942

Scheibel RS, Newsome MR, Wilde EA, McClelland MM, Hanten G, Krawczyk DC, Cook LG, Chu ZD, Vásquez AC, Yallampalli R, Lin X, Hunter JV, Levin HS

"Brain activation during a social attribution task in adolescents with moderate to severe traumatic brain injury.." Soc Neurosci. 2011

October ;

6

(41400)

:

582-98.

Pubmed PMID: 21777109

Wilde EA, Newsome MR, Bigler ED, Pertab J, Merkley TL, Hanten G, Scheibel RS, Li X, Chu Z, Yallampalli R, Hunter JV, Levin HS

"Brain imaging correlates of verbal working memory in children following traumatic brain injury.." Int J Psychophysiol. 2011

October ;

82

(1)

:

86-96.

Pubmed PMID: 21565227

Bigler ED, Abildskov TJ, Wilde EA, McCauley SR, Li X, Merkley TL, Fearing MA, Newsome MR, Scheibel RS, Hunter JV, Chu Z, Levin HS

"Diffuse damage in pediatric traumatic brain injury: a comparison of automated versus operator-controlled quantification methods.." Neuroimage. 2010

April 15;

50

(3)

:

1017-26.

Pubmed PMID: 20060915

Wilde EA, Chu Z, Bigler ED, Hunter JV, Fearing MA, Hanten G, Newsome MR, Scheibel RS, Li X, Levin HS

"Diffusion tensor imaging in the corpus callosum in children after moderate to severe traumatic brain injury.." J. Neurotrauma. 2006

October ;

23

(10)

:

1412-26.

Pubmed PMID: 17020479

Levin HS, Wilde E, Troyanskaya M, Petersen NJ, Scheibel R, Newsome M, Radaideh M, Wu T, Yallampalli R, Chu Z, Li X

"Diffusion tensor imaging of mild to moderate blast-related traumatic brain injury and its sequelae.." J. Neurotrauma. 2010

April ;

27

(4)

:

683-94.

Pubmed PMID: 20088647

Scheibel RS, Newsome MR, Troyanskaya M, Steinberg JL, Goldstein FC, Mao H, Levin HS

"Effects of severity of traumatic brain injury and brain reserve on cognitive-control related brain activation.." J. Neurotrauma. 2009

September ;

26

(9)

:

1447-61.

Pubmed PMID: 19645622

Wilde EA, Hunter JV, Newsome MR, Scheibel RS, Bigler ED, Johnson JL, Fearing MA, Cleavinger HB, Li X, Swank PR, Pedroza C, Roberson GS, Bachevalier J, Levin HS

"Frontal and temporal morphometric findings on MRI in children after moderate to severe traumatic brain injury.." J. Neurotrauma. 2005

March ;

22

(3)

:

333-44.

Pubmed PMID: 15785229

Newsome, M. R. & Johnson-Laird, P. N

"How falsity dispels fallacies."

Thinking and Reasoning. 2006

12

:

214-234.

Wilde EA, Bigler ED, Hunter JV, Fearing MA, Scheibel RS, Newsome MR, Johnson JL, Bachevalier J, Li X, Levin HS

"Hippocampus, amygdala, and basal ganglia morphometrics in children after moderate-to-severe traumatic brain injury.." Dev Med Child Neurol. 2007

April ;

49

(4)

:

294-9.

Pubmed PMID: 17376141

Newsome MR, Glucksberg S

"Older adults filter irrelevant information during metaphor comprehension.." Exp Aging Res.

28

(3)

:

253-67.

Pubmed PMID: 12079577

Jusczyk PW, Houston DM, Newsome M

"The beginnings of word segmentation in english-learning infants.." Cogn Psychol.

39

(41337)

:

159-207.

Pubmed PMID: 10631011

Bigler, E. D., Abildskov, T. J., Eggleston, B., Taylor, B. A., Tate, D. F., Petrie, J. A., Newsome, M. R., Scheibel, R. S., Levin, H., Walker, W. C., Goodrich-Hunsaker, N., Tustison, N. J., Stone, J. R., Mayer, A. R., Duncan, T. D., ... Wilde, E. A.

"Structural neuroimaging in mild traumatic brain injury: A chronic effects of neurotrauma consortium study." International journal of methods in psychiatric research. 2019 : Pubmed PMID: 31608535

Erin D. Bigler, Marc Skiles, Benjamin S. C. Wade, Tracy J. Abildskov, Nick J. Tustison, Randall S. Scheibel, Mary R. Newsome, Andrew R. Mayer, James R. Stone, Brian A. Taylor, David F. Tate, William C. Walker, Harvey S. Levin & Elisabeth A. Wilde

"FreeSurfer 5.3 versus 6.0: are volumes comparable? A Chronic Effects of Neurotrauma Consortium study." Brain Imaging and Behavior. 2020

14

:

1318–1327.

Pubmed PMID: 30511116

Ashley L. Ware, Elisabeth A. Wilde, Mary R. Newsome, Paolo Moretti, Tracy Abildskov, Gregory S. Vogt, Stephen R. McCauley, Gerri Hanten, Jill V. Hunter, Zili D. Chu & Harvey S. Levin

"A preliminary investigation of corpus callosum subregion white matter vulnerability and relation to chronic outcome in boxers." Brain Imaging and Behavior. 2020

14

:

772–786.

Pubmed PMID: 30565025

Wilde, E. A., Newsome, M. R., Ott, S. D., Hunter, J. V., Dash, P., Redell, J., Spruiell, M., Diaz, M., Chu, Z. D., Goodrich-Hunsaker, N., Petrie, J., Li, R., & Levin, H.

"Persistent Disruption of Brain Connectivity after Sports-Related Concussion in a Female Athlete." Journal of Neurotrauma. 2019

36

(22)

:

3164-3171.

Pubmed PMID: 31119974

Dennis, E. L., Wilde, E. A., Newsome, M. R., Scheibel, R. S., Troyanskaya, M., Velez, C., Wade, B., Drennon, A. M., York, G. E., Bigler, E. D., Abildskov, T. J., Taylor, B. A., Jaramillo, C. A., Eapen, B., Belanger, H., Gupta, V., … Tate, D. F.

"ENIGMA MILITARY BRAIN INJURY: A COORDINATED META-ANALYSIS OF DIFFUSION MRI FROM MULTIPLE COHORTS." Proceedings. IEEE International Symposium on Biomedical Imaging. 2018 :

1386–1389.

Pubmed PMID: 30034577

Dennis, E. L., Caeyenberghs, K., Asarnow, R. F., Babikian, T., Bartnik-Olson, B., Bigler, E. D., Figaji, A., Giza, C. C., Goodrich-Hunsaker, N. J., Hodges, C. B., Hoskinson, K. R., Königs, M., Levin, H. S., Lindsey, H. M., Livny, A., Max, … Wilde, E. A.

"Challenges and opportunities for neuroimaging in young patients with traumatic brain injury: a coordinated effort towards advancing discovery from the ENIGMA pediatric moderate/severe TBI group." Brain imaging and behavior.

15

(2)

: Pubmed PMID: 32734437

Wilde, E. A., Ware, A. L., Li, X., Wu, T. C., McCauley, S. R., Barnes, A., Newsome, M. R., Biekman, B. D., Hunter, J. V., Chu, Z. D., & Levin, H. S.

"Orthopedic Injured versus Uninjured Comparison Groups for Neuroimaging Research in Mild Traumatic Brain Injury." Journal of Neurotrauma. 2019

January 15;

36

(2)

:

239-249.

Pubmed PMID: 29786476

Mary R. Newsome, Elisabeth A. Wilde, Erin D. Bigler, Qisheng Liu, Andrew R. Mayer, Brian A. Taylor, Joel L. Steinberg, David F. Tate, Tracy J. Abildskov, Randall S. Scheibel, William C. Walker & Harvey S. Levin

"Functional brain connectivity and cortical thickness in relation to chronic pain in post-911 veterans and service members with mTBI." 2018

32

(10)

:

1235-1243.

Pubmed PMID: 30047797

Elisabeth A. Wilde,1,,2 Jill V. Hunter,2 Xiaoqi Li,2 Cristian Amador,3 Gerri Hanten,2 Mary R. Newsome,1,,2 Trevor C. Wu,4 Stephen R. McCauley,1,,2 Gregory S. Vogt,1 Zili David Chu,2 Brian Biekman,2 and Harvey S. Levin

"Chronic Effects of Boxing: Diffusion Tensor Imaging and Cognitive Findings." Journal of Neurotrauma. 2016

33

(7)

:

672-680.

Pubmed PMID: 26414735

Randall S. Scheibel, Nicholas J. Pastorek, Maya Troyanskaya, Jan E. Kennedy, Joel L. Steinberg, Mary R. Newsome, Xiaodi Lin & Harvey S. Levin

"The suppression of brain activation in post-deployment military personnel with posttraumatic stress symptoms." Brain Imaging and Behavior. 2015

9

:

513–526.

Pubmed PMID: 25875014

Newsome MR, Li X, Lin X, Wilde EA, Ott S, Biekman B, Hunter JV, Dash PK, Taylor BA and Levin HS

"Functional Connectivity Is Altered in Concussed Adolescent Athletes Despite Medical Clearance to Return to Play: A Preliminary Report." Front. Neurol.. 2016

7

(116)

: Pubmed PMID: 27504104

Tate, D. F., Dennis, E. L., Adams, J. T., Adamson, M. M., Belanger, H. G., Bigler, E. D., Bouchard, H. C., Clark, A. L., Delano-Wood, L. M., Disner, S. G., Eapen, B. C., Franz, C. E., Geuze, E., Goodrich-Hunsaker, N. J., Han, K., … Wilde, E. A.

"Coordinating Global Multi-Site Studies of Military-Relevant Traumatic Brain Injury: Opportunities, Challenges, and Harmonization Guidelines." Brain imaging and behavior.

15

(2)

:

585–613.

Pubmed PMID: 33409819

Koerte, I. K., Esopenko, C., Hinds, S. R., 2nd, Shenton, M. E., Bonke, E. M., Bazarian, J. J., Bickart, K. C., Bigler, E. D., Bouix, S., Buckley, T. A., Choe, M. C., Echlin, P. S., Gill, J., Giza, C. C., Hayes, J., Hodges, C. B., Irimia, A., … Baron, D.

"The ENIGMA sports injury working group:- an international collaboration to further our understanding of sport-related brain injury." Brain imaging and behavior. 2021

April 15;

15

(2)

:

576–584.

Pubmed PMID: 32720179

Dennis, E. L., Caeyenberghs, K., Hoskinson, K. R., Merkley, T. L., Suskauer, S. J., Asarnow, R. F., Babikian, T., Bartnik-Olson, B., Bickart, K., Bigler, E. D., Ewing-Cobbs, L., Figaji, A., Giza, C. C., Goodrich-Hunsaker, N. J., … Wilde, E. A.

"White Matter Disruption in Pediatric Traumatic Brain Injury: Results from ENIGMA Pediatric Moderate to Severe Traumatic Brain Injury." Neurology. 2021

May 28;

: Pubmed PMID: 34050006

Philippi, C. L., Velez, C. S., Wade, B., Drennon, A. M., Cooper, D. B., Kennedy, J. E., Bowles, A. O., Lewis, J. D., Reid, M. W., York, G. E., Newsome, M. R., Wilde, E. A., & Tate, D. F.

"Distinct patterns of resting-state connectivity in U.S. service members with mild traumatic brain injury versus posttraumatic stress disorder." Brain imaging and behavior. 2021

March 23;

: Pubmed PMID: 33759113
Hide 35 publications
Funding
Neuroimaging Meditation Therapy in Veterans with Co-morbid Mild TBI and PTSD

Department of Veterans Affairs
Neuroimaging Group Based Exposure Therapy's Impact on Veterans with mTBI & PTSD

South Central VA Healthcare Network Veterans Health Administration
Predicting Resilience in At-Risk Youth: Assessing Cognitive, Psychiatric, and Neuroimaging Contributors

Hogg Foundation for Mental Health