Top educational leaders recognized at Baylor College of Medicine
Content
Baylor College of Medicine's top educational leaders were honored at Faculty Awards Day, which returned to an in-person format May 19 in Baylor's Cullen Auditorium.
"This is one of my favorite days at Baylor College of Medicine, and an important day, because it recognizes our greatest asset, our faculty, across our mission areas," said Dr. Paul Klotman, Baylor president, CEO and executive dean.
Media Component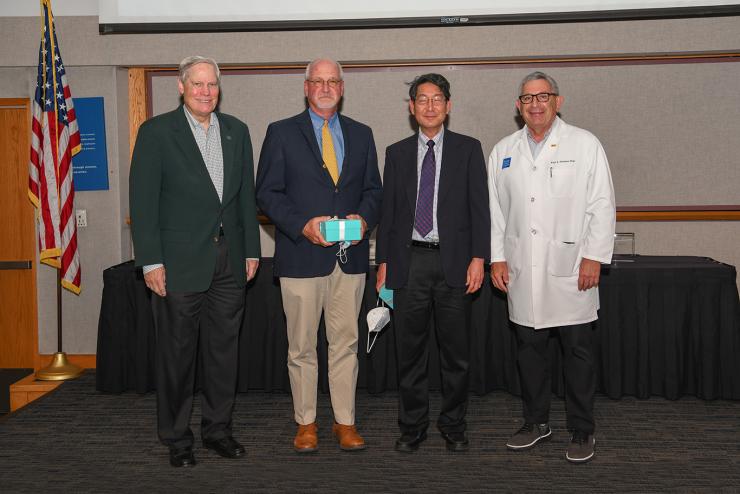 Content
Presidential Awards
Established in 1999, the Barbara and Corbin J. Robertson Jr. Presidential Award for Excellence in Education recognizes faculty members who have long-standing, consistent and highly valued contributions to the educational mission of the College. Recipients become members of the Baylor Society of Presidential Educators and receive a crystal award and $10,000.
The 2022 recipients of the Robertson Presidential Award are Dr. William Huang, associate professor and vice chair, Department of Family and Community Medicine, and Dr. Gordon Schutze, professor of pediatrics and vice dean in the School of Medicine. Joining the presentation of these awards was Corbin Robertson.
McGovern Awards
The John P. McGovern Outstanding Teaching Awards were established in 1986 and are determined by second-, third- and fourth-year medical students and based on outstanding teaching of preclinical, or foundational, and clinical medical school curriculum. The nominees are approved by the Faculty Awards Committee.
The 2022 recipients of the McGovern Teaching Awards are Dr. Zaven Sargsyan and Dr. Marc Robinson, both assistant professors of medicine.
Clark Faculty Service Award
Established in 2017, the award honors faculty members whose exemplary service with professionalism has not previously been recognized through an official award by the College. Recipients represent their professions and Baylor's mission, vision and values at the highest level and have made significant, enduring contributions to the College.
Recipients for 2022 are Dr. Milenka Cuevas Guaman, assistant professor of pediatrics; Dr. Bheru Gandhi, assistant professor of pediatrics; Dr. Sharada Gowda, assistant professor of pediatrics; Dr. Thomas Kosten, professor of psychiatry research; and Dr. Mark Kunik, professor of psychiatry research.
Norton Rose Fulbright Faculty Excellence Awards
The Norton Rose Fulbright Faculty Excellence Awards provide an opportunity for Baylor faculty who meet designated standards of quality, quantity and breadth to receive recognition for their sustained exemplary educational contributions across all areas of the College. They were presented this year in four categories: teaching and evaluation, educational leadership, educational research and development of enduring educational materials.
See the full list of Norton Rose Fulbright winners.
Baylor also recognized its leaders in clinical excellence. Read more about these award winners.