Baylor College of Medicine graduates 276 physicians and scientists
Media Component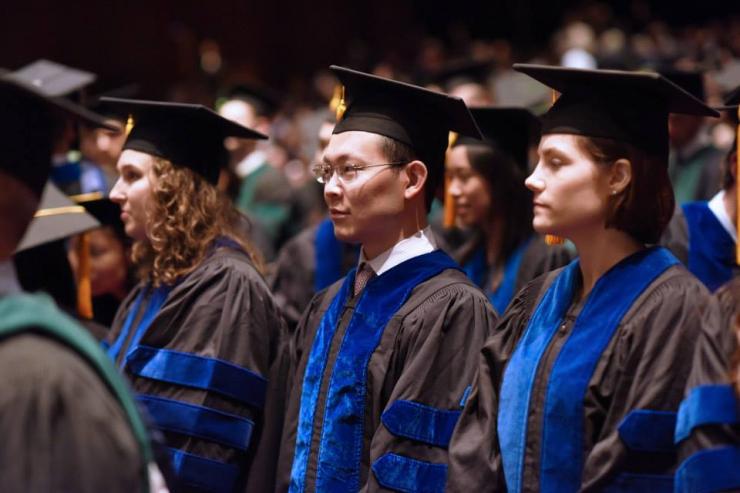 Content
The 2015 class of Baylor College of Medicine, including 184 medical school graduates and 92 graduates of the Graduate School of Biomedical Sciences, were awarded diplomas Tuesday night in a commencement ceremony at the Jones H. Hall for Performing Arts.
Baylor President, CEO and Executive Dean Dr. Paul Klotman talked to the graduates, who were joined by a large crowd of family, friends and faculty members, about the challenges and opportunities in healthcare.
"Despite having more information than ever, we don't have the answers to the biggest challenges facing us now. In fact, the ratio of information to knowledge is higher than the last 400 years in medicine when gross anatomy provided vast amounts of new information with no knowledge of function," he said.
"The biggest challenges in America remain without solutions," he said, citing healthcare issues related to cost of care, payment for care, providing insurance for the uninsured, and health care for the poor and for undocumented residents.
"But where there are challenges, there is opportunity. And the opportunities in health care have never been greater," Klotman said. "Whether it is new approaches to the discovery of drugs, transformational technologies to expand access to or delivery of care, or novel ways to approach the health of populations, the opportunity to innovate and transform has never been more apparent."
"Incremental change will not solve the healthcare challenges we face in our country," he continued. The scientists and physicians graduating today who embrace change and innovation and look for the uncharted path, will be the ones who solve the problems we face."
Commencement speaker Melanie Gray, a partner at Winston & Strawn's Houston office, community leader and Baylor trustee, challenged the students to recognize the importance of mentorship, both in being a good mentor and continuing to seek mentors as they progress in their careers.
"Embrace your responsibility to mentor as it is the most effective and efficient way to create and thrive on both meaningful work and meaningful relationships," Gray said. "Never stop reaching out and cultivating new mentors."
"While you've reached an exclusive pinnacle tonight, bigger mountains, tougher challenges and more complex problems lie ahead. I don't need to list them – you're all too painfully aware of what they are," she said. "And these challenges can only be addressed if you're willing to work collaboratively, in interdisciplinary teams, with those outside your own discipline, let alone outside your comfort zone."
Gray also advised the graduates on seeking help.
"Asking for help is not a sign of weakness, but one of enlightenment and strength. You know when you need it and are strong enough to ask for it," she told the graduates.
Dr. Alicia Monroe, provost and senior vice president of academic and faculty affairs, presided over the ceremony, and presented the candidates for the degree Doctor of Medicine. Dr. Deborah Johnson, Dean of the Graduate School, presented the candidates for the degree Doctor of Philosophy. Dr. Mary Brandt, associate dean for student affairs, administered the Oath of Hippocrates to the graduating medical students.
Isabella Garcia spoke on behalf of the Graduate School students and Diane Chen spoke on behalf of the medical school graduates.
At the commencement ceremony, three honorary degrees were awarded and a Distinguished Service Award was presented to Dr. O. Howard "Bud" Frazier, chief of cardiopulmonary transplantation at Texas Heart Institute and professor of surgery in the division of transplant and assist devices at Baylor. The award is bestowed on individuals who have provided exceptional service to society or who have a history of doing good works that have been of major benefit to the health field.
The Doctor of Humanities in Medicine degrees is awarded to individuals who have provided exceptional support or service, either directly or indirectly, to Baylor College of Medicine or to academic medicine as a whole. Those receiving the degrees this year were Gray, prominent trial attorney Joe Jamail and Texas Children's Hospital President and CEO Mark Wallace.
Earlier Tuesday, a Military Commissioning Ceremony was held in the DeBakey Library and Museum for two medical students who were awarded the rank of captain in the U.S. Air Force. Cecil Roberts and Tim Soeken pledged the oath of service to their country in front of family and friends.
Media Component
Credit
BCMweb
Heading
Full-Length Video