Baylor College of Medicine celebrates Match Day
Media Component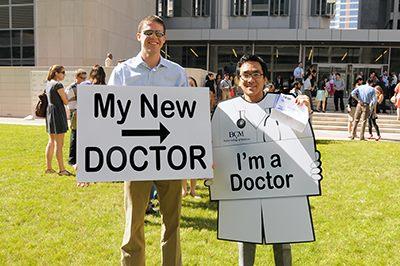 Content
Fourth-year medical students at Baylor College of Medicine learned on Friday where they will be going for their residency training during the annual "Match Day" ceremony.
Match Day is the culmination of the National Residents Matching Program that pairs fourth-year medical students with residency programs across the country. At BCM, 189 students participated in the Match.
Forty-two of those students will stay at BCM and another 27 in Texas. Forty-eight percent of the students matched in primary care fields.
Students and their families, along with faculty and staff, gathered in the BCM courtyard for the festivities. Students mobbed the match board promptly at 11 a.m. to grab the envelopes that revealed their match.
The crowd heard from BCM President Dr. Paul Klotman, Dean of Medical Education Dr. Stephen Greenberg, Associate Dean of Student Affairs Dr. Mary Brandt and Class President Faheem Ahmed before an official countdown to the unveiling of the board where all match envelopes were waiting.