BCM Class of 2023 celebrates commencement
Media Component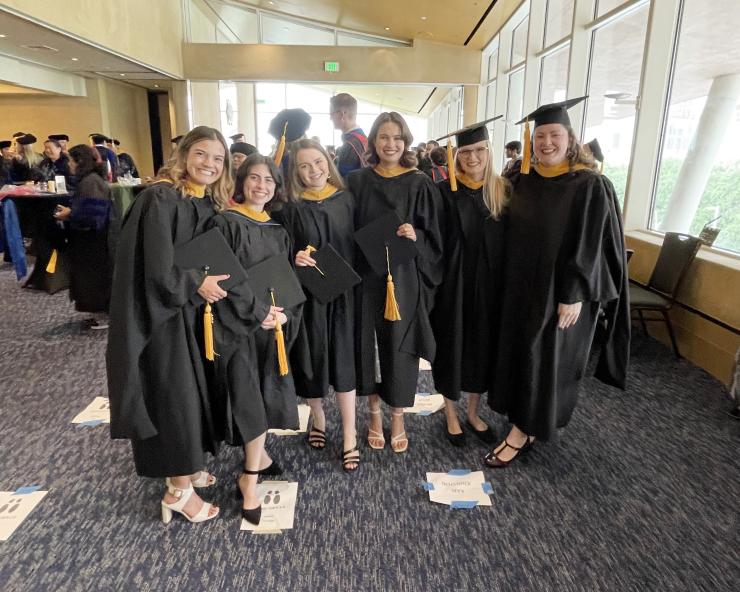 Content
Baylor College of Medicine held its 2023 commencement ceremony at the Hobby Center for the Performing Arts on Monday. 269 students received their diplomas as a full crowd of cheering family and friends watched.

The School of Medicine graduated 172 students, while 88 graduates received diplomas from the Graduate School of Biomedical Sciences and nine graduated from the Genetic Counseling Program in the School of Health Professions. Twenty-three students graduated from dual degree programs, and nine graduates received diplomas from the National School of Tropical Medicine at Baylor.

Dr. Paul Klotman, president, CEO and executive dean of Baylor College of Medicine, addressed the graduates and noted the challenges that the COVID-19 pandemic presented during their education. He emphasized that the lessons students learned while at Baylor have prepared them to respond to the rapidly evolving fields of medicine and science.

"There has never been more opportunity to meet our big challenges through discovery and innovation than now," he said. "I challenge you to come up with the solutions and to make a difference."

David and Maire Baldwin, founders of the "Pursuit for those with DisABILITIES" cross-country bicycle ride at the Center for Pursuit, received honorary Doctor of Humanities in Medicine degrees. The Baldwins have focused much of their adult lives helping to support adults with intellectual and developmental disabilities.  Mr. Baldwin serves as chair of Baylor's Board of Trustees.

Jed Manocherian, founder and chairman of ACT for NIH, Advancing Cures Today at the National Institutes of Health, received an honorary Doctor of Humanities in Medicine degree. Manocherian founded ACT for NIH with the goal of doubling the NIH budget and grant success rates to advance biomedical research and spare millions across the globe from the physical, emotional and financial ravages of disease.

Dr. Sanjay Gupta, associate professor of neurosurgery at Emory University and associate chief of neurosurgery at Grady Memorial Hospital, received this year's honorary Doctor of Letters in Medicine degree and delivered the commencement address. Gupta is the multiple Emmy®-award winning chief medical correspondent for CNN. During his address, Gupta encouraged graduates to embrace their humanity.

"Please make a pledge to yourself and to each other to never forget the path you've chosen is one that will always require not artificial intelligence, but authentic intelligence, the uniquely human touch," Gupta said.

Baylor's Military Commissioning and Awards Ceremony, held Monday morning, honored three School of Medicine graduates. Capt. Ryan Keller, M.D., and Capt. Ryan Reusch, M.D., were commissioned into the U.S. Air Force where they will serve their country as doctors. Dr. Christopher Wong received the Excellence in Public Health Award from the U.S. Public

Health Service Physicians Professional Advisory Committee. See photos from the ceremony here.

Watch the full commencement ceremony.