Master
Content
Baylor College of Medicine's mission compels us to create knowledge and apply science and discoveries to further healthcare locally and globally. We recognize that commercialization paves the way for our research to have its ultimate impact in terms of the development of products that benefit patients' lives.
Heading
Baylor College of Medicine is...
Heading
A Comprehensive Medical Research Institution
Media Component
Content
• Ranked 19 in the nation for funding from the National Institutes of Health and home to the top ranked genetics program in the country
• More than $400 million in annual research funding
• Over 1 million square feet of basic science and computational research space
• 26 departments and more than 35 inter-disciplinary research centers
• 26 Advanced Technology Core Labs
Heading
In the Heart of the World's Largest Medical Complex
Media Component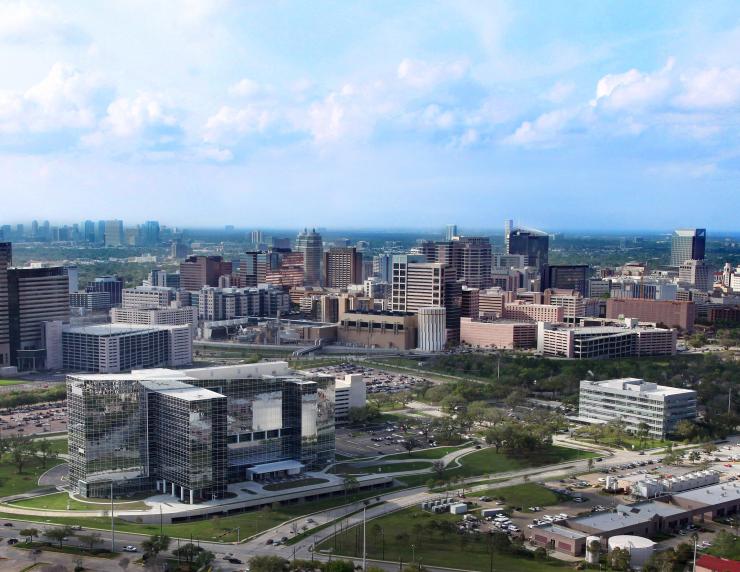 Content
The exceptional size and scope of the Texas Medical Center biomedical research community creates unique opportunities to leverage resources. The TMC Innovation Institute is shaping the future of healthcare by uniting promising innovators with the best minds in academia, science and medicine.
• 110,000 employees
• 8th largest business district in the U.S.
• 50 million developed square feet
• $3 billion in construction projects underway
Heading
Collaborative and Innovative
Heading
Adept at Leveraging Academic and Industry Assets
Content
The Baylor Licensing Group's goal is to negotiate a balanced, mutually beneficial license agreement that meets the needs and interests of both parties such that it forms the foundation for a successful long term relationship. We strive to be pragmatic in our negotiation strategy and to look for solutions that offer the opportunity for mutual gain.
Heading
Experienced With Unique, Customized Partnerships
Content
Relationships between Baylor labs/research programs and industry take many forms from relatively straight forward licensing agreements to large-scale multiyear collaborations and joint governance relationships. The joint venture between Baylor and Miraca Holdings gave rise to Baylor Genetics (formerly Baylor Miraca), which has the joint academic and industry resources to leverage the discoveries our researchers make in the laboratory to offer better clinical tests and better patient diagnoses. Baylor and Cell Medica formed a unique co-development relationship to develop a series of modified products targeted to different tumor antigens. We will work with you to customize our partnership to achieve our mutual goals.
Heading
Experienced at Executing License Agreement
Content
License agreements can be concluded very quickly, particularly if the industry partner is sensitive to concepts of key importance to the College. View details on these important license agreement concepts.
Heading
A Record of Success
Content
Past success is an excellent of predictor of future success in commercialization. Our achievements demonstrate that BLG has the skills, knowledge and experience to help you.
View highlights