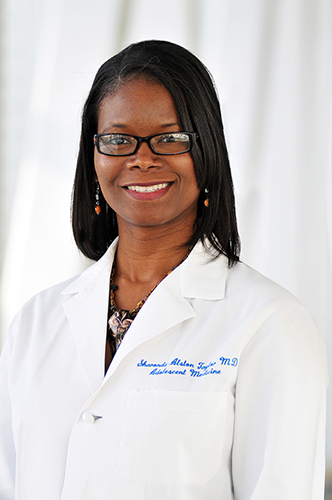 Phone
Addresses
Clinic

TCH-Clinical Care Center

Room: TXCL-1710.0

Mail Stop: BCM320

Houston, Texas 77030

United States

(832) 822-4887
Websites
Teens Working on Wellness is an adolescent weight management clinic for obese youth ages 12 years to 18 years offered through the Section of Adolescent Medicine and Sports Medicine at Texas Children's Hospital in the Texas Medical Center.
Is this you?Log in to edit your profile.
Positions
Associate Professor

Pediatric
Adolescent Medicine and Sports Medicine
Baylor College of Medicine
Houston, TX, US
Education
Residency at Sinai Hospital of Baltimore

Baltimore, MD
Pediatrics

Fellowship at Baylor College of Medicine

Houston, TX
Adolescent Medicine

MD from Johns Hopkins University School of Medicine

Baltimore, MD

Graduate Certificate at University of Texas Health Science Center - School of Public Health

05/2007 - Houston, TX
Public Health
Certifications
American Board of Pediatrics, Adolescent Medicine
American Board of Pediatrics
Honors & Awards
Career Development Award in Adolescent Health

Society for Adolescent Medicine (03/2008)

Fulbright & Jaworski Award in Teaching and Evaluation, Baylor College of Medicine
Professional Statement
I believe adolescence is one of the most dynamic periods of growth in a person's life; physical, emotional, cognitive and social changes occur at a rapid pace. During this transition, some teens need additional support from those with expertise in the interplay of normal development and chronic illness as well as the ability to recognize conditions that are unique to the age group. I love caring for adolescents and firmly believe that with compassionate medical care, they can make a safe and healthy transition into adulthood.
Selected Publications
Alston Taylor, SJ, Garland, BH, Sanchez-Fournier, BE, Allen, KF, Doak, JS, Wiemann, CM. "A qualitative study of the day-to-day lives of obese Mexican-American adolescent females." Pediatr. 2013;131(6):1132-1138.
Sarah E Barlow, Sharonda Alston Taylor, Elisabeth Hastings and Beth H Garland. "Assessment of the Obese Child or Adolescent. Chapter in Treatment of the Obese Patient, RF Kushner and DH Bessesen (Eds)." 2014
Sharonda J Alston Taylor, Mitchell A Peterson, Beth H Garland and Elisabeth Hastings. "Comprehensive Obesity Evaluation and Treatment of Three Adolescents: a case series." Int J Adolesc Med Health. 2014
Alston Taylor S, Rennie K, Jon C. "The impact of inpatient pediatric weight management program in the USA." Int J Adol Med Health. 2017 June
Alston Taylor S, Jasik C, Garber A, Woolford S, McPherson M, Smith-Barron, Borzutzky C, Mihalopoulos, AlBuhairan FS, and Kohn M. "Preventing and treating adolescent obesity: a position paper of the Society of Adolescent Health and Medicine.." J Adolesc Health. 2016;59(5):602-606.
Memberships
American Academy of Pediatrics

Society for Adolescent Health and Medicine

07/2005 - present
As an active member, I have served in numerous capacities. Most recently as member of the Nutrition and Obesity Subcommittee and regional chapter President.

The Obesity Society

Mary Susan Moore Medical Society

Parliamentarian

Texas Pediatric Society
Professional Development
Dannon Institute Nutrition Leadership Institute

Workshop (Participant, 2009)
Sponsor: Danone
The Dannon NLI is a leadership development course dedicates to assisting nutritional scientists at an early stage of their careers with the leadership skills and broad perspective necessary to achieve their professional potential.
Skills
Nexplanon placement

Nexplanon is a long-acting, reversible contraceptive device that is implanted into the upper arm.

Obesity Treatment

Eating Disorders