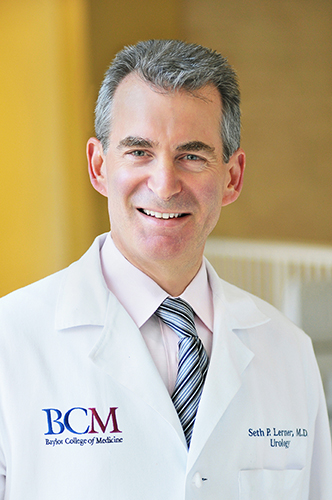 Email
Phone
Addresses
Clinic

Baylor College of Medicine Medical Center

7200 Cambridge, Suite 10B

Houston, Texas 77030

United States

(713) 798-4001
Websites
VIICTR Research Database
Is this you?Log in to edit your profile.
Positions
Professor

Urology
Baylor College of Medicine
Houston, TX, US
Beth and Dave Swalm Chair in Urologic Oncology
Director of Urologic Oncology
Director of the Multidisciplinary Bladder Cancer Program
Education
B.A. from University Of Texas At Austin

01/1979 - Austin, TX, United States

M.D. from Baylor College Of Medicine

01/1984 - Houston, TX, United States

Internship at Virginia Mason Hospital

01/1985 - Seattle, Washington, United States

Residency at Virginia Mason Hospital

06/1986 - Seattle, Washington, United States
General Surgery

Residency at Baylor College of Medicine

06/1990 - Houston, Texas, United States
Urology

Fellowship at University Of Southern California

06/1992 - Los Angeles, California, United States
Urologic Oncology
Certifications
American Board of Urology
Professional Interests
Urologic Oncology and Reconstructive Surgery with Interest in Minimally Invasive Surgery
Professional Statement
Seth P. Lerner, MD, is Professor of Urology and holds the Beth and Dave Swalm Chair in Urologic Oncology, in the Scott Department of Urology, Baylor College of Medicine. He is Director of Urologic Oncology and the Multidisciplinary Bladder Cancer Program and Faculty Group Practice Medical Director for the Urology Clinic.
He earned his medical degree from Baylor College of Medicine, completed a surgical internship at Virginia Mason Hospital in Seattle, and returned to Baylor for his residency training. He completed a two-year fellowship at the University of Southern California in urologic oncology and reconstructive surgery under Peter Jones and Don Skinner before returning to join the full-time Baylor faculty in 1992. His clinical practice, education, and research activities are devoted to urologic oncology and particularly lower and upper tract urothelial cancer.
Dr. Lerner is author of over190 peer-reviewed articles, and co-editor of a comprehensive Textbook of Bladder Cancer. He is the founding co-editor-in-chief of the Bladder Cancer journal. He established and directs the multi-disciplinary Bladder Cancer Research Program at Baylor and his research interests include use of selective estrogen receptor modulators for treatment of bladder cancer, gene therapy, integrated genomic analysis of bladder and upper urinary tract cancers, and outcomes of radical cystectomy and pelvic lymphadenectomy. He has 26 years experience as a clinical investigator for both NCI and industry funded clinical trials. He is the PI of the ongoing SWOG NCI Phase III trial comparing extended vs. standard pelvic lymphadenectomy at time of radical cystectomy. He is active in the leadership of several national bladder cancer research enterprises including chair of the Local Bladder Cancer committee of SWOG, founding and former co-chair of the NCI Bladder Cancer Task Force and current co-chair of the NCI CTEP Genitourinary Steering Committee, and he has co-chaired the Analysis Working Group of The Cancer Genome Atlas Project for muscle invasive bladder cancer for the past 7 years. He is very active in the Bladder Cancer Advocacy Network (BCAN) as a member of the Board of Directors, past chair of the Bladder Cancer Think Tank and co-chair of the management committee of the Bladder Cancer Research Network. Dr. Lerner is an active member of the prestigious American Association of Genitourinary Surgeons and is listed routinely among "America's Top Doctors" and "Best Doctors in America.
Memberships
American Association of Genitourinary Surgeons

Member

American Urological Association

Member

American Association for Cancer Research

Member

American Association for the Advancement of Science

Member

American College of Surgeons

Fellow

American Medical Association

Member

American Society of Clinical Oncology

Member

American Society of Gene Therapy

Member

American Association of Clinical Urologists

Member

Harris County Medical Society

Member

International Bladder Cancer Network

Member

Society of Basic Urologic Research

Member

Société International D'Urologie

Member

Society of Laparoendoscopic Surgeons

Member

South Central Section of the American Urological Association

Member

Society of University Urologists

Member

Southwest Oncology Group

Member

Texas Urological Society

Member

Texas Medical Association

Member
Skills
Research Interests

Bladder Cancer Collaborative Research Program: Role of estrogen receptors and the use of selective estrogen receptor modulators (e.g., tamoxifen) for treatment of bladder cancer; novel targeted therapeutics and gene therapy for treatment of non-muscle-invasive and invasive disease; outcome of treatments for non-muscle-invasive bladder cancer and radical cystectomy and development of predictive models; genomic characterization and integrated analysis of bladder and upper tract cancers

Clinical Interests

Urologic oncology and urinary tract reconstruction; management of patients with bladder, prostate, testis and kidney cancer; Director, Bladder Cancer Multidisciplinary Clinical Program

Clinical Trials

Bladder cancer; prostate cancer; kidney cancer