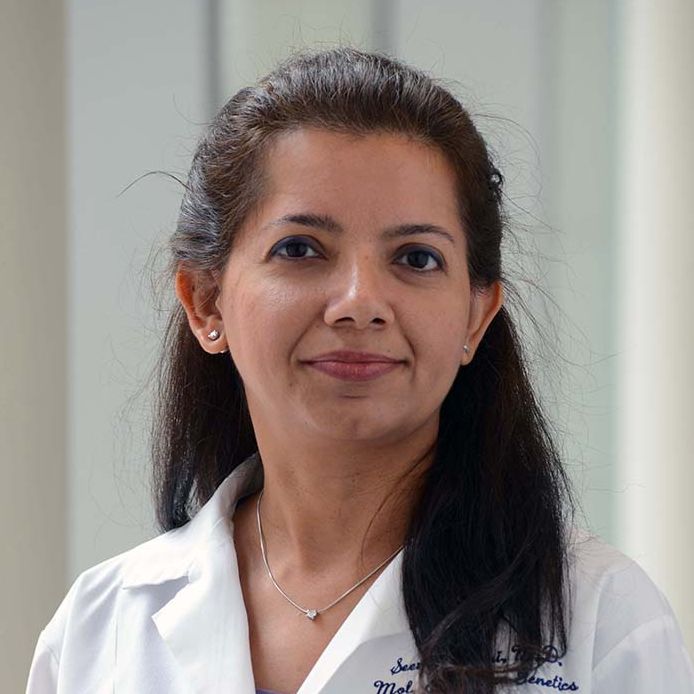 Email
Is this you?Log in to edit your profile.
Positions
Associate Professor

Molecular and Human Genetics
Baylor College of Medicine
Houston, TX, US

Assistant Laboratory Director

Cytogenetics Laboratory
Baylor Genetics
Education
MD from Aga Khan University Medical College

01/1994 - Karachi, Pakistan

Residency at Milton S Hershey Medical Center

01/1996 - Hershey, Pennsylvania, United States
Pediatrics

Clinical Fellowship at Baylor College Of Medicine

01/1999 - Houston, TX, United States
Medical Genetics

Clinical Fellowship at Baylor College Of Medicine

01/2004 - Houston, Texas, United States
Clinical Cytogenetics
Certifications
General Pediatrics

American Board of Pediatrics

Clinical Genetics

American Board of Medical Genetics

Clinical Cytogenetics

American Board of Medical Genetics
Professional Interests
Copy number variations and diseases, congenital cardiovascular malformations, genetic causes of language/speech delay
Professional Statement
I am interested in the application of molecular cytogenetic diagnostic tools such as array-comparative genomic hybridization (CGH), also known as chromosomal microarray analysis (CMA) in understanding the genetic basis of birth defects. Our laboratory is specifically interested in using CMA as a tool to identify candidate regions involved in cardiac patterning. Clinically significant CVMs occur in 5-8 per 1000 live births, yet, the cause of these malformations is unknown in the majority of cases. Recurrent copy number variations are among the known causes of syndromic CVMs, accounting for an important fraction of cases. Our strategy has been to use array-CGH to identify genomic regions with copy number alterations that could be effectively investigated with candidate gene sequencing in a large cohort of individuals with specific CVM. Using this tool, we have identified genes underlying left ventricular outflow tract obstruction defects and Wolff-Parkinson-White syndrome (WPW). We have recruited over 150 families with Wolff-Parkinson-White syndrome and are interested in understanding the genetic basis of this pre-excitation syndrome that affects 1-3/1000 individuals.
We are also interested in studying low-frequency population-specific copy number variations linked to certain traits such as early language delay and autism spectrum disorders. We have identified a 4-kb deletion, removing exon 3 of TM4SF20, which co-segregates with cerebral white matter hyperintensities and early childhood language delay in multiple families, predominantly from Southeast Asia. This deletion which has an allele frequency of about 1% in the Vietnamese Kinh population, is embedded in a common ancestral haplotype. We are currently recruiting multiple families of Vietnamese, Thai, Burmese, Filipino, Indonesian, and Micronesian descent to understand the global impact of this low-frequency, highly penetrant allele on communication disorders and premature brain aging in this population.
Memberships
Society of Pediatric Research

Member

American Society of Human Genetics

Member