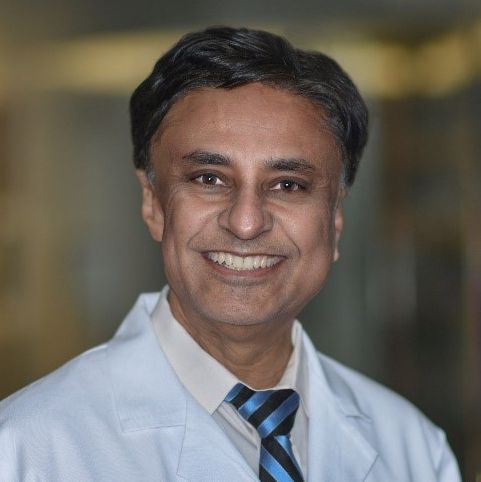 Email
Phone
Addresses
Clinic

BCM Medical Center-McNair Campus

7200 Cambridge

Houston, Texas 77030

United States

(713) 798-1555

Office

BCM-Michael Debakey Center

Room: N903.01

Mail Stop: BCM285

Houston, Texas 77030

United States
Websites
Publications in Pubmed
Is this you?Log in to edit your profile.
Positions
Director / Professor

Medicine
Immunology, Allergy and Rheumatology
Baylor College of Medicine
Houston, TX, US
Education
Research Fellowship at Mayo Clinic

Rochester, Minnesota
Research fellowship in Professor Gerald Gleich's laboratory in Immunology- first to demonstrate a role of IL-5 in severe human asthma, and identify severe neutrophilic human asthma as a new phenotype

Clinical Fellowship at National Jewish Health

Denver, Colorado
Clinical Fellowship in Allergy and Immunology

Residency at University of Maryland Medical Center

Baltimore, Maryland
Certifications
Diplomate, American Board of Allergy and Immunology

American Board of Allergy and Immunology
Honors & Awards
Nancy Chang Endowed Chair

Biology of Inflammation Center at Baylor College of Medicine (01/2019)

Federal funding and evaluation of research

National Institutes of Health (08/1997 - 12/2022)
Conducted NIH-funded research and evaluated proposals sent to NIH on molecular mechanisms of airway inflammation

Chair, Executive Committee for Website Design and Website Management

International Eosinophil Society (01/2005 - 12/2009)
Initiated, designed and managed the website for International Eosinophil Society
Funding
Role of Cytosolic DNA-Multiprotein Interactome in Allergic Airway Inflammation

- #NHLBI 1RO1 HL14547
$3,169,931.00 (01/10/2019 - 12/31/2022)
Grant funding from

National Institutes of Health, NHLBI

These studies will examine the molecular mechanisms by which cytosolic DNA is produced and stimulates development of a DNA-protein interactome in the lungs and examine the effect of targeting components of this interactome on allergic lung inflammation.
Skills
Allergy and Immunology

Played a crucial role in developing a new Allergy-Immunology clinic at Baylor's McNair campus. Now the clinic is providing care for patients with asthma, allergic rhinitis, allergic conjunctivitis, allergy to medications, chronic urticaria and angioedema, immunodeficiency disorders and other allergic-immunologic conditions.