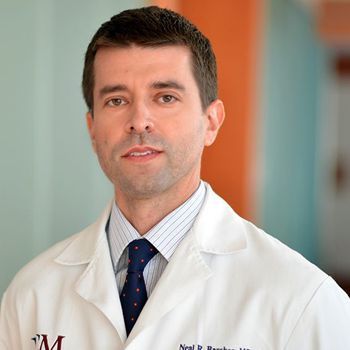 Phone
Addresses
Michael E. DeBakey VA Medical Center (Hospital)

2002 Holcombe Boulevard

OCL-112

Houston, Texas 77030

United States
Websites
VIICTR research database
Is this you?Log in to edit your profile.
Positions
Assistant Professor of Surgery

Division of Vascular Surgery & Endovascular Therapy
Baylor College of Medicine
Houston, TX, US
Education
BS from University of Illinois at Urbana-Champaign

05/1997 - Urbana-Champaign, Illinois, United States
psychology

MD from University of Illinois at Chicago College of Medicine

05/2001 - Chicago, Illinois, United States

MPH from University of Texas at Houston Health Science Center

05/2006 - Houston, Texas, United States
healthcare delivery systems

Residency at Michael E. DeBakey Department of Surgery / Baylor College of Medicine

06/2009 - Houston, Texas, United States
general surgery

Clinical Fellowship at Harvard Medical School / Brigham and Women's Hospital

06/2011 - Boston, Massachusetts, United States
vascular surgery and endovascular therapy
Certifications
General Surgery

American Board of Surgery

Vascular Surgery

American Board of Surgery

Registered Physician in Vascular Interpretation

American Registry for Diagnostic Medical Sonography
Honors & Awards
Who's Who in America

64th edition

"Outstanding Teaching Faculty" Award

Michael E. DeBakey Department of Surgery (07/2013 - 06/2014)

Raleigh Ross Scholarship Award

Texas Surgical Society (07/2007 - 06/2008)

"Young Investigator" Award

Michael E. DeBakey Department of Surgery (07/2003 - 06/2004)
Professional Interests
Peripheral arterial disease (PAD) / chronic limb ischemia
Diabetic foot osteomyelitis
Vascular surgery
Professional Statement
Dr. Neal R. Barshes is a board-certified vascular surgeon specializing in all aspects of the diagnosis and treatment of vascular disorders, including a wide variety arterial, venous and lymphatic problems.
Dr. Barshes currently sees patients exclusively at the Michael E. DeBakey Veterans Affairs Medical Center (MEDVAMC) in Houston, Texas.
Dr. Barshes is actively researching ways to improve the care of patients with limb-threatening complications of diabetes. He has contributed numerous articles to scholarly professional journals such as Journal of Vascular Surgery, the Annals of Vascular Surgery, and the Journal of the American College of Surgeons. He has written many book chapters related to vascular disease management. He is an Associate Editor for the journal Diabetic Foot and Ankle and has reviewed manuscripts for more than 12 other professional journals.
The clinical efforts of Dr. Barshes are focused on preventing amputations among patients with diabetes mellitus. He focuses on aggressively working to heal foot wounds, especially those associated with poor arterial circulation and/or infection. This is often accomplished with a combination of: leg bypass surgery or angioplasty/stenting; foot surgery; and antibiotic therapy. Dr. Barshes also works with a multidisciplinary team of providers to help avoid delays in diagnosis and treatment, streamline care, and minimize unnecessary testing.
Memberships
American College of Surgeons

Society for Vascular Surgery

Vascular and Endovascular Surgical Society

American Diabetes Association

Society of Brigham Surgical Alumni
Funding
Prospective, Randomized Clinical Trial of a Silver Eluting Dressing System for the Prevention of Lower Extremity Revascularization Wound Complications

Grant funding from

Brigham and Women's Hospital

Primary site investigator a multicenter, randomized trial to determine whether a post-operative dressing that elutes silver nanoparticles would help decrease wound infections or other complications.

Randomized, Multicenter, Controlled Trial to Compare Best Endovascular versus Best Surgical Therapy in Patients with Critical Limb Ischemia

Grant funding from

the National Institutes of Health (NIH); the National Heart, Lung and Blood Institute (NHLBI)

Primary site investigator for an ongoing multicenter trial comparing endvascular therapy (angioplasty +/- stent placement) to bypass surgery to improve leg circulation for limb-threatening conditions / avoidance of leg amputations.
Professional Development
"Value-Based Healthcare Delivery"

Course (Participant, 2011)
Sponsor: Harvard Business School

"Clinical Trial Methodology"

Course (Participant, 2007)
Sponsor: American College of Surgeons

"Diabetic Limb Salvage: A Team Approach"

Conference (Participant, 2010)
Sponsor: Georgetown University Hospital